Daily Horoscope 16 January 2020: Check Astrological Prediction For All Zodiac Signs
Today's Horoscope for all the zodiac signs.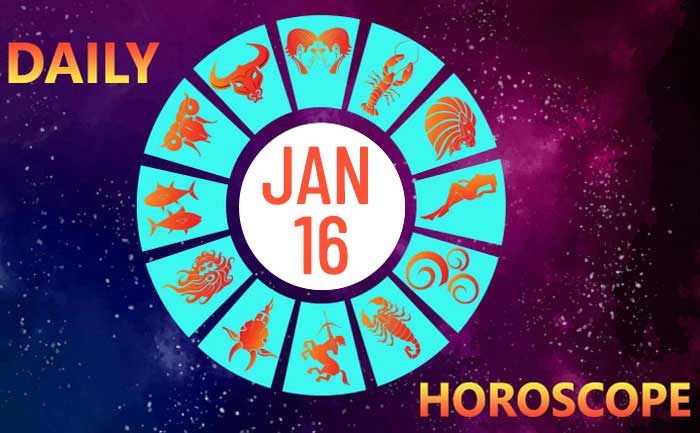 Horoscope Today, January 16, 2020: IF TODAY IS YOUR BIRTHDAY: Your radical number is  7. You are known as a spiritual, analytical and handsome person. You are a dreamer  and an introvert person, but you can become a good spiritual psychic.  Your lucky gemstones are Pearl and Diamond. Your lucky numbers are 2,7,11,16,20,25,29
Your lucky colors are white and yellow. Lucky days are Sunday and Monday.
In this article, we have brought you today's astrological predictions for all the sun signs like Gemini, Scorpio, Leo, Taurus, Cancer, and others. Check out the astrological prediction for all zodiac signs.
Horoscope Today, January 16, 2020: Check today's astrological prediction from all sun signs
Daily Horoscope ARIES:
The time is ripe to take some bold steps. Today's a day to get things done,  It's time to think bigger than you have. Do not shy away from opportunities. A leap of faith at this time can dramatically alter your life for the better, though it may not seem so now. It is also time to re-evaluate old relationships and cut out the deadwood. Your partner will shower you with love. Lucky Colour: Magenta.
Daily Horoscope TAURUS:
Be honest with others but true to yourself today. Expect for some things to shake up. Small irritations and disagreements are likely to break out throughout the day.  Try to share your problems with someone. Minor respiratory ailments are seen on the cards. Those engaged in travel and tours will have a fruitful day. People in love should not expect much from their partner. Lucky Colour: Yellow
Daily GEMINI Horoscope
People in travel and related business are likely to receive some unexpected gains. You can even dabble in real estate, it will prove lucky. Financial Investments will give good returns. Healthy habits will help you stay calm. Plan some family activity today. You are likely to remain buoyant and energetic. Love is in the air. Lucky Colour: Cream
Daily CANCER Horoscope:
A day with the Midas touch, make the most of it, wisely. A very good day with respect to money and investments. Health treatments will now show results. People on diet and exercise can expect the desired outcome. You will be sailing smoothly on the work front. A family member's health may be a concern. The right time to rekindle the romance with your partner. Lucky Colour: Light Green
Daily LEO Horoscope:
Today, you need to learn your lesson from the past. This will solve the major problems that you have been facing in your life. People on the go can expect surprises and profits. Good thoughts will yield success throughout the day.  Following some healthy tips will keep your fitness in check. Take it easy in love and romance; no superman playing is required. Lucky Colour: Lemon
Daily VIRGO Horoscope:
Today you need to make anyone near you happy, this will open the flood gate of good fortune for you. .People looking for gains through traveling should reconsider their decision.  Monetary gains are indicated. Keep pace with the healthy lifestyle for solace.  A blessed day for the family bonding. You can be contacted by someone from your past that was close to you once. Lucky Colour: White
Daily LIBRA Horoscope:
You are in an impulsive mood today. You tend to rush into projects without thinking.  Several opportunities will arise together, so try to keep a level head. Those in a mood of house hunting are likely to find some good deals. Financial conditions will improve. Continue with the healthy fitness regime to stay calm.  Today your partner may get upset and need attention. Lucky Colour: Dark Slate Grey
Daily SCORPIO Horoscope:
Open your mind to share ideas with someone and you will find a kindred spirit.  With little observation, you will be able to learn a lot of things from them.A long or short journey taken will be fruitful. Real estate will witness some growth;  An extremely favorable day for finance and investments. People suffering from knee problem will find some relief. Lover's good mood is likely to brighten your day. Lucky Colour: Light Green
Daily SAGITTARIUS Horoscope:
Family members are likely to mend ways and end all discords; fun times ahead. A business trip appears to be fruitful.  Stable earnings motivate you to plan and invest. People facing health issues will see a significant improvement. All your hard work is likely to attract the attention of your seniors.  Time spent with the loved one will be satisfying. Lucky Colour: Purple
Daily CAPRICORN Horoscope:
A business trip may not prove to be as profitable as it seems.  Excellent time to start something new on the academic front. New opportunities will sprout from your associations. Nagging health problems will disappear. The family will be supportive of your ideas. Lovers are likely to get a go-ahead from their parents. Lucky Colour: Saffron
Daily AQUARIUS Horoscope:
The day is especially favourable for artists. However, it is necessary to complete the projects that you start today. Good time for property owners. Your helping nature is likely to boost your popularity on the social front.  Avoid experimenting with anything new with your digestive system.  Avoid long journeys if possible. Refrain from trying too hard in love. Lucky Colour: Sky Blue
 Daily PISCES Horoscope:
Experience is the best teacher and you need to get guided by it presently.  Try to help the needy people, be it children or be it aged ones!  An impromptu travelling plan can get shelved due to some prior commitments. No loss no gain makes the day a rather content one.  Those battling with chronic diseases are likely to progress towards relief.  A casual conversation can turn into a romantic one. Lucky Colour: Deep Sky Blue
 ALSO READ:  Daily Horoscope 10 January 2020: Check Astrological Prediction For All Zodiac Signs