Daily Horoscope 18th July 2021: Check Astrological Prediction For All Zodiac Sign
Check out today's Horoscope for all the zodiac signs.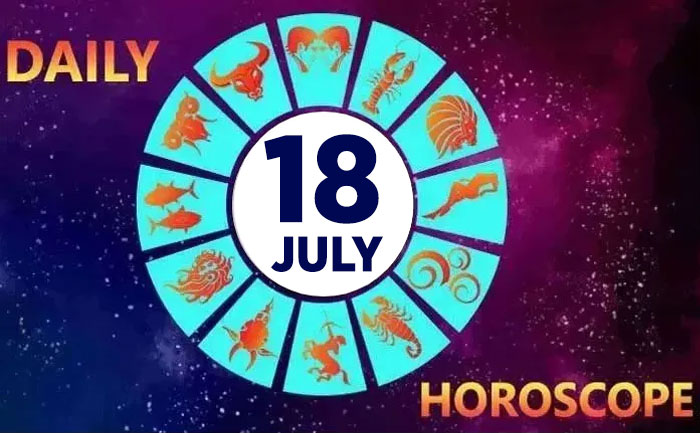 Horoscope Today, July 18, 2021: IF TODAY IS YOUR  BIRTHDAY: Your lucky number is 9.  People born on July 18 are cheerful, energetic and independent. They are determined and focused on how to make a success of their life.  Cancer people born on this day have an inborn sense of creativity. Your lucky colour is medium blue. Lucky numbers for July 18 born are  23, 99, 8, 31, and 95.
This article has brought you today's astrological predictions for all the sun signs like Gemini, Scorpio, Leo, Taurus, Cancer, and others. Check out the astrological prediction for all zodiac signs.
Horoscope for July 18, 2021: Check today's astrological prediction
Daily ARIES Horoscope:
A long-standing demand of a family youngster is likely to be met by you. Shopping for essential items may be on your mind. You may be going through anxious moments regarding your career prospects. But the chances of getting a promotion cannot be ruled out! Good health will keep you energetic. The lover will have much to share with you. Lucky Colour: Purple
Daily TAURUS Horoscope:
Real estate is likely to hold your interest as you have the financial strength now.  Some of you are likely to be honoured in a function or invited for guest lectures. It may be a bit difficult for you to connect with your dearest love today. Excellent health is foreseen. A business deal may not proceed as planned. Lucky Colour: Violet
Daily GEMINI Horoscope:
Your hard work on the academic front will get recognised soon. You may get a chance to witness something exciting. Ban on spending is likely to be lifted for some youngsters.  A heart-to-heart talk with a lover will prove most gratifying and help strengthen the loving bondsLucky Colour: Orange
Daily CANCER Horoscope:
This is not the time to take things easy on the academic front, as you may lag behind. A healthy bank balance will allow you to buy a major item. Pressure on the work front may mount. Take care of your health and maintain hygiene.  Someone is out to take advantage of you on the romantic front. Lucky Colour: Light Pink
Daily LEO Horoscope:
Achieving your immediate professional goal can pose difficulties. A heart to heart talk with an old friend is possible today. Healthwise, you will find yourself much fitter and calmer. Those preparing for competitions may find it difficult to achieve full concentration. You will find much comfort in the company of lover today. Lucky Colour: Aqua Green
Daily VIRGO Horoscope:
A family reunion is on the cards and will enable you to meet everyone.  Moneywise, you will find yourself in the most comfortable situation. Your idea of doing something new on the professional front will get the green signal. You may find it difficult to keep your promise on the romantic front. Lucky Colour: Mauve
Daily LIBRA Horoscope:
A friend or colleague may motivate you to take up a healthy activity. Some of you may plan to watch a movie with family together at home.  Money concerns may bog you down, but the situation is not as bad as you think.  An engagement is possible for the eligible. Lucky Colour: Parent Green
Daily SCORPIO Horoscope:
A sense of satisfaction is likely to be achieved as you start faring well on the academic front. Winning brownie points on the social front are indicated. You will need to mobilize your resources to ward off a financial crunch. You are likely to find yourself fitter than usual.  A passing acquaintance with someone from the opposite camp shows all signs of turning romantic! Lucky Colour: Lemon
Daily SAGITTARIUS Horoscope:
Your philanthropic nature is certain to help the needy today. Those in government jobs will be able to take positive steps to further their careers. Irregular timings can tell on your face and health. Self-discipline will be the key to your good health. Expect to get surprised by partner's ideas on the romantic front. Lucky Colour: Violet
Daily CAPRICORN Horoscope:
An opportunity to study abroad may slip away. You will need to remain calm in trying situations. You are likely to remain on a sound footing, as far as finances are concerned Starting an exercise routine will help you in overcoming lethargy.  Desire you had been harbouring for meeting someone special is likely to be fulfilled today. Lucky Colour: Sky Blue
 Daily AQUARIUS Horoscope:
An entertaining time is foreseen on the family front. Some domestic responsibilities may require you to apply for a leave. Professionally a challenging day is foreseen at work. Rapid improvement in health is foreseen for those suffering from an ailment.  You may gain appreciation at your workplace and among friends. Your love life is likely to pick up. Lucky Colour: Grey
Daily PISCES Horoscope:
Some of you may have to wait for some more time to become proud possessors of property. You will be able to tackle a pressing problem on the academic front by your own efforts. Overindulging in food and drinks will need to be stopped. You will meet with somebody from your past that used to have a close relationship with you. You may get encouraged to take up an exercise regimen. Lucky Colour: Dark Green
ALSO READ:  Cancer Love Horoscope: Personality,Traits, Compatibility and Celebs Born Under This Sign