Daily Horoscope 1st August 2019: Check Astrological Prediction For Aries, Capricorn & Pisces
Today's Horoscope for zodiac sign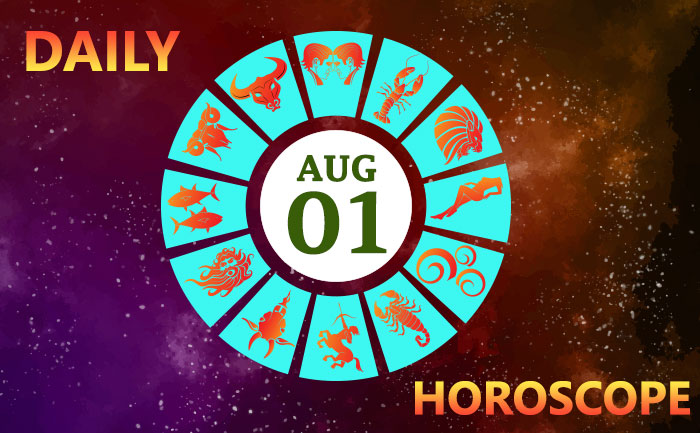 Horoscope Today 1st August 2019: IF TODAY IS YOUR BIRTHDAY: Your radical number is 1 and you are ruled by SUN. People born on this day are born leaders. They love to lead and guide people. You are one of the most understanding person. Lucky colour for you is Blue. Lucky years are 26, 41, 19, 29 and 85. Career option best for you is in Management.
Here's your daily horoscope as per your sun sign:
Daily Horoscope ARIES
You have such an effervescent nature that you spread cheer wherever you go. Your magnetic and go-getting nature encourages others to show their full potential at the workplace.  Recognition from professional institutes overseas makes you the object of much admiration in your circle. Lucky colour of the day is White.
Daily Horoscope TAURUS
Since you love to receive the rewards of the game, you work slowly but steadily and get to take it home. You could get some creative ideas today, regarding shortcuts to mint wealth. Wearing Blue will attract positive energy. Today you will find problems cropping up with your partner over small issues.
Daily Horoscope GEMINI
Today, your mother's or any other elderly person's health may be the cause of worry for you.  You may involuntarily get into some kind of confrontation with a father figure.  Wear Yellow for positive energy. Do try to maintain the peace in your household and discuss controversial matters behind closed doors.
Daily Horoscope CANCER
The day will urge you to break the monotony of your disciplined life and let your hair down.  If you don't want to go out, do your socialising at home. Wearing pale Yellow is expected to bring you good luck.  Today you will be put in a position with your partner over something that has you dig your heels in and stand your ground.
Daily Horoscope LEO
You could have some insecurity about your job or business stability but things will straighten out in no time.  Your concern about personal finance can be sorted out if you stop being so generous to everyone.  Wearing Purple will prove lucky. Patience is the name of the game today in the world of romance.
Daily Horoscope VIRGO
You will be content with how things/situations are progressing and will generally feel humane towards other living creatures. There will be a surprise coming from you, and people will love you for it. Lucky colour for you today is white. Though you may feel lonely for a bit, your relationship will be back on track soon.
Daily Horoscope LIBRA
You will be empathetic towards anyone who is looking for advice from you today. Today you will be heading out to buy some expensive and pretty knick-knacks for your home. Wear sapphire blue for luck. If you are dating you may have found lately that you are encountering hurdles and misunderstandings with your partner.
Daily Horoscope SCORPIO
Being a water sign, you are very touchy and hurt easily. Your family is your strength and you like to spend time with them as they understand your sensitive nature. Wear crimson Red for luck. Today may leave you a bit disappointed or hurt in the world of romance because there are indications that separation is possible in your relationship.
Daily Horoscope Sagittarius
Being free-spirited, it is not possible to tie you down to obsolete beliefs and traditions. You jealously guard your independence and expect your loved ones to respect that. Wearing something in Orange colour is expected to benefit you immensely today.  Today try to avoid small arguments with your partner.
Daily Horoscope CAPRICORN
Today will suddenly make you feel you are dependent on others and it can leave you physically weak.  Some recent happening may have left you with a feeling of regret and self-condemnation.  Wear Violet for luck.  Today you will find that you have a bit of a wandering eye in regards to relationships.
Daily Horoscope AQUARIUS
Shy and quiet, you do not open up your innermost feelings to anyone. Although you are friendly, you need your space, to re-energise yourself. Lucky colour for you is dark Blue.  Today the name of the game for you in the world of romance will be forgiveness and letting go of the past.
Daily Horoscope PISCES
You are extremely tuned into the psychic realm and have the natural desire to seek out spiritual knowledge. Maybe you are looking for some answers about life. Lucky colour for the day is Mauve.  If you recently suffered a divorce and are feeling somewhat lonely you should think twice before rushing into a new relationship.
Also Read:  Leo Love Horoscope: Personality, Traits, Compatibility And Celebs Born Under This Sign