Daily Horoscope 20th July 2021: Check Astrological Prediction For All Zodiac Signs
Check out today's Horoscope for all the zodiac signs.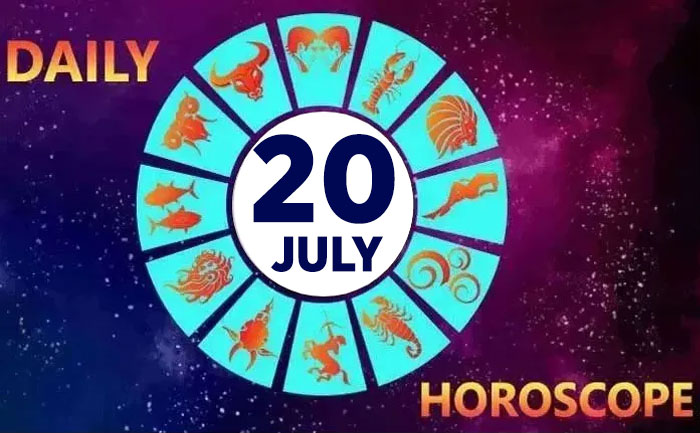 Horoscope Today, July 20, 2021: IF TODAY IS YOUR  BIRTHDAY: If you have been praying for a miracle, this birthday year may provide you with exactly that. You can expect many happy surprises this year, as the planets conspire to give you what you want. Although these gifts may not always come in the packaging you were expecting, as you unwrap them, you will discover they are exactly what you wanted all along.
Horoscope for July 20: Check today's astrological prediction
Daily ARIES Horoscope:
A good tip to remember is to be careful about what you say about other people, Aries. If you're speaking about someone who isn't present, act like he or she is. What's your motivation for saying the things you say? Is it necessary to speak in such a way? A negative comment about someone is going to resonate through the cosmos. People could lose trust in you.
Daily TAURUS Horoscope:
You are going to face a significant interaction today. This may take the form of a confrontation or it may be something milder. But whatever it is, it will provide a lot of food for thought and will keep you occupied for the most of the day. You are not going to tolerate distractions today. However, you need to realize that obsessing over this incident is not going to be of much help.
Daily GEMINI Horoscope:
Though you are feeling somewhat overwhelmed by responsibilities, there will be no reprieve in sight. Your best course of action will be to quit complaining and get on with completing your tasks. The sooner you complete them, the quicker you will be free. However, this does not mean that you should finish them in a negligent way. Give your best and you will definitely reap the rewards in the future.
Daily CANCER Horoscope:
Issues may get a little heavier than you'd like today, Cancer. Your job is to infuse some levity and humor into the situation. Your adaptability will be put to the test as other people remain steadfast in their opinions. Be conscious of how you use your words. Other people, especially superiors or elders, may be offended by careless, offhand remarks.
Daily LEO Horoscope:
If the doorknob doesn't turn today, Leo, don't force it. You will only break it. Perhaps you need to try another door. If things don't flow smoothly into place, then they probably weren't meant to be. Life shouldn't always be a struggle. Your job is to enjoy it. Remember that the next time you're in a long line. View the situation as a period of rest.
Daily VIRGO Horoscope:
You find yourself caught in the soup today. Talk openly to people who matter to you. Talk about the issues that have been bothering you. The cloud of uncertainty will subside in a weekメs time. A close friend or family member may provide you comfort. Be cautious while putting your words. Today you are prone to be misunderstood. The workplace will be stable.
Daily LIBRA Horoscope:
You might be called upon to choose between two ways of handling a situation, Libra. The old way suddenly conflicts with the new. Which way are you going to proceed? Don't be thrown off course by fast talk and neon lights just because they grab attention. On the other hand, don't assume that the way that has worked forever is still the best. Use your intuition to choose the best route for you.
Daily SCORPIO Horoscope:
You have a great capacity to charm everyone today. You are going to impress those around you with your wit and grace. You will win the admiration of everyone around you. Take advantage of this shining period to make new friends and mix with new people and new opportunities will open up in front of you.
Daily SAGITTARIUS Horoscope:
Your sense of self may be challenged today, Sagittarius, and you might have trouble keeping your seat during the joust. Keep in mind that the way others see you isn't necessarily the way you are. Don't feel like you have to change direction to please anyone. Your only responsibility is to you. Bizarre events may occur, urging you to change your thinking.
Daily CAPRICORN Horoscope:
In general, you are very clearheaded. But today, your ability to think logically will be hindered by your own problems and insecurities. Hence, this is not the best day to take on a new project or a new partner. You are liable to be wrong in your judgment today. So, basing your future activities on this may not be fruitful. Try for some relaxation today.
 Daily AQUARIUS Horoscope:
Key into your sensual, beautiful nature, Aquarius. Take time each day to tend to your soul and make sure it gets the nourishment it needs to radiate into the world. Unexpected people are likely to appear out of nowhere, so don't be surprised when a former lover comes knocking on the door. Events from the past may travel to the present in order to teach you a valuable life lesson.
Daily PISCES Horoscope:
You may discuss few important issues with your relatives. Try to be loving and kind in your conversations. If you canメt handle any situation just leave it for the time being rather than overdoing it. Attend gatherings in the evening time if you want to lighten up your mood. Focusing on matters of faith and spirituality will be of benefit to you.
ALSO READ: Daily Horoscope 19th July 2021: Check Astrological Prediction For All Zodiac Signs