Daily Horoscope 21st August 2019: Check Astrological Prediction For Aries, Capricorn & Pisces
Today's Horoscope for zodiac sign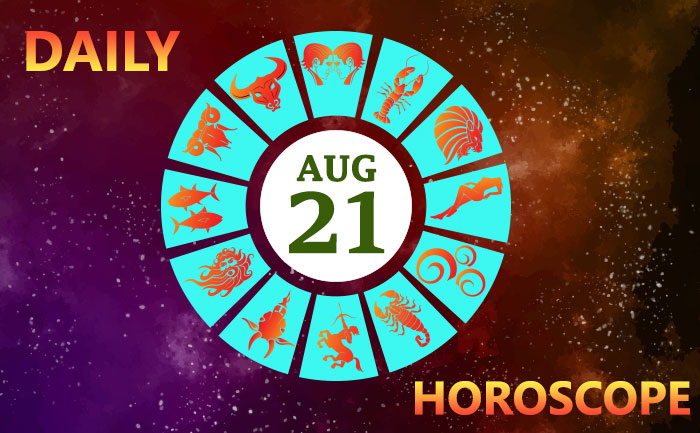 Horoscope Today 21st August 2019: IF TODAY IS YOUR BIRTHDAY:  Your Radical number is  3, You are caring, affectionate, and loyal to those closest to you. The Sun and the planet Mercury play an important role in your life. This makes you a good decision maker with an inbuilt courage. Lucky colours are Gold and Green. Lucky days for you are Sunday and Thursday.  Your lucky numbers are 3, 13, 21, 26, 41, 52 & 79.
Here's your daily horoscope as per your sun sign:
Daily Horoscope ARIES(March 21 – April 19)
You will go about your day with confidence that others may envy. You have always been enterprising and love to take things in your hand. Go ahead with that project you had in mind. Today your day will be filled with meetings and professional commitments. You will feel very fulfilled in your relationship today. Light shade of blue will prove lucky.
Daily Horoscope TAURUS(April 20 – May 20)
Today you may feel need for a change of surroundings but don't take hasty decisions. Take a little time off today; to analyse the situation with a flexible mind. You must avoid wearing anything blue in colour. A powerful urge to explore new horizons will raise your career prospects today. If you are in a relationship you will find much joy and passion with each other.
Daily Horoscope GEMINI(May 21 – June 20)
Normally, full of energy, you could be wanting to take a break today. If your health is worrying you, today is a good day to get that doctor's appointment you have been putting off. Wear something in orange to stay lucky today. An exciting new career awaits you provided you grab the opportunity.  For couples, recent tension caused by influences outside of the relationship will grow.
Daily Horoscope CANCER(June 21 – July 22)
Today, it may do you good to just pamper yourself at home.  Today, you will be motivated to earn more, as providing security for the family. Wearing a shade of grey will prove lucky. Today you may find that you have a lot to do but not enough time on your hands to do it. Both you and your partner have fallen into a rut lately and your relationship is beginning to suffer .
Daily Horoscope LEO(July 23 – August 22)
You have always been big hearted, Leo and your straight-forward nature may give some people, the impression that you are filled with superiority.  But they will soon realise it is not so. Wear something in lavender to enhance your creativity. Success that you achieve today will help enhance your career prospects. Couples will find themselves completely in tune.
Daily Horoscope VIRGO(August 23 – September 22)
You may just be wanting to break free from a situation where you are feeling frustrated and cornered.  Simply relax t and tackle the situation with an open mind. Blue will prove to be lucky.  You are likely to be entrusted with an important responsibility at work today. Today your love life hits a high note as you may receive an unexpected gift from your beloved.
Daily Horoscope LIBRA(September 23 – October 22)
Your pleasant and charming nature is like a breath of fresh air for everyone around you.  You may feel a little insecure about your relationship with your partner.  Don't worry; you are smart enough to woo them back.  You can spend some useful time today, honing up on your singing skills. Your lucky colour is red.
Daily Horoscope SCORPIO(October 23 – November 21)
You are such a balanced person but sometimes you can get a little sensitive about issues that concern you. You could get some good news out of an ongoing personal or professional relationship. Wear something in green to attract good luck. Today you are likely to receive a small token of your partner`s affection today that will have you grinning from ear to ear.
Daily Horoscope Sagittarius(November 22 – December 21)
Your extrovert nature has always made you quite a crowd-puller. Today your gregarious nature will keep you playful and you could be romantically inclined towards the opposite sex. Wearing a silver-grey coloured attire will be lucky. Some healthy competition at work may motivate you to exhibit your real talent.  This would bring rich dividends.
Daily Horoscope CAPRICORN(December 22 – January 19)
You are normally calm and level-headed, but today you may feel  irritated. Adopting a negative attitude will not be of much help. Wearing any shade of blue will help you attract a lot of positive energy. Grab a challenging and rewarding career opportunity that comes your way today. Expect today to be fruitful for you in the world of romance.
Daily Horoscope AQUARIUS(January 20 – February 18)
Today you will feel an urge to be around your family and will want to feel loved by your partner. Grey colour will prove lucky today. You will be successful in completing long-pending projects. This will bring you mental peace and will also pave the way for better career prospects. Today is also a day to rekindle the romance.
Daily Horoscope PISCES(February 19 – March 20)
You have always valued human relations and put people you love, first. But sometimes it is better to voice your hurt and not allow people to have a demoralising effect on you. Wearing dark blue is advised.  An important journey undertaken for work is likely to bring positive results. Use today to make preparations for a very special visitor.
Also Read: Cancer Love Horoscope: Personality,Traits, Compatibility and Celebs Born Under This Sign