Daily Horoscope 22th July 2019: Check Astrological Prediction For Aries, Capricorn & Pisces
Today's Horoscope for zodiac sign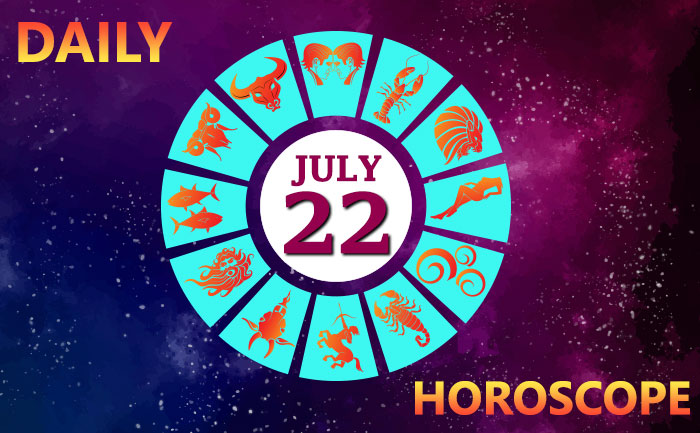 Horoscope Today 22th July 2019: IF TODAY IS YOUR BIRTHDAY:  Your radical number is 4 and you are ruled by Rahu. This will bring many ups and downs in your life. But as you are a hardworking and honest person you will come out a winner each time. Lucky colours for you are Blue, Grey and Cream. Lucky Numbers are 2, 8, 11. Profession best suited for you will be electronics and management.
Here's your daily horoscope as per your sun sign:
Daily Horoscope ARIES
There can be a social gathering at home which could have you meeting an unexpected guest who will be a useful contact in the long run. The day is filled with the mystery of sorts – though you might not be sure exactly what! This will be a good way to bond with your family members.  Wear something in White for luck.
Daily Horoscope TAURUS
You will be praised and rewarded by your seniors maybe with a promotion or even an award. Accept it graciously and let it be a light to guide your path ahead. You may enjoy some time with your colleagues from the office. Today stomach aches are also likely to trouble you.  Purple is your lucky colour for the day.
Daily Horoscope GEMINI
There could be headaches in the short term, and hassles with partners may make you imagine that the world is ganging up against you. But on the money front, there will be a boost. By evening things will fall into place and family and friends will help you out. Wearing the colour White is going to be lucky
Daily Horoscope CANCER
Today, it's a strong possibility that you encounter someone who has both wisdom and foresight. It is likely that you lean on him for some advise over matters which have been bothering you. Authority figures will help to boost your career prospects today. Your lucky colour is something blue.
Daily Horoscope LEO
Today you will feel a positive vibe in the air, things will go smoothly. Give time to your family and you will end up being surprised when family members go out of the way to help you.  You should avoid getting into situations that make you uncomfortable, try to keep a positive attitude. Lucky colour is Blue or Green.
Daily Horoscope VIRGO
Do not let the little obstacles that crop up on a day like today to get in the way of your goals. Those in positions of authority favour you at long last. All the sweat and toil that you have put into your work finally pays off bringing you rich dividends.  Wear sapphire blue for luck today.
Daily Horoscope LIBRA
Today an influential person will help you gain your long term goals. If you are concentrating on professional affairs,  push forward with confidence in your future. Today will be a day for you to focus on prioritizing the things that matter to you most. Lucky colour is blue.
Daily Horoscope SCORPIO
You may be feeling a bit worn down, dear Leo. The stress may be a buildup of the excess workload that has been heaped on you from every side of your life.  Don`t shut any doors in the realm of your career, today, as surprises could be in store.  Your lucky colour for the day is brown
Daily Horoscope SAGITTARIUS
Family responsibilities are on the agenda, give more space to children and younger relations.  Your ability to understand human nature will help you take charge when needed.  Being productive will take your mind off any tensions which are floating around you. Wear Lavender today for luck.
Daily Horoscope CAPRICORN
.You will find yourself being indecisive just about everything. You will also be sceptical about your relationship. Build on all the positive rapport today that you have built to meet your targets at work. You need to increase your fitness regimen. Lucky colour is golden.
Daily Horoscope AQUARIUS
You will be frustrated as the cash outflows are inordinately high and you will find it extremely difficult to save. The possibility of attaining an important administrative position exists at this time if you want to get into the IAS or government service. Purple is your lucky colour.
Daily Horoscope PISCES
Today you will feel down and under, a health issue may crop up or some projects will fail without warnings. Drive carefully,  As the day progresses things will settle down and you might get a piece of pleasant news on the work front by the end of your tiring day. Lucky colour is white.
Also Read: Cancer Love Horoscope: Personality, Traits, Compatibility and Celebs Born Under This Sign