Daily Horoscope 25th Aug 2021: Check Astrological Prediction For All Zodiac Signs
Daily horoscope 25th August. Check out today's Horoscope for all the zodiac signs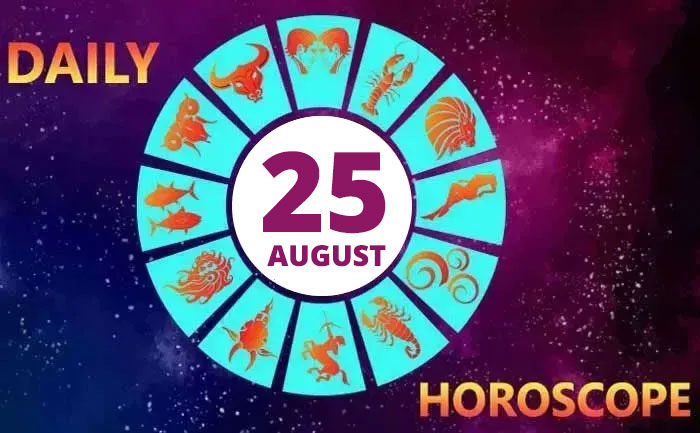 Daily horoscope 25th August 2021: IF TODAY IS YOUR  BIRTHDAY:  Your lucky number is 7.  People born on August 25 are Virgos. They are intelligent and hard-working and are likely to be successful. August 25th born also have a good sense of their abilities and always strive for improvement. The lucky colour for those born on the 25th of August is represented by Yellow. Your lucky numbers are 25, 26, 7, 16 and 24.
This article has brought you today's astrological predictions for all the sun signs like Gemini, Scorpio, Leo, Taurus, Cancer, and others. Check out the astrological prediction for all zodiac signs.
Horoscope for August 25: Check today's astrological prediction
Daily ARIES Horoscope:
You have a positive attitude towards your work and manage to handle tough decisions sensibly. Today,  there will be a  feeling of contentment in you, about a job well done. There are indications of you beginning a romantic relationship today as an intriguing person catches your attention. However, before doing anything make sure that it is not infatuated. Orange will prove to be your lucky colour.
Daily TAURUS Horoscope:
Lately, you may be having a laid-back attitude but will soon be out of it. Today you will prove your calibre at work by getting down to the unfinished task.  Today a chance encounter with a very interesting and attractive person is on the cards. It would, therefore, be in your interest not to let this golden opportunity slip from your hands. Wearing light green will attract positive vibes and good luck.
Daily GEMINI Horoscope:
Your family is the most important thing for you. Today, you could harbour feelings of insecurity regarding your family. You may feel nervous regarding some financial issues that your family is facing. The colour golden will help you harness good luck. Today you may find that your feelings are growing for someone you met through your work. The same is being felt by the person too. So express your feelings.
Daily CANCER Horoscope:
Today,  you will feel the need to break free from your monotonous routine. Your fun-loving nature will encourage you to socialize.  Don`t forget to spend some time with your family as well.  Wearing a shade of grey today will be lucky. You are likely to meet a person whose company would bring you a lot of joy. There are strong indications that soon it might turn into a romantic affair.
Daily LEO Horoscope:
You may be feeling insecure about your job or be facing some financial issues which could be stressful. But your work ethic and determination will help you solve these issues in no time.  You will need to restrain from extending financial help to everyone.  Wear something in Blue for good luck and peace. You might meet your ideal partner at a  social gathering.  Invest time and energy into this romantic affair.
Daily VIRGO Horoscope:
Today, you will spend some time in the world of performing arts. You will find this kind of outlet very rewarding, and it will make you happy. Some of you will be more tolerant of the faults of your family and loved ones, much to their delight.  Light blue is your lucky colour for today and it will help you attract positive cosmic energy. The thoughts of meeting your ideal partner may keep your mind active today. The good news is that your patience and perseverance will pay off handsomely.
Daily LIBRA Horoscope:
You have a natural sense of right and wrong and morals regarding trust, honesty and fairness play a very important role in your life. Therefore it is not surprising to see you base most of your relationships on love. Today,  pay careful and unbiased attention to people who wait for some unsolicited advice from you. The colour Yellow is lucky for you today.  Lonely hearts can take comfort in the fact that love may find them today. However, it is up to you to seize the opportunity.
Daily SCORPIO Horoscope:
Being a water sign, you are very touchy and will withdraw, when hurt.  Your family is your strength and you like to confide in them as they understand your intense and stubborn nature.  Take advice from them about a change in your career. The colour Purple will help attract a lot of positive vibrations from your surroundings. Love beckons for singles as someone attracts your attention today.
Daily SAGITTARIUS Horoscope:
You are not one to get easily triggered with barbs from unpleasant people. The fact that you adopt an attitude of not being bothered, makes your opponents feel worse. Today may make you feel that it is time to move as some opponent or enemy may be instigating your near and dear ones to clip your wings.  Your all-time solution for this is to find solace in your travels. Wearing a dark Grey colour will prove lucky for you today.  Be ready to share your love and feelings with your partner.
Daily CAPRICORN Horoscope:
You are not one to get frustrated easily, Capricorn, but today you feel as if things are out of your control.  Because of your frustration, you may even feel physically weak.   Do not dwell on it. You are realistic and understand the fact that some things are not under human control. Brown is your lucky colour for today. The chances of a friendship taking the shape of a romantic relationship today are high. But be very clear and open about what you both want.
 Daily AQUARIUS Horoscope:
When you start stressing about anything, you go into some sort of hibernation. Your 'space' helps you to re-energise yourself. Today may make you feel drained out and tired. Instead of going into 'that space' of yours, try discussing the problem with someone you trust. Wear the colour blue to attract good luck. The chances of meeting a long-separated partner are high today. You will be greatly benefited if you remind this person of the sweet memories you used to enjoy together.
Daily PISCES Horoscope:
You are easy-going, sensitive and always willing to help out your friends and family. Being compassionate and selfless, are your strong points. Some of your friends will seek you out today as they may need a shoulder to cry on. Your appreciation of the simple things that life has to offer, may provide peace to the others around you. Orange will prove to be your lucky colour. You are likely to enjoy the company of a kind-hearted person whose kind behavior would attract you. Developing close friendly relations might finally turn it into a romantic affair.
ALSO READ: Virgo Love Horoscope: Personality,Traits, Compatibility And Celebs Born Under This Zodiac Sign