Daily Horoscope 26th July 2021: Check Astrological Prediction For All Zodiac Signs
Check out today's Horoscope for all the zodiac signs.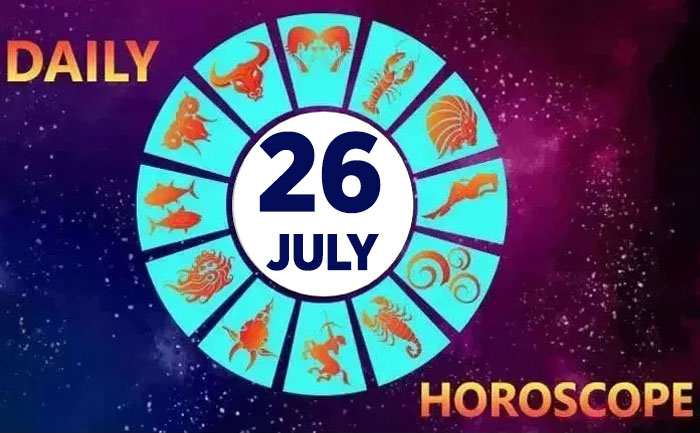 Horoscope Today, July 24, 2021: IF TODAY IS YOUR  BIRTHDAY: Your lucky number is 8. If you have been looking for love in all the wrong places, this birthday year should bring you a sense of new direction in the realm of love and romance. You first may need to go through a process of clearing away any old relationships that may have been holding you back. You may see signs of this person by early August, or they could show up later in the year. Your lucky colors are- Red, Black, and Blue.
Horoscope for July 26: Check today's astrological prediction
Daily ARIES Horoscope:
You will not feel comfortable dealing with unknown factors now. So, you will try to stick to the tried and proven roads rather than try any experimental approach. New opportunities will come your way today, but you are likely to choose one which you are familiar with rather than the one which seems to offer better rewards. Take this time to complete your old projects now.
Lucky Color- Brown and Grey
Daily TAURUS Horoscope:
Let yourself go into creative mode today, Taurus. Drift into a whole other world. Escape your present reality and explore your fantasies through artistic endeavors. Dream as big as your mind will allow. There's no limit to the things that can be realized on a day like this. Push your limits and test your boundaries. You may be able to soar much higher than you think.
Lucky Color- Brown and Grey
Daily GEMINI Horoscope:
Mood swings are likely today and even you will not be able to explain why you are feeling so disturbed and how to change the situation. Your erratic behavior and response will leave others confused. However, do remember to stick to honesty in all situations as that alone can help you to achieve your goals. Take things easily today and confine yourself to the role of an observer.
Lucky Color- Silver and White
Daily CANCER Horoscope:
The time is ripe to take some bold steps. This is not the time to hesitate. Instead, decisive action is critical. Do not shy away from opportunities. A leap of faith at this time can dramatically alter your life for the better, though it may not seem so now. It is also time to re-evaluate old relationships and cut out the deadwood.ᅠ
Lucky Color- Green and Turquoise
Daily LEO Horoscope:
Your dreams will never come true unless you believe in and act on them, Leo. No one else is going to do it for you. Unless you have a fairy godmother, you need to take matters into your own hands. Realize that you can get there in many different ways. The first step is always to believe in yourself and the fact that anything is possible. Today is a great day to let your imagination take charge.
Lucky Color- Saffron and Yellow
Daily VIRGO Horoscope:
The day will be fine in the beginning although it may turn out to be a little hectic later on. Someone at home may be ill and you may have to attend him/her amidst a jam-packed schedule. You may receive happiness from friends or even colleagues and will make plans of spending time with them in the near future.
Lucky Color- Silver and White
Daily LIBRA Horoscope:
Reach for the pot of gold at the end of the rainbow, Libra. It's closer than you think. Indeed, your dreams are completely within your reach. There are forces at work today helping you to achieve your goals. You should be in a positive mood all day, and people will be very responsive to you. Let your fantasies lead the way.
Lucky Color- Brown and Grey
Daily SCORPIO Horoscope:
Today is your day to dream big, Scorpio. Think about what you want most out of life. Aim at the stars. There's no limit to how far you can go. Your only limitation is your imagination. Don't worry if your plan doesn't seem to make rational sense. Worry more about what you want and less about how you're going to get it.
Lucky Color- Transparent and Pink
Daily SAGITTARIUS Horoscope:
Today, you need to realize that being a prisoner of the past is not going to help you in any way. You need to learn your lesson from the past, but then you will have to let it go. If you can realize this, you can take a giant step towards solving the major problems that you have been facing in your life.
Lucky Color- Saffron and Yellow
Daily CAPRICORN Horoscope:
Your mind may seem rather cloudy today, Capricorn, but don't let this hinder you. In fact, you can use this dreamy feeling to your advantage. Try to bring more magic into your life. The more you accept your bizarre feelings and ideas, the more things will fall into place. Don't think that everything in life has to be completely rational.
Lucky Color- Saffron and Yellow
Daily AQUARIUS Horoscope:
Time seems to crawl for you right now. But be patient and keep retaining your eagerness. However you may be required to put your personal goals aside for the sake of commitment or a personal relationship. Time to avoid conflicts and misunderstandings with your partner. Do not bother much; with proper management you will be able to fulfill both your agendas.
Lucky Color- Orange and Gold
Daily PISCES Horoscope:
Things may get a bit confusing today, Pisces. Don't feel like you need to make sense of it all. In fact, that may be impossible. Whatever you do, make sure you're being yourself. Let your creative nature shine through. Other people are quite malleable, so you should take the lead in just about any situation. Make sure that you're considerate of other people's needs.
Lucky Color- Cream and White
ALSO READ: Daily Horoscope 25th July 2021: Check Astrological Prediction For All Zodiac Signs