Daily Horoscope 27th July 2021: Check Astrological Prediction For All Zodiac Signs
Check out today's Horoscope for all the zodiac signs.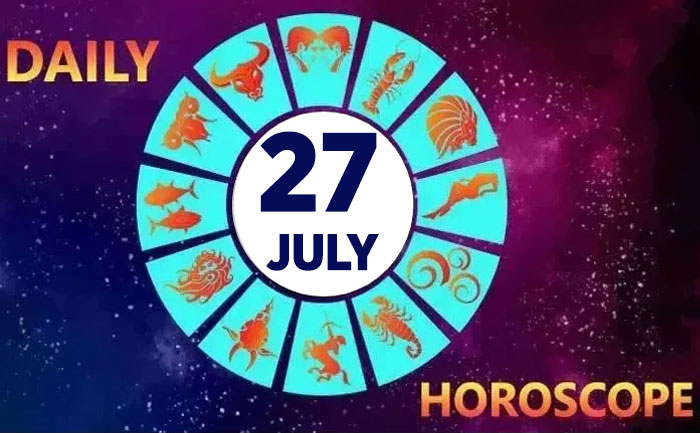 Horoscope Today, July 27, 2021: IF TODAY IS YOUR  BIRTHDAY:  Your lucky number is 9. You are a Leo that is unselfish, persuasive, and open-minded. Working with people can be an enjoyable experience for you as you are sensitive to other people's needs and always ready to help them. Your lucky colours are Red and Orange and lucky numbers for you are 7 and 9.
Horoscope for July 27: Check today's astrological prediction
Daily ARIES Horoscope:
Aries, you may be in a cheerful and happy mood today. Use this day to tone your body and focus on specific exercise regimens. You are likely to hear some good news from abroad or be offered an opportunity to travel abroad for work. Today make sure you are honest with your partner and iron out any problems before they get out of hand.
Daily TAURUS Horoscope:
Today you will go along with what others have to say and be confident about your relationship with your loved ones. Take it easy today physically and don`t strain yourself. You are likely to get a promotion. Listen to your partner if they are trying to communicate with you.
Daily GEMINI Horoscope:
Your mind will be relaxed and you will be happy. This could be because you got time today to accomplish some pending jobs. You will be somewhat burdened by the ill health of someone close to you. If you have been looking for a job you may find it today. Today is a day for you to work on your communication skills.
Daily CANCER Horoscope:
Today will be a favourable day to start off with a lot of positive energy and vibes. You will most likely remain in high spirits throughout the day. You may have to take special care of your eyes. There are indications that you could suffer from some strain. You`re looking for some excitement in your life, possibly outside your present relationship, rethink.
Daily LEO Horoscope:
You could be waiting for some result of a test that will decide your career or some health checkup result. Your opponents may give you a hard time today. Today you are likely to be worrying about the health of your partner. Those of you who are in a long-distance relationship may get some good news.
Daily VIRGO Horoscope:
Today brings that extroverted nature of yours to the forefront and let the 'child' in you free. You actually stand to make a lot of money if you work with your domestic partner. Today will be a good day for your skin as it will be blemish-free. you will feel like making a big announcement about your romantic life but wait for a little while.
Daily LIBRA Horoscope:
You are feeling emotionally stable and may have a very expansive sense of well-being. A feeling of confidence will help you to take on the world, use these positive times according to your advantage. Be gentle with your health today because you may be prone to fever.
Daily SCORPIO Horoscope:
You are misunderstood many times because you can be loyal and passionate with those who respect you. You will be able to display your excellent communication skills in your office today.  Unwanted stress is likely to cause high blood pressure. Today you may find that you have lots of time to share with your beloved.
Daily SAGITTARIUS Horoscope:
You will be reminded of your social responsibilities and urge to spend some useful time with family and friends. Romance may not be at its best today, you will need to make some effort to improve it. f you are looking for a new job, you may find it today. Take care of your health today as you will be prone to falling ill.
Daily CAPRICORN Horoscope:
Some kind of restlessness is playing on your mind. You may feel slightly frustrated due to the minor roadblocks and hurdles that are coming your way. Don`t give up as patience and persistence are the keys to success. Talk about the possibilities with your human resource whom you may look up to.
 Daily AQUARIUS Horoscope:
You are one of the coolest of all the zodiacs and prefer remaining aloof. You will get opportunities for growth at work today. Today you may find yourself having trouble controlling your impulses. This will be a spicy and exciting day as your partner reciprocates your appetite for pleasures of the sensual kind.
Daily PISCES Horoscope:
You really need to stop taking things too personally Pisces, or you will feel cheated.  Keep track of your romantic feelings as they seem to be moving away from your partner. You are able to neutralise the power of your competition at work. Your skin will positively glow today.
ALSO READ: Leo Love Horoscope 2020: Personality, Traits, Compatibility & Celebs Born Under This Zodiac Sign