Daily Horoscope 4th Nov 2021: Check Astrological Prediction For All Zodiac Signs
Daily horoscope 4th November. Check out today's Horoscope for all the zodiac signs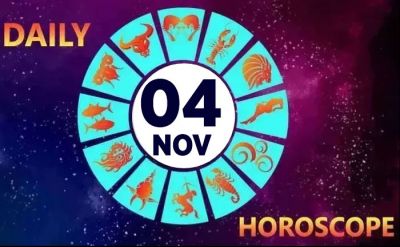 Daily Horoscope 4th November. 2021: IF TODAY IS YOUR  BIRTHDAY: Your lucky number is 5. You've been struggling with the idea of forgetting your birthday completely this year for financial and emotional reasons, but you need to lighten up. If you're always worrying, there will always be something to worry about. When you lighten up, it will open you up to new possibilities in the coming months.
This article has brought you today's astrological predictions for all the sun signs like Gemini, Scorpio, Leo, Taurus, Cancer, and others. Check out the astrological prediction for all zodiac signs.
Horoscope for November 4: Check today's astrological prediction
Daily ARIES Horoscope:
There are moments when your clear thinking reveals your tremendous maturity. You're not a dreamer, so it's difficult to lead you into ambiguous situations. If you currently have sentimental affairs going on, this would be an excellent day to take stock, but try not to be too cold-hearted.
Lucky Colour: Pink
Daily TAURUS Horoscope:
The day is going to be an emotionally intense one for you. You will bring great passion to everything that you do today and success will follow as an inevitable result. You may have been avoiding an issue because it is too close to you, but today is the best day to tackle this issue and confront it head-on.
Lucky Colour: Green
Daily GEMINI Horoscope:
It will be a stimulating day for you. You'll feel great and have no trouble channeling all your energy into your activities. Don't be surprised if you encounter some resistance. Creative as your ideas are, they may not suit everyone. In fact, you may confront some rebelliousness. Be persuasive and you'll get your way.
Lucky Colour: Cream
Daily CANCER Horoscope:
You are likely to come across an unlikely experience today. It is not necessarily unpleasant, but it is likely to rattle you. It can bring about a radical change in your outlook. Do not be afraid to express your feelings, but this time is more suitable to put the emotional demands of others ahead of those of your own.
Lucky Colour: Golden Brown
Daily LEO Horoscope:
Today, time will freeze and even seem to go backward. Use this pause to reflect on your motivations. The astral clues seem to suggest that you're currently settling questions that concern the fate of another person. Perhaps you should be spending an equal amount of time considering your fate as well.
Lucky Colour: Green
Daily VIRGO Horoscope:
The time is right to turn your attention to materialistic comforts. Enjoy your social life now and get in touch with old friends or family members from whom you have not heard for a long time. You will also experience a shift in your consciousness which may come gradually or which may descend on you without warning. It is a good idea to listen to your instincts now.
Lucky Colour: Brown
Daily LIBRA Horoscope:
You can interpret the day ahead as an open-ended question about yourself. You may have noticed certain physical or psychological aspects that you're uncomfortable with. The day ahead may force you to take action to correct that attitude. You'll accomplish a great deal if you share your concerns with a friend or relative.
Lucky Colour: Saffron
Daily SCORPIO Horoscope:
You find yourself caught in the soup today. Talk openly to people who matter to you. Talk about the issues that have been bothering you. The cloud of uncertainty will subside in a weekメs time. A close friend or family member may provide you comfort. Be cautious while putting your words. Today you are prone to be misunderstood. The workplace will be stable.
Lucky Colour: Light Red
Daily SAGITTARIUS Horoscope:
Many good opportunities are awaiting you. But they require a great deal of commitment which seems to be an unavailable option for you at this point in time. It is okay for you to put this opportunity on hold for an important personal event! You are gentle in your disposition and this is what helps you gel softly with friends.
Lucky Colour: Pink
Daily CAPRICORN Horoscope:
Dare to express your ideas without fearing ridicule. This is what the planetary configuration has to say to you today. This is exactly what you like because fear of ridicule is generally your downfall. The challenge for you is to say what you think clearly without borrowing the ideas of others. Dare to do it!
Lucky Colour: Yellow
Daily AQUARIUS Horoscope:
If you've felt the desire to write something, now is the time to do it. You certainly don't lack imagination. Your problem may be that you have difficulty taking your prose seriously. Don't think so seriously about being "a writer." Just write and let people read what you write. A writer's group would be a great way for you to come out of hiding.
Lucky Colour: Forest Green
Daily PISCES Horoscope:
You seem to make a shift from your old ideologies to new ones. Do not think differently today, it will badly impact your impression of others. Reassess yourself by introspecting what you actually want before making any move. Good time to buy a new vehicle and other assets for fulfilling home needs.
Lucky Colour: Cream
ALSO READ: Daily Horoscope 3rd Nov 2021: Check Astrological Prediction For All Zodiac Signs