Daily Horoscope July 7, 2019: Check Today's Prediction For Sagittarius, Capricorn & Pisces
Today's Horoscope for zodiac sign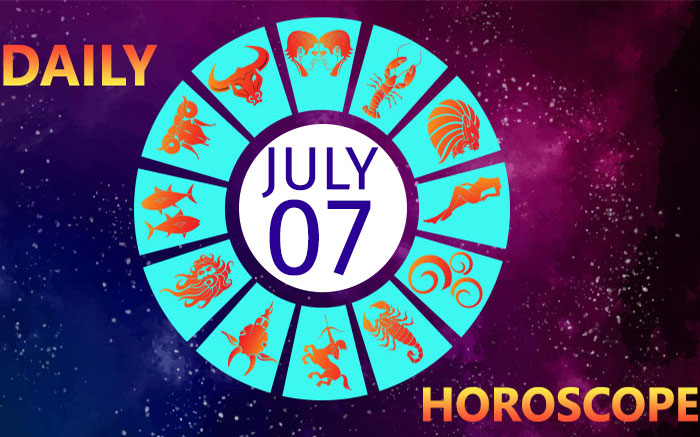 Horoscope Today, July 7 2019: IF TODAY IS YOUR BIRTHDAY:  IF TODAY IS YOUR BIRTHDAY:  You are by nature a nurturing person. As such, you place a lot of emphasis on the welfare of your family. When it comes to love and romance, you are on top of your game. Your Lucky number is 7 and lucky colours are white, light green. Lucky stone is Lapis lazuli or cat's eye and your lucky days are Sunday and Tuesdays. 
Here's your daily horoscope as per your sun sign:
Daily Horoscope ARIES
You are very likely to find yourself travelling today as the Moon moves into Aquarius.  This will most likely be a family trip.  Ideal timing to embark on a new project too. You might get a call from a potential love partner.  Wearing lemon colour will prove lucky for you on this day.
Daily Horoscope TAURUS
Today you will start a new activity to break the routine of your monotonous  day to day work. You are also likely to benefit from your adaptability in all situations at work today. There are indications that this will bring some rewards for you. This will be a promising day for your love life as your partner`s unconditional love will help in putting your past behind you.
Daily Horoscope GEMINI
Being full of energy, you like to be 'on the go' all the time. Since you love to socialise, you are quick to make new friends. You will be able to display your excellent communication skills in your office today. A new romantic entanglement will add spice to your life.
Daily Horoscope CANCER
Family responsibilities are on the agenda, give more space to children and younger relations.  Your ability to understand human nature will help you take charge when needed.  Being productive will take your mind off any tensions which are floating around you. 
Daily Horoscope LEO
Today, you could be reminiscing about some good times you had with your loved ones. The Moon in Aquarius will remind you to indulge more often in activities that you love.   Don't be afraid to express your feelings today.
Daily Horoscope VIRGO
Someone close to you could spring an unpleasant surprise on you today. The issue may or may not affect you directly, Interpersonal relationships at work will help enable you to achieve most of your objectives today. You are likely to be mesmerized by the strong personality of your partner.
Daily Horoscope LIBRA
Today isn't the best day for investments or commitments. Today is the best day to study trends and behaviours of the investments and commitments you wished to make. Make careful choices before settling on one.
Daily Horoscope SCORPIO
Today you will feel a positive vibe in the air, things will go smoothly. Give time to your family and you will end up being surprised when family members go out of the way to help you.  You should avoid getting into situations that make you uncomfortable, try to keep a positive attitude.
Daily Horoscope SAGITTARIUS
Those who are waiting to hear if you have received that new job, good news may very well come your way soon. Share your happiness with others and don't overspend to impress. Your love partner will surprise you with something really beautiful
Daily Horoscope CAPRICORN
There could be headaches in the short term, and hassles with partners may make you imagine that the world is ganging up against you. But on the money front, there will be a boost. By evening things will fall into place and family and friends will help you out.
Daily Horoscope AQUARIUS
You may have a habit to overindulge in other things if you fail to find out the reasons for your restlessness. Your focused approach will help remove all the initial hiccups in a new undertaking today. Searching for a perfect gift for your beloved may bring you some happiness and contentment.
Daily Horoscope PISCES
A positive day lies ahead of you, a trip may be on the cards, it can be either related to business or maybe a personal trip. Seems like this will be a good weekend for you anyway. Exciting day as you receive a call from your beloved. Do listen to the advice given by others
Also Read: Cancer Love Horoscope: Personality,Traits, Compatibility and Celebs Born Under This Sign