Daily Horoscope June 14, 2019: Check Today's Prediction For Sagittarius, Capricorn & Pisces
Today's Horoscope for zodiac sign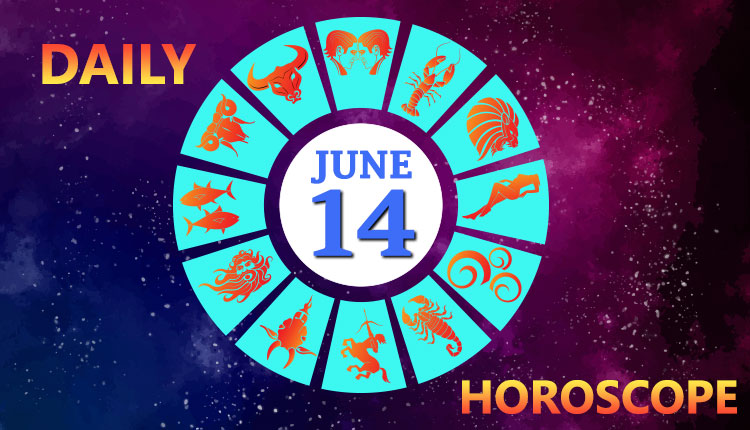 Horoscope Today, June 14, 2019: IF TODAY IS YOUR BIRTHDAY:   Lucky number for you is  5 and lucky years for you are 14, 19, 23, 28 and lucky colours are white, red and green. You are a versatile and restless person all thanks to the influence of Mercury. Thanks to your dual personality people are unable to know you well. You can be a good salesperson, politician and well versed in deciphering the computers. 
Daily Horoscope ARIES
Today you may think that non-socializing is the best thing that you can do. But on the other hand, you may want to propose your partner as well. Today you have a lot to say but you need to be very careful about what you say.
Daily Horoscope TAURUS
Today you are in extremely good spirits. Either you want to have a retail therapy or maybe just go out to a new place for exploring. But you need to take care of your health as any slightest change in weather will affect you. You will meet someone special today.
Daily Horoscope GEMINI
You are in no mood for a conflict today. So you take as many precautions possible to avoid one. Also, you are in a good mood and it will be contagious. you are making others smile. Your lucky number is 4 and your lucky colour is silver.
Daily Horoscope CANCER
You are in a celebratory mood today and up for new beginnings. But be careful. Don't buy stuff because they look pretty but buy only because you need it. Getting into financial trouble will dampen the happy mood. Your lucky colour today is white and the lucky number is 7.
Daily Horoscope LEO
Today isn't the best day of your life as you will experience uncontrollability. You need to calm down and slow down a bit and focus on one commitment at a time. You need to stand aside from the flow for some time. Your lucky colour is red and the lucky number is 10.
Daily Horoscope VIRGO
Today you and your life should seem sorted. Your friends and you are on the same page. You are in a mood to make up for the follies you have made before. The lucky number today is 6 and the lucky colour is gold. Love is in the air for you today.
Daily Horoscope LIBRA
Today is a great day to forge new friendships. You also are relying on your feelings and intuitions rather than logic for decisions. You are also on a path to fame from today. Your lucky number is 8 and the lucky colour is off-white. Spend the day with your better half.
Daily Horoscope SCORPIO
You are in a jovial mood. Do the things rights that are put across your way rather than making plans about what you should have done. Pamper yourself as today is a good day. Your lucky number is 2 and the lucky colour is black. Your romantic partner will be giving you a surprise today.
Daily Horoscope SAGITTARIUS
Today you need to ensure that sitting back is not an option for a great future. You need to try so that you can taste success. You can start with writing and that can be a good beginning to the day. Your lucky colour is green and the lucky number is 12. Beware of false friends.
Daily Horoscope CAPRICORN
Today is going to be a cheerful day. But the extra cash you have isn't meant for expenditure today. There would be times when people will want to make negative use of your good mood but you can turn it to your advantage. Navy blue is the lucky colour and the lucky number is 9.
Daily Horoscope AQUARIUS
Today you are meant to put a smile on your own face. But at the cost of wrong choices, you can easily destroy your future. Ensure that you do things with a very focussed yet calm mindset. the lucky number today is 1 and the lucky colour is amber.
Daily Horoscope PISCES
A wonderful day, you may experience that your emotions may be stable and you may find that you have a very expansive sense of well-being. The transit of the moon in Aries is making you strong and confident. Begin to make plans for your next getaway.  Wear something in brown for good luck.
Also Read:  Gemini Love Horoscope: Personality,Traits, Compatibility and Celebs Born Under This Sign