Today's Horoscope December 5, 2019 (All Zodiac Signs)
Here's your horoscope for Today's (5th December) 2019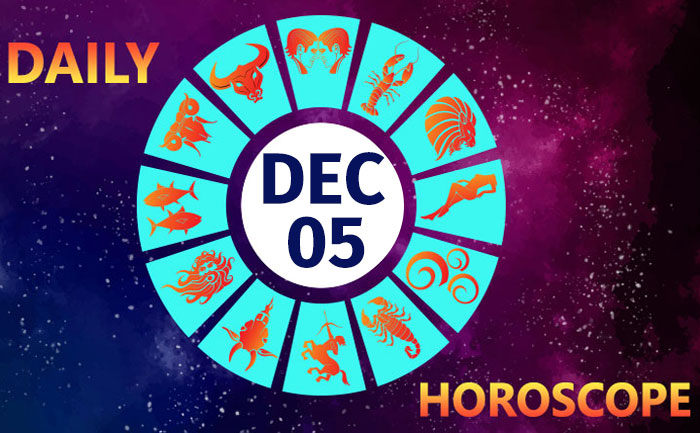 Today's Horoscope December 5, 2019: Know what astrology has to offer you today (December 5, 2019). Check Today's Horoscope to know what Stars Fortell about your Zodiac Sign.  Here is the forecast for every sun sign for the day. Find out all about new opportunities, important relationships' motives and also know if today is' the day to take a chance on love.
Here's Your Horoscope for December 5, 2019
ARIES Daily Horoscope
You will hear what you wish to hear today. However, your hope for relieving may overemphasize as you add meaning to random words that fall on deaf ears. It's not your effort that's faulty, but assuming reality will always conform to your best-case scenarios is a tricky position. You may also be irritated because whoever is the boss makes the rules. However, remember that you are in charge of yourself. Your independence is a valuable asset.
TAURUS Daily Horoscope
Your value system may take on new spiritual and idealistic features today. Everyday affairs could be a new meaning for you. You might even see spirituality in your job. You could get some idealistic but unrealistic goals as far as your well-being is concerned. If you want to start a new health program, take it one step at a time. Don't try to achieve everything all at once.
GEMINI Daily Horoscope
Today your relationships could take on even more important than usual. You can even meet some fascinating people, and if you're not a part of it, you might even fall in love. Old and new friends could seem more wonderful and idealized. Romantic relationships could assume fairytale qualities. Try to make an effort to see people as they really are.
CANCER Daily Horoscope
As soon as you walk outside your house today, you should deal with the issues at hand straight on—and with vigor. You can still be kind, or even charming, but you can't put things off any longer. It should be ripped off quickly just Like a bandage, the small crises of your day must be under control before they get the chance to grow into something ugly.
LEO Daily Horoscope
Handling black and white issues may look easy but every once in a gray while, you must realize that the whole situation is jumbled and the opposites are not quite as different as they seem. Spending valuable hours in a debate is a waste of energy if you're lacking sufficient data. Rather than seeking a path out of the dilemma, simply acknowledge you are lost without a map. Sometimes, the easy way out really is the best choice until you gain more control over the circumstances. Sculpture Auguste Rodin wrote, "Patience is also a form of action."
VIRGO Daily Horoscope
Lately, your healthy ambition has been feeling a little tough. No matter whether the virus attacking your powers is a person who specializes in helping you doubt yourself, an event where you didn't shine as brightly as you had hoped you would, or just a case of the blues stopping by for a visit, you can get rid of it today. Remind yourself of a few of your success stories to get your goal up and running again.
LIBRA Daily Horoscope
Your emotional sensitivity could be running a bit high today, and you could fall into a short-term self-conscious phase. The way other people are thinking and feeling will affect you, but it should not excessively influence on how you act. Get some distance from all these emotional influences. Instead, focus on the things that interest you the most. Get back in touch with people later.
SCORPIO Daily Horoscope
Your imagination is a source of countless creativity. You can visualize numerous ways to approach your task today, even if you habitually do them in the same order. Oddly enough, you're less interested in sharpening your efficiency than in adding a sense of freshness to your daily routine. Currently, there is no penalty for wasting a bit of time on a method that may prove unproductive in the long run. Follow your bliss and abundance is yours
SAGITTARIUS Daily Horoscope
If you have been looking for a sign that you are making romantic progress with a certain someone, you have a choice today. You can try to read their body language and pick up on signals in order to get a sense of what they are thinking right now, or you can walk up to them, smile, and ask them. This direct confrontation might not fit your style, but why not try it? You have to go out and get what you want!
CAPRICORN Daily Horoscope
Do you have a bee in your bonnet about something right now? Do not let it buzz you to distraction—instead, stand up to it! Today, you will organize a plan of attack and you will soon see it's not such a big challenge after all. Right before your eyes, that bee will quiet down when you confront it with your checklists and color-coded folders. Plus, all the activity will rev up your energy, so tie that bonnet back on and head out into the great wide open, buzz-free.
AQUARIUS Daily Horoscope
Today, friends and relatives might be eager to spend some time with you. On the surface, it appears that there are no ulterior motives aside from wishing to hang out in your company. However, the plot thickens when you realize that not everyone is sharing what's on their minds. Don't let your anger with someone become an issue now. Closing your heart serves no one if your help or advice is needed. Do your magic by creating a safe space that gives others permission to lean on you for support.
PISCES Daily Horoscope
If you feel like you'd like to take it easy today, then you are right in line with what the universe wants you to do! Most of the big attention-sucking things in your life are calming down, so you should take the opportunity to do some more loosely structured things. Instead of squeezing in a half-hour at the gym, you should take a meandering, leisurely walk. Instead of picking up some fast food at the drive-thru, you should see what's fresh at the market and whip up a healthy meal.
Our Horoscope Prediction about the future and how the stars may impact your life daily routine. Sun signs play an important role in our day to day life. Sometimes we go through the day easily but some days are too stressful. Here are some predictions for the day that will help you overcome the obstacles easily and also give you an inner insight on how to have a positive outlook.
ALSO READ: Yesterday's Horoscope December 4, 2019 (All Zodiac Signs)