Death Stranding New Update Brings Christmas Spirit To The Game
The Santa hat can be used to customize Sam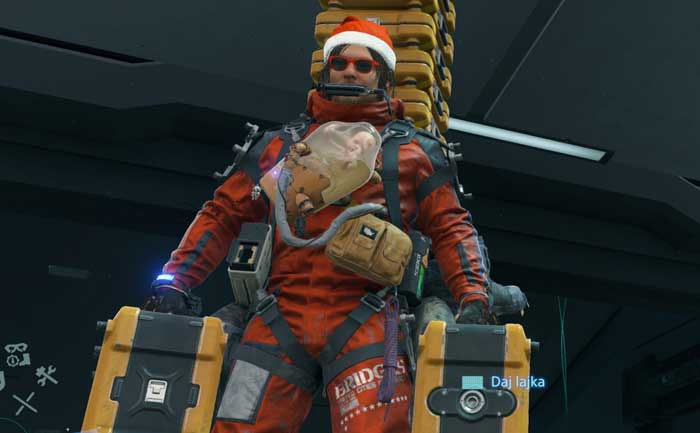 As a rule Death Stranding is a pretty bleak game with dark and twisted themes. However, even Death Stranding has given in to the Christmas spirit. The new Death Stranding patch update 1.08 not only fixes the different performance issues in the game, but it also brings the Christmas spirit to the game in the shape of cute Santa Hats for customizing characters.
As spotted by redditor ashtinfay, the Christmas spirit has been popping up all over Death Stranding. Players are sure to spot a few Santa hats in the mix while making the deliveries around the open world. Ther are, of course, more than a few Grinches around.
The Santa hat can also be used to customize Sam. However, Sam's Santa hat was available before the new update came around. If you want to celebrate the Christmas spirit in Death Stranding, complete with a Santa hat, you will need to strengthen your connection with the pesky Prepper. While the Santa hat might be a bit off-theme in the otherwise serious Death Stranding, it also makes for a welcome break for those very reasons. After all, there is already an otter hat available for Sam.
However, players were expecting a very different update as Kojima Productions had previously stated a "mid-December" update would be introduced to address a number of fan-requested changes. These involved things like allowing players to increase text size and dispose of individual vehicles. However, players might have to wait until 2020 to see these changes come into action.
ALSO READ: Death Stranding Creator Hideo Kojima Reveals His Top 5 Films Of 2019