Delhi: Arvind Kejriwal attacked with chilli powder inside Secretariat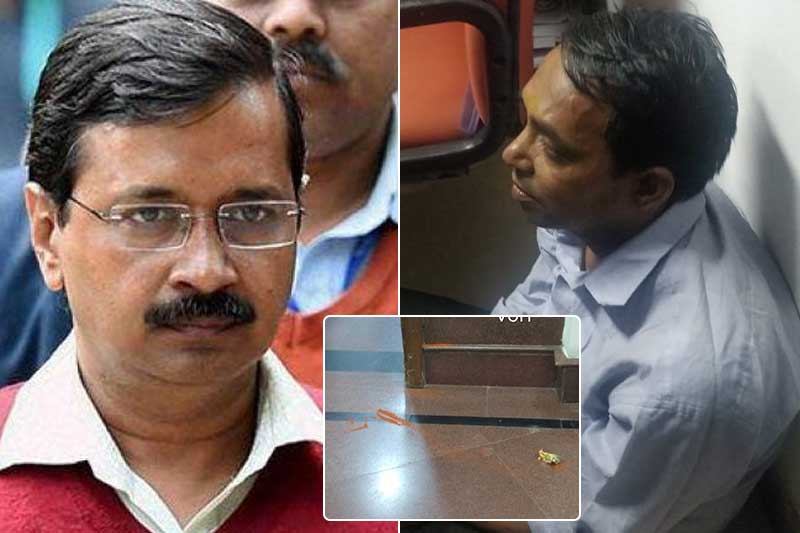 Years after the ink attack on the Delhi Chief Minister Arvind Kejriwal, another chilli powder attack took place on him on Tuesday in the national capital. The accused has been identified as Anil Kumar Sharma and has been arrested by the police, soon after the incident.
According to the officials, the incident took place outside the chief minister's chamber on the third floor of the Delhi Secretariat when the Aam Aadmi Party convenor was leaving for lunch. Though not much has been revealed till now, but the investigations are underway as how did this security lapse took place.
#WATCH: CCTV visuals of the incident that took place at Delhi's Central Secretariat where chilli powder fell from a man's hand. He had come to meet Delhi CM Arvind Kejriwal with his grievances. Investigation underway whether it was an attack or powder fell unintentionally pic.twitter.com/OlRrScpmC2

— ANI (@ANI) November 20, 2018
The AAP leaders Saurabh Bhardwaj and Raghav Chadha have condemned this attack and accused Bharatiya Janata Party-led Central government Delhi police for the security lapse.
"आज जो हुआ है, वास्तव में चौकाने वाला है, गंभीर मामला है।
यदि पुलिस एक independent जांच करती है तो ज़रूर में अपना बयान दर्ज करूँगा"- @raghav_chadha pic.twitter.com/40dUffoJ2m

— AAP (@AamAadmiParty) November 20, 2018
Rogue elements who are attacking the Delhi Chief Minister @ArvindKejriwal are backed by the BJP.

They wanted to attack the Chief Minister even on the inauguration of Signature Bridge. : @Saurabh_MLAgk pic.twitter.com/TYCuOU9VNh

— AAP (@AamAadmiParty) November 20, 2018
How can any random person walk into the Secretariat and attack the Chief Minister. @ArvindKejriwal has faced many such attacks on regular basis. This is a serious security lapse : @Saurabh_MLAgk pic.twitter.com/39RhNHwStD

— AAP (@AamAadmiParty) November 20, 2018
"इस हमले के तार सीधे तौर पर BJP से जुड़े हैं और अपराधियों को पूरा संरक्षण दे रही है मोदी सरकार"- @Saurabh_MLAgk pic.twitter.com/YwRZWmtmxD

— AAP (@AamAadmiParty) November 20, 2018
It is to be known that previously, Kejriwal has been attacked with ink while addressing the press conference and was also slapped during election campaign.
ALSO READ: Arvind Kejriwal attacks Manohar Lal Khattar for his rape remark, says 'He is justifying'