Denise Richards Explains Why Charlie Sheen Is Isolating Away From His Daughters
Charlie Sheen is in touch with his daughters Sam and Lola while they self-isolate at Denise's Malibu home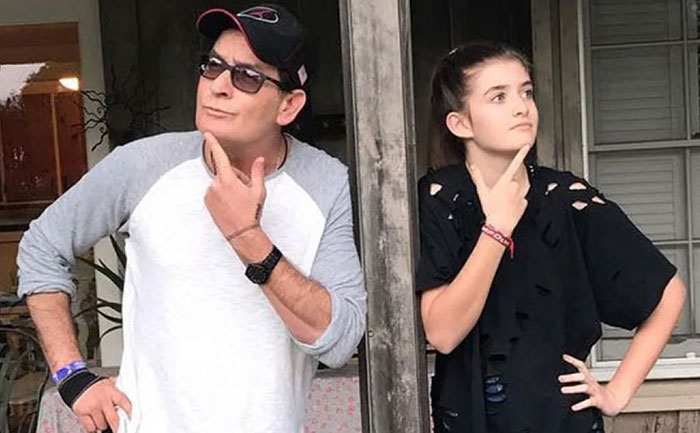 Charlie Sheen has gone into a strict self-isolation alone and ex-wife Denise Richards has explained the reason for this.
"He really wants for himself to be more isolated to make sure that he stays healthy," Denise told HollywoodLife in an interview.
It is a well-publicized fact that Charlie Sheen has HIV. The actor made the diagnosis public in 2017. In addition, he also suffered a stroke a decade after the revelation. Since people with underlying health conditions may have an increased risk of COVID-19 infection, it is sensible that Sheen wants to self-isolating alone.
However, the Two and a Half men actor is in touch with their daughters Sam and Lola while they self-isolate at Denise's Malibu home.
"[Lola and Sam] are obviously very in contact with their dad all of the time," Denise said. "The girls have been doing FaceTime a lot and talking to him on the phone."
Meanwhile, Denise Richards is ensuring that her daughters' education isn't suffering due to the lockdown.
"The girls are still keeping up with school. When they are in school for it during this time, they have specific times they have to be on the Zoom classes and the teachers have been really accountable at turning in assignments on time…so I'm grateful for that because I think it would be really easy for them to procrastinate and do their stuff later," Denise said. "So it's been great that the schools and the teachers are really keeping the kids still have a structured day, because this is such a different time for everyone. Getting on them, making sure they're up, doing their school — It's the same kind of thing."
ALSO READ: Idris Elba And Game Of Thrones Star Kristofer Hivju Tests Positive For Coronavirus