#DhoniKeepTheGlove: Twitterati supports Dhoni; calls for World Cup boycott if the Balidaan badge is removed
Fans are showing their wrath on Twitter and supporting Dhoni.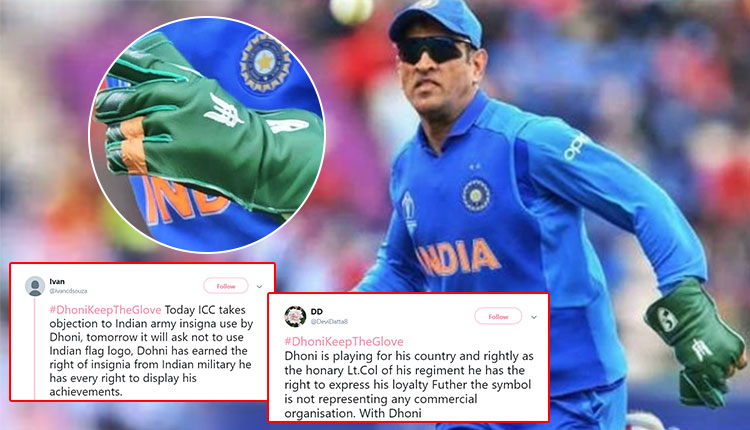 Mahendra Singh Dhoni was spotted with regimental dagger – Army Insignia or 'Balidaan' badge – of the Indian Para Special Forces on his wicket-keeping gloves. Now, International Cricket Council (ICC) wants the badge removed from Dhoni's gloves and has asked the Board of Control for Cricket in India (BCCI) to get it done.
Dhoni is a patriot and we all know this. He holds the honorary rank of Lieutenant Colonel in the Parachute Regiment. Now his patriotism has become a concern for ICC and they have asked to remove the badge. This didn't go well with the Indians specially Dhoni's fans. They showed their disapproval and poured in with their tweets for him on Twitter. #DhoniKeepTheGlove is trending now on Twitter slamming ICC.
Here are the tweets.
I salute his love for the nation and soldiers!
I stand by @msdhoni #DhoniKeepTheGlove pic.twitter.com/Vlyr6OhiRL

— Amit Sampla_AS (@AmitSampla1) June 7, 2019
#DhoniKeepTheGlove@ICC wtf, i mean how can you connect a army insignia with political, religious and racist matter, it doesnt hurt anyone's sentiments, please keep your knowledge with your own#Dhoni#ViratKohli #CWC19

— Sumit Arora (@SumitAr75630558) June 7, 2019
#DhoniKeepTheGloves #DhoniKeepTheGlove Dear @ICC please check your umpire standards which are worst in terms that too in the prestigious world cup…Not on Respectful insignia…#ICCWorldCup2019 #ICCCWC2019 #DhoniKeepTheGloves

— Vedantham Harsha (@VedanthamHarsha) June 7, 2019
Dear @ICC please focus on improving the quality of umpires instead of focussing on @msdhoni gloves. #Dhoni #BalidaanBadge #DhoniKeepTheGlove ??

— Prasoon Kaushik (@kaushikprasoon) June 7, 2019
#DhoniKeepTheGlove Do not remove the badge from your Gloves showing solderity with martyrs is not a crime I also request all Ind. companies to stop sponsoring ICC events ,BCCI and Indian companies are more tha 80% contributors of ICC. If ICC ban Dhoni's glove India should boycott

— DEEPAK KAWATRA (@dkawatra) June 7, 2019
#DhoniKeepTheGlove @msdhoni keep the gloves. @ICC the symbol has nothing to do with Cricket rules. Why England can wear three lions and Pakistan can offer namaz on the field which is actually a religious thing. @BCCI we will boycott the #WorldCup2019

— Vinayakp (@vinayakp9) June 7, 2019
If ICC is Too Interested In Removing Things Then They Should Firstly Remove Terrorist Nation/Poor Umpires Then Anything Else !
I Stand By @msdhoni & His Love For Nation?? #DhoniKeepTheGlove #MSDhoni pic.twitter.com/SgyYrt9h8T

— Ms Baghel (@SiyuBaghel) June 7, 2019
These are a few tweets only. You can see a number of such tweets with #DhoniKeepTheGlove.
I don't understand what's wrong if an Indian Army is showing his love for the nation through the honour he has received.
Do you think ICC should have not asked to do so? Let us know.
Also Read: ICC Cricket World Cup 2019 Fixtures: How To Watch Free On TV, Live Stream, Schedule, Date, Highlights, Tickets