Did Zayn Malik Make Rare Appearance In Gigi Hadid's Instagram Live?
Zayn Malik Makes Rare Appearance In Gigi Hadid's Instagram Live As Fans Seemingly Spot Him In The Background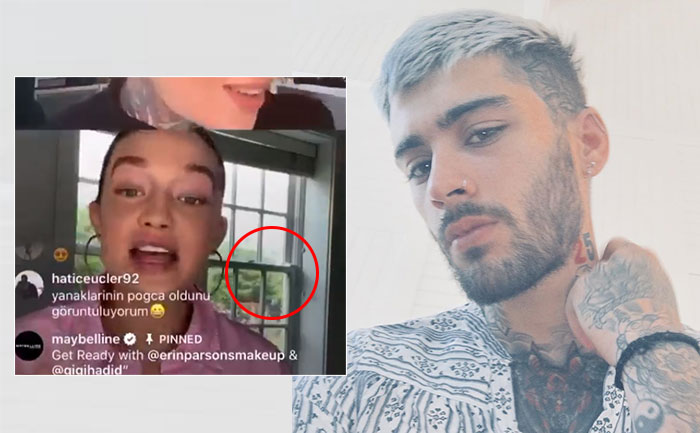 Gigi Hadid and beau Zayn Malik have been quarantining together on a farm he bought in Pennsylvania. The on-again, off-again couple reunited late last year. Gigi Hadid had celebrated her 25th birthday in quarantine, with family and the One Direction singer. The couple caused a meltdown when news of Gigi being pregnant with Zayn's child hit social media. We now have fans claiming they spotted Zayn in Gigi's Instagram live.
Zayn Malik has been laying low with his pregnant girlfriend Gigi Hadid. His fans have finally come to know how the singer has been spending time during the lockdown. Fans think that they have spotted Zayn in Gigi's insta live.
The 28-year-old 'Flames' singer talked to Erin Parsons in the Instagram live. It was for a 'Get Ready' installment with makeup brand Maybelline. As she was seen discussing skincare with the makeup artist, a man could be spotted walking along with a horse in the back garden, through the window. Fans believe that he is none other than Zayn.
The short clip soon went viral on Twitter after it was shared with the caption: "Zayn with a horse at the back of Gigi's live is SENDING ME."
Check out the viral video shared by a fan:
Zayn with a horse at the back of Gigi's live is SENDING ME
pic.twitter.com/kTHCcxLF5n

— 𝐝𝐞𝐞. (@harrymoonchild) May 21, 2020
People were quick to reply with some seriously hilarious memes, with one tweeting: "This is the only Zayn content we will get the rest of 2020." Another penned: "THE MOST WE'VE SEEN HIM IN AGES IM DEAD I LOVE HIM SO MUCH."
Check out some tweets here;
If he ever needs a stable hand I'm here

— Ashton Louis (@boomash1) May 21, 2020
@zaynmalik u r doing a pretty bad job hiding😂😂 fbi agents hire us for help🔥😘😝😂😂

— OT5 Stan (@laya_shibu) May 21, 2020
when your man doesn't show himself so you have to find him through the peepholes.

— S (@_UnknownBird7) May 21, 2020
Despite all the responses, some people had noticed that the man in the background was blonde, leaving them to question if the 'Pillowtalk' star has dyed his hair again, or if it's really not even Zayn at all.
How do you know that is Zayn? I thought his hair was dark colored?

— 💮MICHEY💮 (@harrys_angel_br) May 21, 2020
Okay but who told you that its zayn

— LOUIS-WALLS (@i_love_donnyboy) May 21, 2020
Speaking about Zayn and Gigi's relationship status, rumours abound that the couple is engaged and will soon tie the knot. But there has been no confirmation of the same as yet.
Also Read: Gigi Hadid-Zayn Malik back together, ring in One Direction singer's 27th birthday