Diljit Dosanjh Takes A Fresh Dig At Kangana Ranaut In A Mimicking Audio Clip-View  
Diljit Dosanjh And Kangana Ranaut Are Currently At Loggerheads After The Actress Slammed Him For Supporting The Farmers Protest. He Takes A Fresh Dig On Her Mimicking Her Voice In An Audio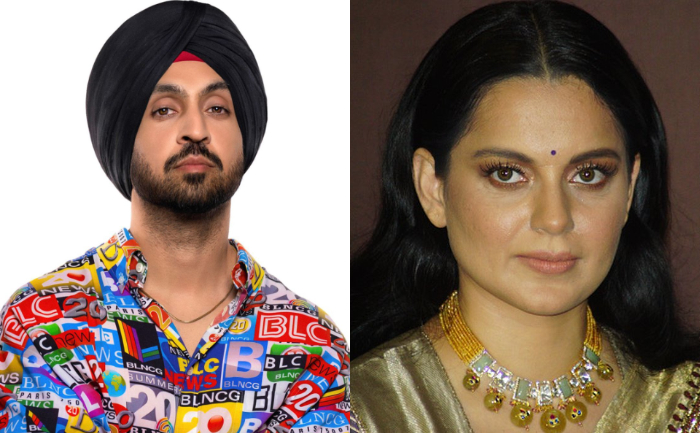 Bollywood actors, Kangana Ranaut and Diljit Dosanjh have been making headlines after the duo slam each other on social media handles. The duo have come at loggerheads after sharing their opinions on the new Farm Bill and the ongoing farmers protest. After the actresses slams him in a series of tweet post, he now takes a fresh dig at her mimicking her voice.
The Punjabi hunk took to his Twitter handle and shared an audio of himself, wherein he could be heard mimicking Kangana and urges his fans to avoid. He shared a  cryptic note in Punjabi, which reads in English as, "Oh my god. I have to share something with you guys. There are two-three girls who are unable to digest their food until they chant my name in the morning. It's just like a doctor prescribing two tablets in the morning and two in the evening. Only then are they able to digest food. One of those girls has a very irritating voice, so irritating. Don't pay any attention to them. They will bark themselves hoarse. Ok ta ta."
Ek Funny Gal Share Karni c 😂

Mitran Da Naam BLOOD PRESSURE Di Goli Varga Ek Vaari Lagg Jave.. Fer kithey hatda..

Tera ni Kasoor… 🤣 pic.twitter.com/5fMyn2oGoB

— DILJIT DOSANJH (@diljitdosanjh) December 19, 2020
For the unversed, Kangana had earlier slammed Priyanka Chopra and Diljit Dosanjh for supporting the farmers who were protesting. She had accused the two stars of provoking the protestors. She had posted this tweet reacting to a video, wherein the host was seen cross checking the protestors general knowledge about the new farm bill. However, few people in the video appeared to be unaware about the proper details of the Farm Bill. Few protestors said that they had only joined the protest to support their leaders.
मैं चाहती हूँ कि @diljitdosanjh और @priyankachopra जी जो किसानों केलिये लोकल क्रांतिकारियों की भूमिका में दिखे कम से कम एक विडीओ की माध्यम से किसानों को ये तो बताएँ की उनको विरोध किस बात का करना है,दोनों किसानों को भड़काकर ग़ायब हो गए हैं, और देखो किसानों की और देश की ये हालत है। https://t.co/k6G8YRVItQ

— Kangana Ranaut (@KanganaTeam) December 16, 2020
For all the latest updates, stay hooked on to The Live Mirror.
Also Read: Diljit Dosanjh Hits Back At Kangana Ranaut After She Accuses Him Of Provoking Farmers