Diwali 2019: October Online Shopping sale, Significant dates
Online Important dates in October for the online Diwali sale to look out for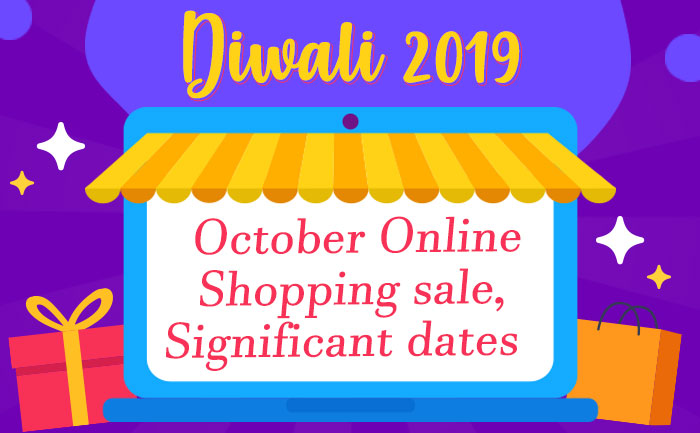 The grand festival of Diwali is not far away. It is only one week away and with that every year comes the biggest Diwali sale. During the festive occasion, the customers are super excited as they are aware of the enormous discounts available on the products. It is during the Diwali sale where online stores such as Amazon, Flikpart, Myntra, Jobong and others provide relief to the consumers by putting significant discounts on various products.
The best part about the October online sale especially during Diwali is that the consumers get special vouchers. Also, there are specific timings where the discounts get even better. But the question here is are you aware of the dates? So if you are not, we here present to you online stores that give big discounts. Get, set, ready for the Diwali festive sale!
Diwali 2019: October Online Shopping Flipkart, Amazon, Myntra, Jabong sale dates
Amazon
Amazon's Great Indian Festival had began on October 13. The festival celebrations will continue till October 17 at 11:59 p.m. This five day festive sale gives discounts and many offers.
Amazon's Great Indian Festival Period: October 13 to October 17
Amazon Electronic Sale 2019: October 15th to 18th, 2019
Amazon Diwali Sale 2019: October 25th to 27th, 2019.
Flipkart
Flipkart big Diwali sale kick-started on October 12 and ended on October 16, 2019. The sale began on October 11 at 8 pm for only the Plus members.
Flipkart Big Diwali Sale 2019 Period: October 12th to October 16th 2019
Flipkart Dhanteras Sale: October 25th, 2019
Flipkart Diwali Sale: November 27th, 2019.
Jabong
Jabong has been providing exclusive Diwali sale 2019 where you can purchase everything that you have been waiting since a long time. Jabong Diwali sale will start from October 25 and continue till October 27 in 2019.
Jabong Diwali sale 2019 period: October 25 to October 27, 2019
Jabong Diwali sale 2019 start: October 25, 2019
Jabong Diwali sale 2019 end: October 27, 2019
Myntra
Myntra Big Fashionostav Sale Kicked off from October 12 and ended on October 15, 2019. This offer is limited as you will get 80% discount. Usually, the Diwali sale happens whenever Diwali is around or approaching fast.
Myntra Big Fashionostav Sale Period: October 12 to October 15, 2019 (11:59 PM)
Myntra Diwali Sale: October 25 to 27, 2019
Also Read: Diwali 2019: Top 7 Shopping Markets In Mumbai