Inside Justin Bieber and Hailey Baldwin's $8.5 Million Home; view pics
Justin Bieber gave a photo tour of his and Hailey's Beverly Hills home, and asked his fans to 'make an offer'.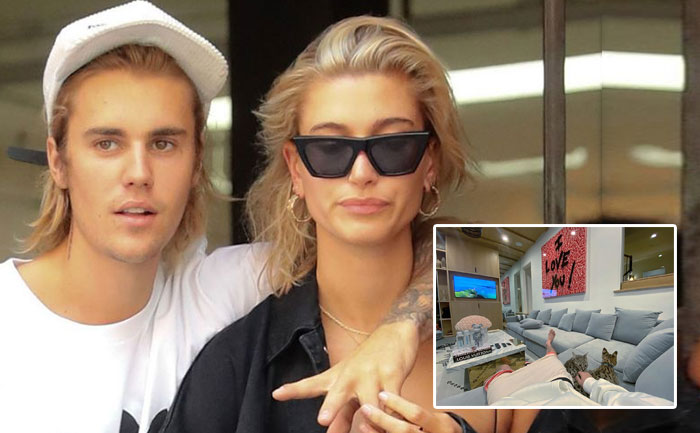 Justin Bieber recently tied the knot with his wife Hailey Baldwin once again. Pictures from the private ceremony soon trended on the social network. Now a few days back the singer took to Instagram and shared some inside pictures of his $8.5 Million Beverly Hills Home that he shares with wife Hailey. He is apparently thinking of selling the mansion as he also asked fans to make an offer for it.
The "10,000 Hours" singer took his fans on a tour of his mansion with some inside pictures. The first look he gave were three photos of a staircase from different angles.
Skateboards lined the wall going up the stairwell.
Justin and Hailey had moved into the house in July, decorated their home with modern furnishings, artwork, an arcade game and a giant, black-and-white portrait of themselves.
They have also used a lot of blonde wood and added quirky KAWS X Sesame Street figurines in glass boxes.
The staircase soon takes a dark and ugly turn, though, and we see that its guarded by a caged Cookie Monster and his compatriots. Weird, cursed mist is creeping into the frame.
In one of the photos fans could also see his two cats Sushi and Tuna sitting on the blue-grey couch next to him.
The five-bedroom, seven-bathroom home has a wet-bar, a wine cellar, and a home theater, reports the Los Angeles Times. The Bieber home has a lot to offer in the way of eclectic, modern style.
It also features beloved Chuck E. Cheese pastime SuperShot,
Here is another staircase that has a tropical print of a Brooklyn cocktail bar, complete with neon sign
The living room
Hailey and Justin tied the knot for the second time in South Carolina. The wedding was attended by Kendall Jenner Opens in New Window, Kylie Jenner Opens in New Window, Kris Jenner, Jaden Smith Opens in New Window, and Justin's manager, Scooter Braun.  They wed for the first time at a New York City courthouse in September 2018.
Also Read: Justin Bieber and Hailey look adorable in photo as Selena Gomez dating rumours with Niall Horan create buzz