Diwali 2019: Date, History, Significance, customs and celebrations
The festival of lights is approaching fast and here are all the details for the grand Hindu festival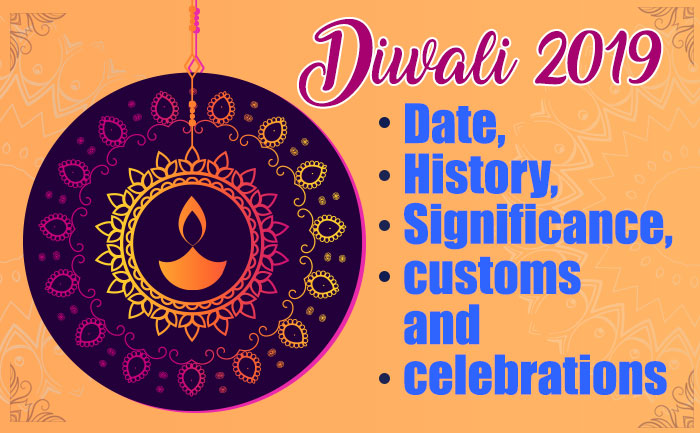 Diwali is a five day long, elaborate Hindu Festival. The festival of lights is celebrated across the country with jubilation and gusto. This year Diwali will fall on Sunday, October 27, 2019. Diwali which is celebrated with fervour basically symbolizes triumph of light over darkness, of good over evil. It is the only festival that is awaited for the whole year.
Diwali 2019 Date, History, Significance, customs and celebrations
1. Diwali 2019 Date: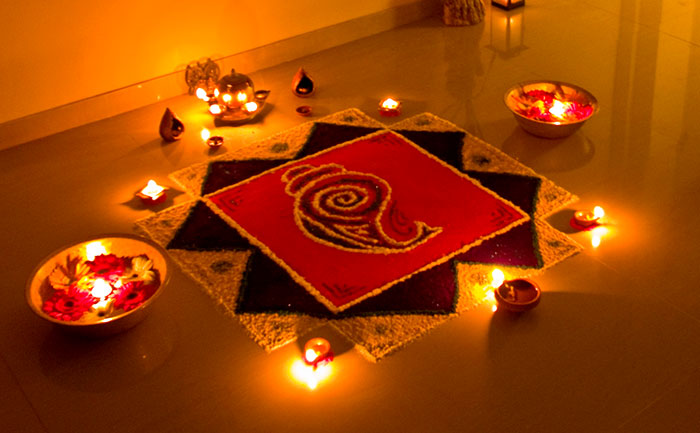 This year Diwali will be celebrated on October 27, 2019. The prominent Hindu festival is usually observed on the specific day of 'Amavasya' or new moon which is basically the 15th day of Kartik as per the Hindu Calendar. The festival indicates wealth and happiness. As it is five day festival it will be celebrated beginning from Dhanteras to Bhai Dooj.
Day 1 Dhanteras, October 25

–

Dhanteras is the first day of Diwali. It starts the five days of deepavali festival. On Dhanteras, people celebrate the festive occasion by purchasing gold or silver according to their beliefs. Some people also buy utensils. It is a belief that buying any metal on this auspicious occasion will only bring good luck.
Day 2 Narak Chaturdasi October 26

–

The second day of Diwali marks with Narak Chaturdasi. Also known as Choti Diwali. There is one traditional practice followed by some people where they take an oil bath before sunrise with Ubtan. On choti Diwali people light 11 diyas outside their homes during evening after Pooja.
Day 3 Lakshmi Puja October 27

–

The third is the main day of the Diwali Festival. The whole focus of the festival is given to Lakshmi Puja. On this day, people keep their homes spotlessly clean and crystal clear, decorate their entire house with lights and lit diyas, make rangoli outside the entrance of their home. All this is done to welcome Goddess Lakshmi. During evening Lakshmi Puja is performed with all the customs and rituals in every house. Later on, people visit each others house and give gifts and sweets to celebrate the festival.
Day 4 Goverdhan Pooja October 28

–

Goverdhan Pooja is performed with utmost joy and religious fervour on the Fourth day. In north India, Goverdhan Pooja marks the commemoration of lifting Mount Govardhan by Lord Krishna. In South India, this day is celebrated as Gudi Padwa which identifies as love and devotion between the husband and wife.
Day 5 Bhai Dooj October 29

–

Bhai Dooj is the last and final day of Diwali. It is on this day when sisters pray for the longevity of their brothers whereas brothers give gifts and money as a gesture of love.
2. History of Deepavali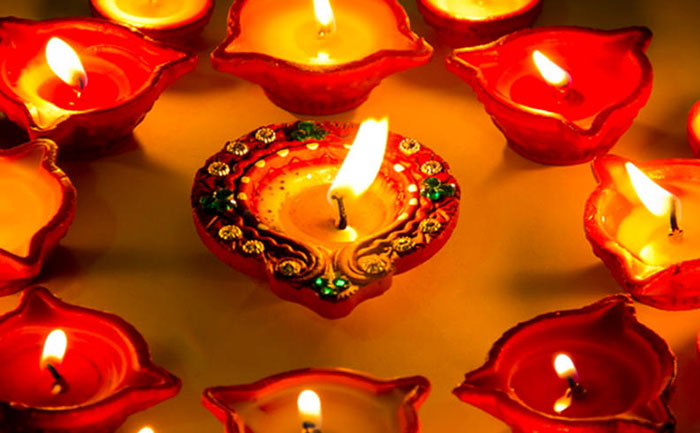 The history of Deepavali begins from the mythology. It is referred to as Deepapratipadutsava in the seventh century Sanskrit play Nagananda where new married couples were gifted lamps and many other important things in remembrance of Lord Vishnu and goddess Lakshmi's marriage. Mostly deepavali originally is considered to be the celebration of the marriage of Lakshmi, the goddess of wealth, with Lord Vishnu, the protector.
When it comes to the ancient history of deepavali, it is mostly referred to as Dipamalika in the ninth century work of the poet Rajashekhar. since where the traditions of cleaning homes and decorating houses with lights are mentioned. In the Hindu families, Deepawali is celebrated in remembrance of return of Lord Rama and Sita to their own kingdom of Ayodhya as their exile of 14 years is over. Their return was celebrated as one joyous moment and that is why the citizens of Ayodhya illumine the whole Kingdom with earthen diyas, which essentially was the origination of the festival of lights.
Another legendary story also comes related to the celebration of Diwali. One famous legends describes the story of Yama and Nachiketa on amavasya of Kartik. The tale explains the importance of true wealth, Knowledge, and right versus wrong. Ultimately, this is one basic reason as to why deepavali is celebrated as the festival of prosperity, wisdom and light.
3. Diwali Significance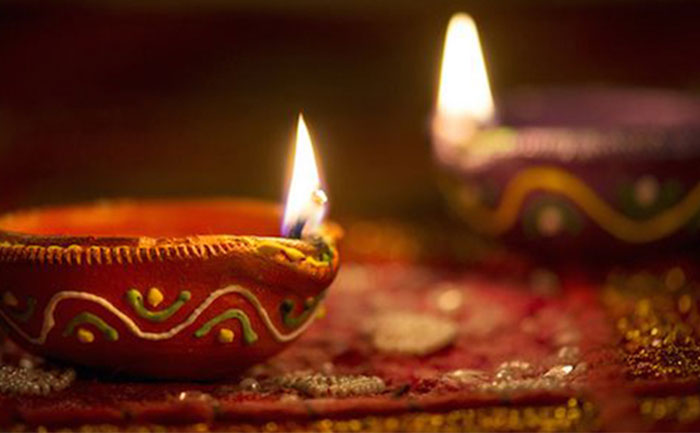 The significance of this Hindu festival serves different occasions in Hindu Mythology. Dhanteras symbolises the beginning of new financial year for the Hindus. Choti Diwali marks in remembrance of victory of Lord Krishna over the devil king Naraka. Main Diwali which is the third day is celebrated to worship goddess Lakshmi as she was born from Samudra Manthan. Goverdhan Puja indicates the triumph of Lord Vishnu over the demon King Bali and also the victory of Lord Krishna over God Indra. Bhai Dooj is celebrated as the love and affection between brother and sister.
4. Diwali Customs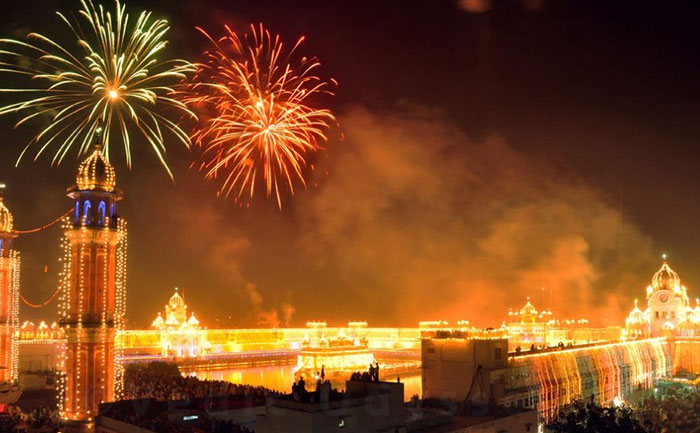 In many religions Diwali is celebrated in diverse way. It is one festival that brings together different religions, cultures and regions. Deepawali has its importance in Sikhism, Jainism, and Buddhism besides Hinduism. Hindus traditionally celebrate Diwali as the return of Lord Rama with Sita after defeating Ravana, the King of Lanka and serving14 years of Exile in the forests. On the other hand, Jains celebrate the festival as the day when their last Tirthankara attained enlightenment while Buddhists mark Diwali when Ashoka converted himself into Buddhism. The Sikhs celebrate the festival in remembrance of their homecoming of Guru Har Gobind Ji.
5. Diwali Celebrations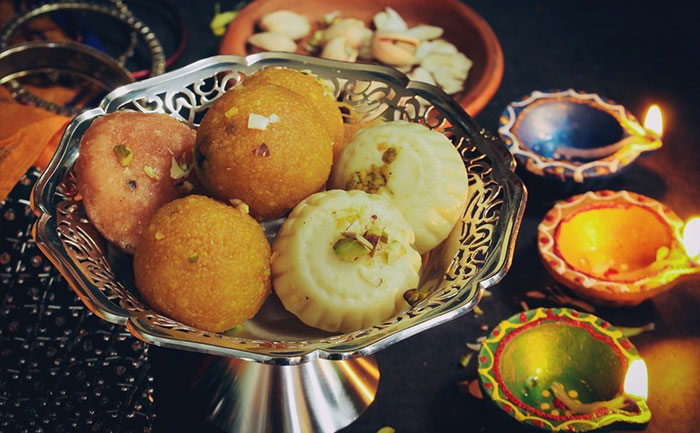 Diwali Shopping, Gifts and Greeting Cards

:

It is the day of Dhanteras when people are excited about the festival of Diwali. On that day, all the families go for shopping and buy gold, silver and utensils. People flock all over the jewelers and shopping markets to buy something or any item of metal on that day. Even for gifting friends and family, they buy gifts which include chocolates, sweets, dry fruits or any item suitable to their needs. This is also the right time to buy kandeels or lanterns, diyas, lamps, lights to decorate their homes. Any pooja related materials to buy for the Lakshmi Puja. Greeting cards along with the gifts to wish others a happy and prosperous Diwali.
Diwali Feast
One of the important factor that plays a role in Diwali is the food. Without food it is hard to imagine the enthusiasm and spirit of Diwali. Families in the household often began making sweets and other recipes at home to brighten up the mood and relish the food. In sweets laddoos, Jalebis, kheer, Kaju katli, halwas and barfis are served. In savoury food dahi vade, cauliflower pakora, shahi paneer, puri or food of their choice is made with great excitement and festive spirit and enjoyed with all the during the meal time.
Diwali Fireworks
Bursting crackers in Diwali has always been a pivotal thing in the fesival. People light up the sky with fireworks. However, lately due to excess increase of pollution, it is important that you burst crackers in the limit. Diwali is no more only a festival celebrated in India, now it is also celebrated internationally in various places on a grand scale.
Let us know how you will celebrate this Diwali.
Also Read: Diwali 2019: October Online Shopping Sale, Significant Dates