Donald Trump meets Kim in North Korea, scripts history
American President Donald Trump meets North Korea's Kim Jong Un on Sunday at DMZ in landmark visit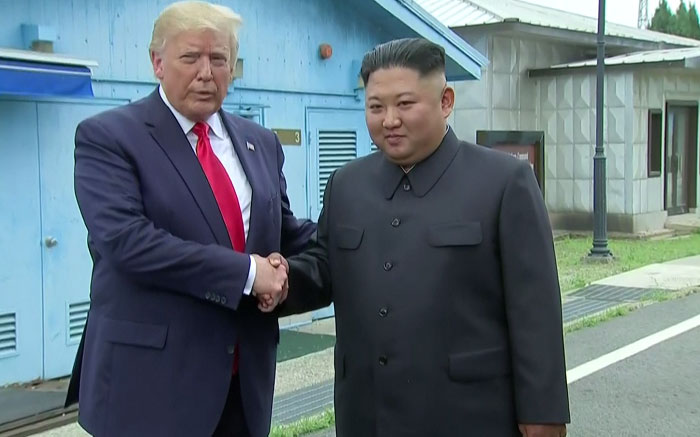 United States President Donald Trump met North Korean leader Kim Jong-un in a historic move. The two leaders have each stepped over the border at the Demilitarized Zone (DMZ) that divides the Korean Peninsula, after shaking hands on Sunday. This is the first time a US sitting president has set foot in the former enemy territory.
The encounter at the Korean DMZ came a day after Trump raised the prospect of a border handshake in a tweet and declared he'd have "no problem" stepping into North Korea. While inside North Korean territory, they shook hands and patted each other's backs before returning across the border to the South. He also invited Kim to the White House.
This is the third time this year that the two leaders are coming face to face, the last meeting being in May at Hanoi.
"This is a historic moment," said Kim after Trump entered North Korea, crossing the military demarcation line separating the two Koreas. The North Korean leader acknowledged that he was surprised by Trump's request to meet, and accepted the offer due to their "excellent relationship" and the significance of meeting at the border.
"Stepping across that line was a great honour," Trump said, adding that his and Kim's was a "great friendship," CNN reported.
After parting with Kim Trump told the reporters, "We just had a very, very good meeting with Chairman Kim. We've agreed that we're each going to designate a team. The teams will try to work out some details."
De-nuclearisation talks hit a roadblock after the second Summit in Vietnam ended abruptly as the two sides reportedly failed to resolve their differences over sanction waiver. Later North Korea tested multiple short-range missiles as a sign of apparent frustration over the stalled negotiations.
Pyongyang has repeatedly insisted that the removal of penalties will help spur economic growth, while Washington has reaffirmed that sanctions will not be removed till the communist country completely stopped its nuclear weapons programme.
We do hope this historic meeting will have a positive outcome soon.
Also Read: Ahead Of His UK Visit, Donald Trump Calls Meghan Markle 'Nasty'