Eid-Al-Fitr 2019: 5 Must Have Recipes Of Popular Dishes This Eid
No Eid is complete without food...Is it?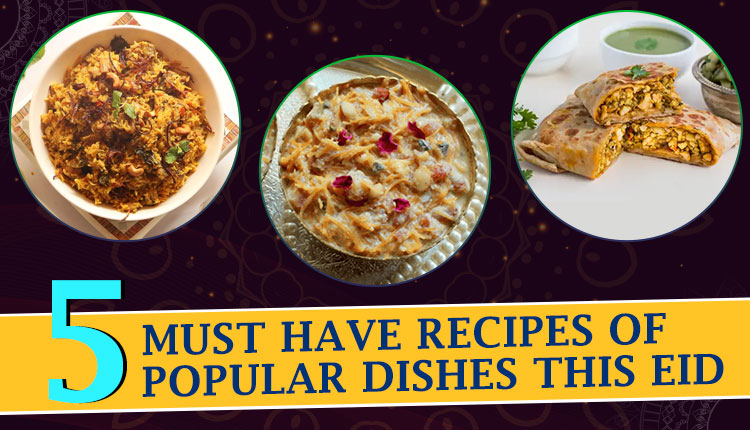 Eid-Al-Fitr is right on the corner and its real fun thinking about all the good food, the best wishes from friends and relatives. We also consider Eidi and new clothes as a part of the fun and frolic. No Eid, especially Eid-Al-Fitr is complete without these things. The family time spent together making the dishes like Sheer Khurma and mutton biriyani, shopping for gifts are some of the perks of all Indian festivals and Eid-Al-Fitr this year is no exception.
There are some food staples during Eid whose recipes are always in vogue. The new generation tries to find the perfect recipe just to recreate the taste that they remember when the same thing was prepared by their grandmothers.
Here we share some popular dishes and their recipes for Eid.
1. Sheer Khurma
Sheer Khurma is a popular dish basically summed up as a vermicelli pudding made with milk dates, cardamom and other dry fruits. While the place of origin is mainly Hyderabad, all the countries with a significant population of Muslims have this as a staple.
2. Shahi Tukda
With bread as its main ingredient, this is a wondrous delicacy. Fried bread topped with sweetened condensed milk, dry fruits and saffron is in itself a sight to behold. The taste is something heavenly. This avatar of bread gives the bread a new identity itself.
3. Mutton Biriyani
Fragrant Basmati rice with mutton pieces cooked in exotic spices makes the main course absolutely flavourful. No wonder, this is a staple on a dining table on the occasion of Eid. It is filling and delicious. Mainly a play of spices like Nutmeg, cardamom, cinnamon and the star with the rice and the pieces of mutton, mutton biriyani is an all-time favourite.
4. Phirni
Kheer has always been the star of all handmade-homemade sweets. But the variation is known as Phirni is the Superstar. Eid is incomplete without this saffron garnished rice pudding. MIlk, granulated rice, sugar, dry fruits and most importantly Saffron form the basic ingredients of this dessert. Eat it hot or cold, its up to you how you want to savour the dish.
5. Baida Roti
A royal dish with a bombaiya name is a must-have. Baida means egg and roti is the regular flatbread. The dish is popular in Kolkata as 'Mughlai paratha'. With eggs and dough forming the basic, one also prepares a filling. The experimentation for filling is up to you as to you would like it. After all, Eid is yours, you get to choose your fillings.
Also Read: Eid Al Fitr 2019: Mosques That Host The World's Largest Eid Congregations