Ekta Kapoor takes off her rings after 17 years, says, Thanos has left the building
TV producer Ekta Kapoor took to her Instagram handle and shared a video after she removed her rings and bracelets after 17 years.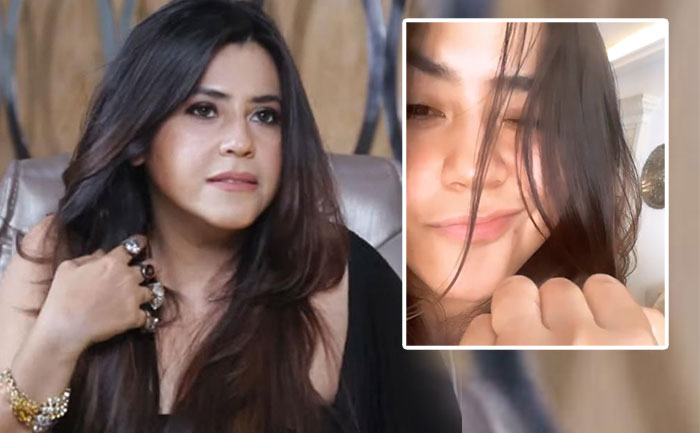 TV Producer Ekta Kapoor has finally done the impossible, it is stated that the producer never removes her rings and bracelets as it is said to have some connection with the almighty or numerology, but, finally, she has done something unbelievable as she removes all her rings and bracelets.
Ekta Kapoor took to her Instagram handle and shares a video of her bare hands, she captioned the video,"Meanwhile in other news! Thanos has left d building !!! He destroyed d world enough ! Just kidding !!! #goinghandsfree #onehandatatime"
Check out Ekta Kapoor's Instagram post:
The producer's friends are fans were left gaga by her video. Many television personalities commented as well, Karishma Tanna asked her, "Wat??? Wow" To which Ekta replied saying,"yussss for a few days." while Hina Khan wrote "How did this happen?" in Hindi.
Karan Patel also wrote, "Really? This one I never thought I'll see in this lifetime at least (sic)."
Meanwhile, the television czarina recently released a statement that says that he has mentioned that she will forsake her one year's salary i.e 2.5 crores for her co-workers at Balaji Telefilms.
In the statement, she wrote, "It's my first & foremost responsibility to take care of the various freelancers & daily wage workers who work at Balaji Telefilms & who are going to suffer immense losses due to no shootings in the current scenario and uncertainty over the indefinite period to follow."(sic)
The only way ahead, is together! #StaySafeStayHealthy pic.twitter.com/OGpygoclXZ

— Ekta Kapoor (@ektarkapoor) April 3, 2020
On the other note, Ekta is currently gearing up for her next project, 'KTina' with actor Disha Patani, directed by Ashima Chibber. The movie is set to hit the theatres in 2020.