Elon Musk and Grimes Have Changed their Baby's Name
Elon Musk and Grimes change their son's name, a bit. Memes are still hilarious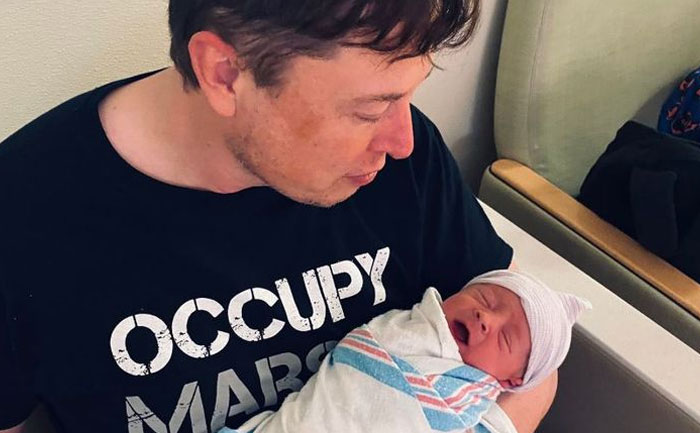 Elon Musk and his girlfriend Grimes have welcomed their first child together. Elon confirmed the news through a tweet. The SpaceX CEO had shared the news when a fan asked for an update on the baby. The couple named their newborn son as "X Æ A-12." Elon has also clarified how to pronounce the name.
Speculation abounded that the unusual moniker might fall foul of the law in California. The reason being that as per the State constitution names can only use the 26 alphabetical characters of the English language
The couple has changed their son's name. Now it is X Æ A-Xii.
On Sunday, Grimes posted a new photo on Instagram. A fan asked, Did you change the baby name because of Californian laws? What is the baby's new name?" To which the singer responded with "X Æ A-Xii". In the same comment she also replied, "Roman numerals. Looks better tbh."
Twitter soon exploded with different versions of Elon and Grimes son's name. Here are some of them:
X Æ A-XII (formerly X Æ A-12) will be rolling into high school in one of these bad boys when he gets his learner's pic.twitter.com/zHSazg1Fi9

— Halo Plasmaposting (@Plasmaposting) May 26, 2020
Elon Musk and Grimes really think they did something by changing their child's name from "X AE A-12" to "X Æ A-Xii". pic.twitter.com/sxzRxUI2YP

— Wiseling (@WiselingYT) May 26, 2020
X Æ A-12 *finds out his parents can't put his name X Æ A-12 * :
They change it to X Æ A-XII: pic.twitter.com/DijU7L4xSv

— ana (@1drinkamy) May 25, 2020
X Æ A-Xii is the couple's first child together. Musk has five other children — twins Griffin and Xavier and triplets Damian, Saxon and Kai — from a previous marriage.
Also Read: Elon Musk Explains How To Pronounce His Son's Name