Tom Cruise to shoot a film in space with Elon Musk and NASA?
Tom Cruise and Elon Musk plot first narrative feature with NASA to be shot in outer space?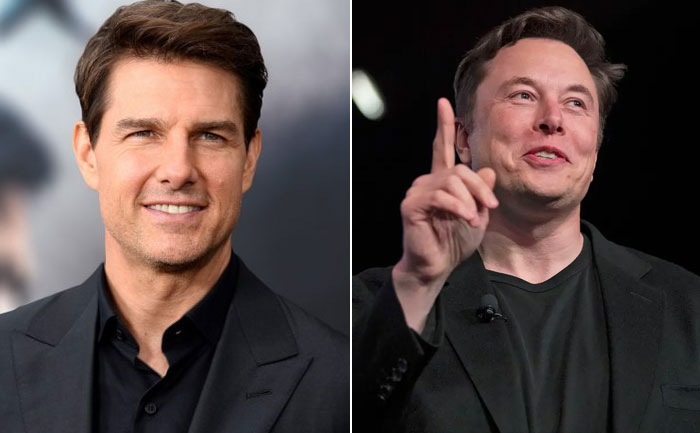 Tom Cruise is all set to take action to a new high. The actor has scaled the Burj Khalifa in Dubai, hung off the side of an airplane mid-flight, and performed death-defying stunts. He is all set to attempt his biggest stunt yet: Tom is reportedly planning to film a movie in outer space.
Tom Cruise is set to shoot a film in outer space. He has reportedly joined hands with Elon Musk.
Deadline has reported that Tom Cruise is working in partnership with Elon Musk's aerospace manufacturing company SpaceX. They will be joined by NASA, to create the first narrative feature film to be shot in outer space. The project will be an action-adventure movie, though no studios are attached to mount the movie.
This is not Elon Musk's first foray into behind-the-scenes of fiction filmmaking. In 2005 he was credited as executive producer on Jason Reitman's "Thank You for Smoking." His SpaceX company received a short-form profile with the 2018 documentary "Mars: Inside SpaceX."
If the reports do come true then we might see Tom Cruise performing some high-octane stunts in outer space.
On the work front, Tom Cruise will next be seen in 'Top Gun: Maverick'. It is a sequel to his 1986 hit 'Top Gun'. The film, which was scheduled to hit theatres worldwide in June, has been delayed till December due to the coronavirus pandemic.
Tom is also working on two back-to-back 'Mission: Impossible' films. The much-awaited sequels are also getting delayed due to the on-going global catastrophe the COVID-19 pandemic that has gripped the world.
Also Read: Tom Cruise's Mission: Impossible Sequels Get Delayed Amid Coronavirus Outbreak