Ex-Punjab CM Parkash Singh Badal returns Padma Vibhushan To Support Farmers
Former Punjab CM Parkash Singh Badal returns Padma Vibhushan in protest against farm laws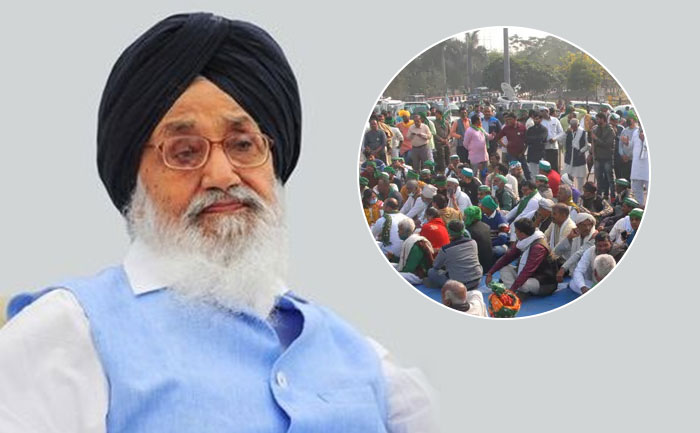 Former Punjab CM Parkash Singh Badal has returned his Padma Vibhushan. It is India.s highest civilian award. The Ex-CM has done so to protest the betrayal of the farmers by the Government of India. Badal said that he has taken this step in accordance to the "manner in which the government is dealing with the farmers". He said, "I feel so poor that I do not have much else to sacrifice to express solidarity with the farmers' cause."
Parkash Singh Badal has written a letter to President Ram Nath Kovind to convey his decision.
He said, "I feel so poor. I don't have much else to sacrifice to express solidarity with the farmers cause."
Check out his statement shared by a Mumbai Mirror's Dushyant.
Former Punjab CM Parkash Singh Badal returns his Padma Vibhushan. "shocking indifference and contempt with which the Govt is treating the ongoing peaceful and democratic agitation against the Farm Acts." "Deeply pained by the communal insinuations being thrown" pic.twitter.com/T2PyEEjbOQ

— Dushyant (@atti_cus) December 3, 2020
Meanwhile, Punjab CM Captain Amarinder Singh met Union Home Minister Amit Shah on Thursday, saying that he had reiterated his opposition to the laws and asked him to resolve the issue.
The third round of talks between the Centre and the farmers' leaders over the controversial farm laws is underway at Delhi's Vigyan Bhawan. It is reportedly being attended by 40 leaders representing the farmers. Union Agriculture. Minister Narendra Singh Tomar and Union Minister Piyush Goyal are present at the meeting on behalf of the Centre.
Also Read: Farmers Protest: Farm Leaders Reject Home Minister Amit Shah's Offer To Talk