Watch: Fans pause film 2.0 for 3 minutes to celebrate Rajinikanth's first entry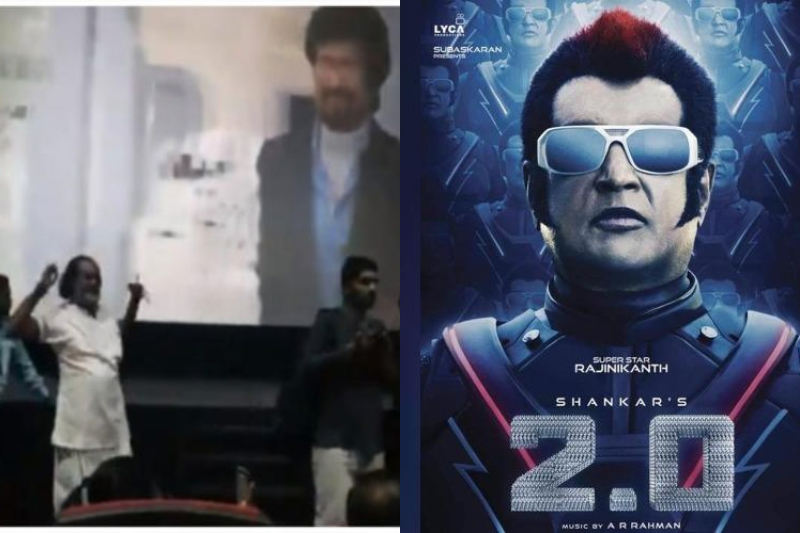 There is no doubt Rajinikanth is touted to be a God of Indian Cinema. Folks are celebrating his latest release Robot 2.0 like a festival today. Rajinikanth's fans are making all possible efforts to show their love for him. But, their emotions reached a new level when his fans went to watch 2.0 starring superstar Rajinikanth and Akshar Kumar today.
It is to be noted that the first show of 2.0 was started early at 4 AM in the morning and the excitement among the fans is unexplainable. Thalaiva's fan poured milk on his cardboard cutout. Mumbai is no different this time. Fans were seen lined up outside the theatres to buy their tickets.
A video of his fans who went to watch 2.0 is doing rounds on social media. In the video, Rajinikanth's fans paused the film for 3 minutes to celebrate Thalaiva's first entry in the theatres. The review of the 2.0 is out and getting a good response from both viewers or critics.
Watch the video of fans dancing to celebrate Rajinikanth's entry:
The movie has been paused for 3 minutes. Thalaiva's first look in the movie is being celebrated in style? #2Point0 #2Point0FDFS !!@RIAZtheboss @aditi1231@LMKMovieManiac @resulp@shankarshanmugh @iamAmyJackson @anirudhofficial@LycaProductions pic.twitter.com/VD3EEmb5H0

— Rajinikanth Fans 2.0 (@RajiniFansTeam) November 29, 2018

In the film 2.0, Rajinikanth holds the film together and is there virtually in every scene, be it as scientist Vaseegaran, evil Chitty, good Chitty (2.0 version) or Kutty Chitti (3.0 version). In comparison, Akshay Kumar got more screen space in the second half of the movie. He plays antagonists and complete foil to Rajinikanth's superhero.
It is being bankrolled by Lyca Productions, has been made on a staggering budget of over Rs 540 crore, which clearly means that the film has no option but to work phenomenally well at the box-office. It is to be noted that makers of the film claimed to have already recovered Rs 370 crore by selling off rights of some circuits in India, digital and satellite rights.
Also read: 2.0 movie review: Rajinikanth, Akshay Kumar starrer has impressive VFX