Farmers Protest: Amit Shah's Talks With Farmer Leaders Fail
Indian Farmers Meet Amit Shah But The Deadlock Persists; Todays Meeting Cancelled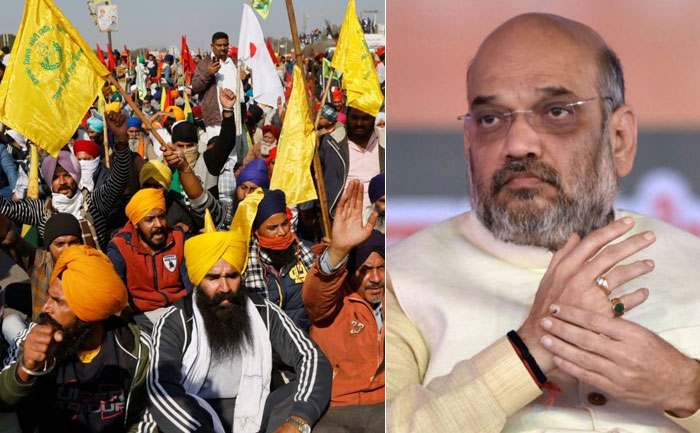 Farmers' protest against the Centre's three contentious farm laws entered day 14 on Wednesday. Yesterday Home Minister Amit Shah had asked the Farm Leaders to meet him at 7 pm yesterday to solve their issues. Eight farmer leaders were called for the meeting, which started around 9 pm. The biggest farmers' union of Punjab, the Bharatiya Kisan Union Ugrahan, was not invited for the meeting.
But Home Minister's meeting with protesting farmers to resolve the deadlock has failed. The reason is that both sides have remained firm in their positions.
The government offered an amendment in the laws, but the farmers refused. They are sticking to their demand for the complete scrapping of the contentious farm laws. Therefore the meeting scheduled between the farm leaders and Agriculture Minister Narendra Singh Tomar today has been called off.
Hannan Mollah, the general secretary of the All India Kisan Sabha said, "No meeting will be held between farmers and the government tomorrow (Wednesday). The minister has said a proposal will be given to farmer leaders tomorrow (Wednesday). Farmer leaders will hold a meeting to discuss the proposal."
Speaking to news agency ANI, Bharatiya Kisan Union (BKU) spokesperson Rakesh Tikait, who attended the meeting with Shah, said the government will give a proposal to farmers which, he said, will be discussed.
The farmers are demanding the scrapping of the three new laws which they fear will shrink their income and leave them at the mercy of corporates.
Also Read: Farmers Protest: Farm Leaders Reject Home Minister Amit Shah's Offer To Talk