Fast & Furious 9: John Cena & Cast Celebrate Michelle Rodriguez's Birthday, See Pics & Videos
WWE Star John Cena Appears in First Fast & Furious 9 Cast Photo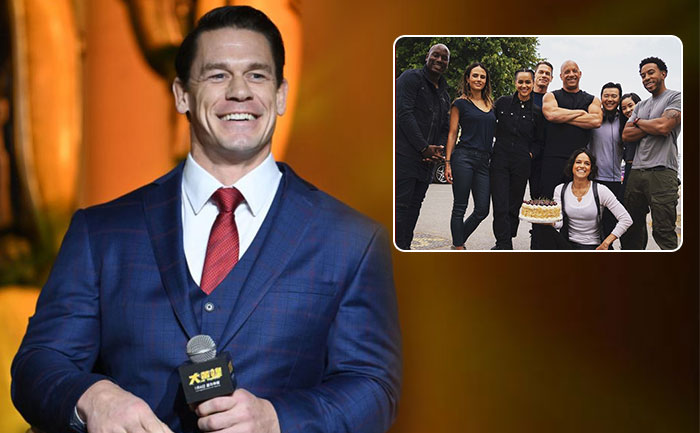 The makers of Fast & Furious Presents: Hoobs & Show seems to have finally found a proper replacement of Dwayne Johnson and Jason Statham. Yes, both The Rock and Jason will no longer be seen in Fast & Furious 9. The film will have several old faces and introducing many new faces in the Fast & Furious franchise as well. One among them is popular WWE wrestler John Cena.
The reports of John Cena being roped in for Fast & Furious were making headlines but now it has been confirmed. The photos of John Cena from the sets of Fast & Furious 9 are going viral on the internet. The shooting of the film is underway on Fast & Furious 9, and John Cena is officially a part of the new cast.
After The Rock and Dave Bautista, John Cena is all set to take a step ahead in Hollywood Stardom. Reaching out to his millions of fans on social media, John Cena had earlier shared a video revealing his new look. However, Cena did not divulge more details about his look from Fast & Furious 9.
Speaking about his association with Fast & Furious 9, Cena wrote on Twitter, "For nearly 20 years, the Fast Franchise has entertained fans and created some of the biggest cinematic moments in history. It's an incredible honor to join this franchise and this family."
In a new set photo shared by Nathalie Emmanuel, John is seen joining the rest of the cast to celebrate the OG Fast & Furious cast member Michelle Rodriguez's birthday. In one of the video, Michelle is seen hugging Cena in the video.
Apart from Emmanuel, Diesel had also shared a glimpse of Cena from the sets of Fast & Furious 9 movie. Check out all the pictures and videos from Michelle Rodriguez's birthday below:
Fast & Furious 9 will hit the cinemas on May 22, 2020.