Hugh Jackman Sings Happy Birthday For THIS Little Fan, Netizens Call Him Incredible
The video of Hugh Jackman Singing Happy Birthday for seven year old has gone viral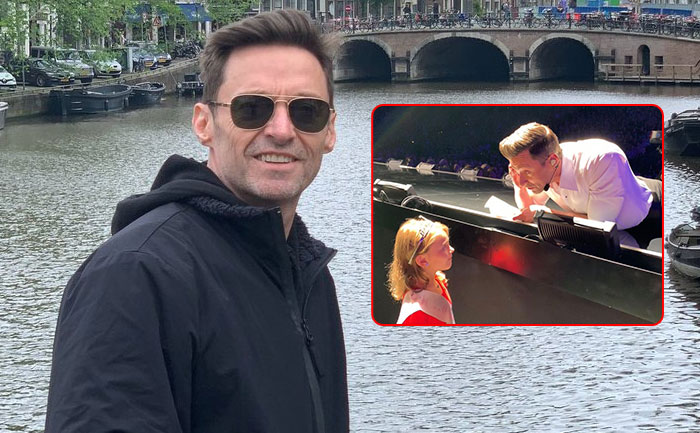 Hugh Jackman surely is one of the most popular Hollywood actors of all time. The Greatest Showman actor was recently in Denver to attend a show. What he did at his Denver show is being loved by millions of people on the Internet. Jackman gave the best ever Birthday gift to his seven-year-old fan. He did not only wish but also sung her the most beautiful rendition of Happy Birthday.  The little fan is identified as Mia.
The video of Hugh Jackman interacting with his little fan and singing Happy Birthday in a soulful voice has gone viral. The video of him is shared by none other than the mother of Mia, Jillian W. The Aussie actor took a break from his concert and did this.
You can watch the video below:
The greatest birthday gift ever! @RealHughJackman pic.twitter.com/o8C7YmLD8n

— Jillian W. (@ProfWojcik) July 13, 2019
In the viral video, the actor is seen having a conversation with the little angel who was in the house to celebrate her seventh birthday. Making her more comfortable, The actor got down to the floor and went on to sing, "Happy Birthday."
Thanking Huge Jackman for giving her daughter best ever birthday gift, she took to Twitter and wrote a letter in which she has mentioned both Mia and she is a big fan of him. The little girl wanted to have The Greatest Showman themed birthday party and Jackman made it possible.
Thank you @RealHughJackman for making my daughter's dream come true! #TheManTheMusicTheShow @laughingmanco @Deborra_lee pic.twitter.com/ibROULjNIm

— Jillian W. (@ProfWojcik) July 13, 2019
Due to his heartwarming gesture, Jackman is widely lauded and winning the internet. A user wrote on Twitter: "Thank you @RealHughJackman for making my daughter's dream come true!" Mia's mother on Twitter. Hugh retweeted the video and wrote, "Hi Mia. Thank you for coming to our show. Hope you had an awesome birthday. Love HJ."
Another user wrote, "You sir, are an absolute sweetheart. I think that's one birthday Mia is never going to forget. Wish I could get you to do the same for me on the 18th lol but seriously such a lovely thing to do."
"Mate you are so pure! Thank you for making people happy ! You are an incredible human being," added another fan.
"Hugh Jackman you are one of a kind. What a wonderful moment singing happy birthday to Mia. The smallest of things we do for one another can sometimes mean the most," another wrote.