From Finances To Shopping Lists- Check Out Pre-Wedding Checklist For Indian Brides
The Wedding Season Is Right Around The Corner. Here Take A Look At Complete Pre-wedding Checklist For Indian Brides.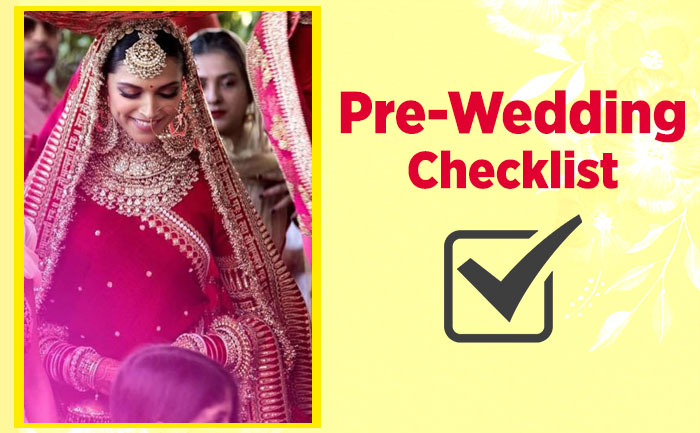 The Indian wedding season is right around the corner and so would be the preparations for grooms and the brides to be. Although, you have spend months in deciding the perfect themes, outfits and programs, some things always remain remain missing from the to-do list for the weddings. Its always better to double check everything for your big day than to show up without being prepared for some ceremonies. Here, we have jotted down the ultimate checklist for the Indian brides.
Complete Pre-wedding Checklist For Indian Brides
Ten Months Before Wedding:
Indian weddings are known for its grandeur and the rich traditions. If you decide to host a glittery wedding ceremony, then you would have to determine the budget and choose the options for the venue, guest list, shopping lists and other needs. Having a pre-set budget for everything is a best option rather than spending all your money on one particular thing and later regretting it. Here below are major checklist for dividing your budget for the wedding after you decide your complete budget.
Budget For Engagement Ceremony
Budget For Pre-Wedding Ceremonies
Budget For All The Venues
Budget For Jewellery
Budget For Food
Budget For Gifts And Decors
Budget For Lights And Music
Budget For Invitations
Budget For Reception
Budget For Travel
Clearing Other Projects Or Work Before Wedding Festivities
If you are a working women, then you would surely have some professional commitments or other projects. Taking care of these big projects is important, because then only you would be able to enjoy your wedding ceremony with free mind. Make a to-do checklist for your pending assignments or professional commitments before you start off your wedding preparations and try to accomplish these tasks well ahead of time.
Office Assignments
Work Handovers
Leave Applications
Mail Formalities
Shopping List:
You have make sure that you don't miss out on anything from your shopping list. You might end up facing embracement when missed buying some small but important things. To make sure that everything is on point, you need to make a complete shopping list as per the categories for wedding ceremonies and accordingly to you save start buying things. You can categories the shopping checklist such as clothes, accessories, make-up products or other requirements.
Jewellery(Earrings, Nath, Necklace, Rings, Anklets, Hair Accessories, Bangles or Choodiyan, etc)
Bridal Lehenga
Accessories
Shoes
Hair Styling Requirements
Make up Kit or Products
Flower Garlands / Flower Jewelry for the bride
Extra Clothes
Mehandi Cones
Face Packs
Booking Stylists
Kalire
Handbag or Clutch
Bookings Checklist:
Choosing perfect venues are one of the most biggest tasks during the weddings. The first big decisions you'll make before the wedding festivities are deciding the venues, planning the execution of ceremonies and hosting a wide range of guests. In order to have save yourself for the complements, you need keep a tab on the booking lists. Here below are few checklists for major bookings.
Photographers & Videographers
DJ & Music
Henna Artist
Beauticians / Skin Care Appoints / Spa Sessions
Hair Stylist
Wedding Band for Barat
Pandits
Catering Services/ Cooks / Chef / Bakers
Wedding Location / Hotels / Location For Pre-wedding Ceremonies
Cleaners
Florist
Seven Days Before The Wedding
A week before the weeding is always crucial because you have a lot of preparations to be made in a limited amount of time. Usually, you should complete all your shopping or other preparations before this period and save the seven days for cross-checking everything. Talking to your vendors and making sure everything goes as planned should be covered in these days. Here's a checklist for the activities to do before seven days of weddings.
Reconfirm All The Arrivals
Delegate Small Wedding Day Tasks
Picking Up Deliveries
Trying Clothes & Cross Checking Sizes
Cross Checking Gifts
Clearing Payments / Advances
Checking Final Bookings With Photographers, Stylists, Beauticians and other peoples.
Bridal Trousseau Checklist:
Sarees And Dresses
Multi Purpose Blouses (As per color requirements)
Vanity Box Or Mini Aid Box
Beauty Essentials (Make up, Accessories, Shoes, Oils, Medicines, Face Packs, etc)
Perfumes
Jewelry And Safe Box
Money For Basic Needs.
If you find this pre-wedding checklist helpful, do let us know. For all the news updates and gossips, stay hooked on to The Live Mirror.
Also Read:  Neha Kakkar-Rohanpreet Singh THESE B-Townies Set New Normal After Marrying Older Woman