Mumbai: Fire breaks out at Avingha Park in Lower Parel
Fire broke out at the multi-storey Avighna park apartment on Curry Road, around 12 noon today.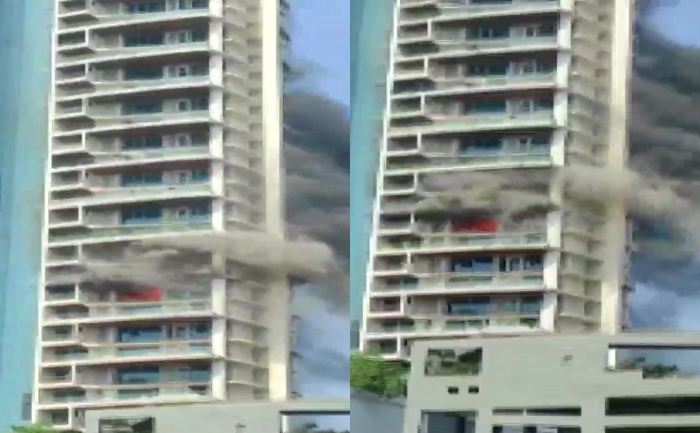 In an unfortunate turn of events, a major fire broke out at Currey Road's Avighna Park building on the 19th floor in Mumbai around noon on Friday.
According to the Mumbai Fire Brigade (MFB), the incident has been declared a Level-4 fire. A level 4 fire is categorized in the "very high" danger category. The residential building has 61 floors and the cause of the fire was not yet known, said an MFB official.
Mumbai | Level 3 fire broke out at Avighna park apartment, Curry Road around 12 noon today. No injuries reported: Mumbai Fire Brigade

— ANI (@ANI) October 22, 2021
The video shows the man hanging from the railing of a balcony, identified as Arun Tiwari, who worked as a security guard of the building, fell off and died. A fire brigade official was quoted as saying by PTI: "After the fire broke out, Arun Tiwari, a security guard of the building, rushed to the 19th floor. Soon he realized that he was trapped and in order to save himself from the blaze, he kept hanging from the balcony of the flat where the fire had erupted. He precariously clung to the railing of the balcony for several minutes before losing his grip and falling to death."
Mumbai Mayor Kishori Pednekar, Maharashtra Minister Aaditya Thackeray, and other senior district officials arrived at Curry Road area. At least 12 fire engines and water tankers have reached the spot, PTI reported.
Stay tuned to The Live Mirror for more updates.
ALSO READ:  Surat: 2 Dead, Over 100 Rescued After Massive Blaze At Packaging Unit