9 Baje 9 Minute: Fire break out near Solapur Airport area & Jaipur
The news of fire breaking out near Solapur's Airport area and Jaipur were shared on Twitter by Journalists.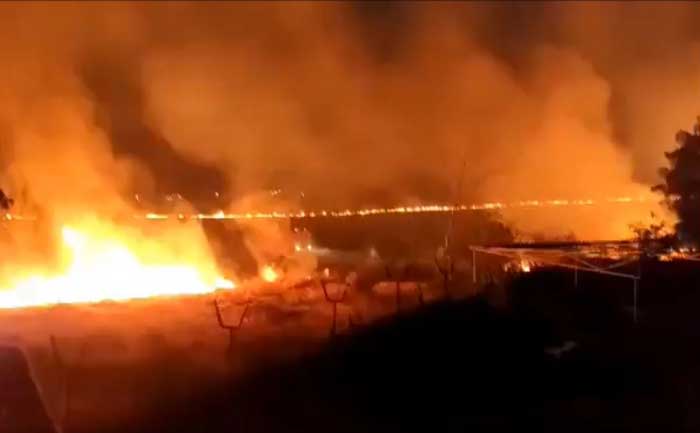 On April 3, 2020, Prime Minister Narendra Modi has urged citizen to turn off all the lights and lit candles, diyas and mobile flashlights at 9:00 pm on April 5, to mark India's fight against novel Coronavirus.
Not only common people but also Bollywood or Tollywood celebrities supported PM Modi's call by turning off the lights of their houses and lighting lamps or candles. Besides lighting lamps or candles, there were people who resorted in bursting firecrackers.
Also Read | #9pm9minute: PM Narendra Modi Lights A Lamp To Mark India's Fight Against COVID-19
And in many parts of the country, this has now resulted in a fire breaking out. As per the reports, a massive fire broke out in Solapur's Airport area. Notably, the exact reason of blaze is yet to be ascertained.
As per a report in the Free Press Journal, locals claimed that the fire was caused by people bursting firecrackers. The news of fire breaking out near Solapur's Airport area was shared on Twitter by News18 Lokmat correspondent, Sagar Surawase.
सोलापूर ब्रेकिंग :
– सोलापूर विमानतळ परिसरात पुन्हा लागली आग.
– दिवे लावण्याच्या वेळेदरम्यान लागली भीषण आग.
– आगीचे कारण अद्याप अस्पष्ट मात्र फटाक्यामुळे आग लागल्याचा स्थानिकांचा आरोप@News18lokmat @meemilind @manojkhandekar @MaheshMhatre @solapurpolice pic.twitter.com/EeE7BTuXjL

— sagar surawase (@sagarsurawase) April 5, 2020
Besides Solapur Airport area, there were many incidents of a fire breaking out took place throughout the country on April 5, 2020. A journalist named Mahim Pratap Singh took to Twitter and shared a video from Jaipur showcasing massive flames and dark plumes of smoke billowing out from the building.
Sharing the video on Twitter, he wrote, "Massive fire in a building in my neighbourhood from bursting crackers for #9baje9mintues. Fire brigade just drove in. Hope everyone's safe."
Bloody hell! This is completely crazy. Let's hope everyone is safe. https://t.co/Ia3Jfbfibj

— Rajdeep Sardesai (@sardesairajdeep) April 5, 2020
According to reports, the fire has been doused. According to his tweet, the reason of fire breaking out was a firecracker.