First Secretary Sneha Dubey Strong Reply To Pakistan Has Left Netizens Impressed
'Arsonist Disguising as Fire-Fighter': India's Sneha Dubey's Powerful Response to Pakistan at UN Is Viral On Internet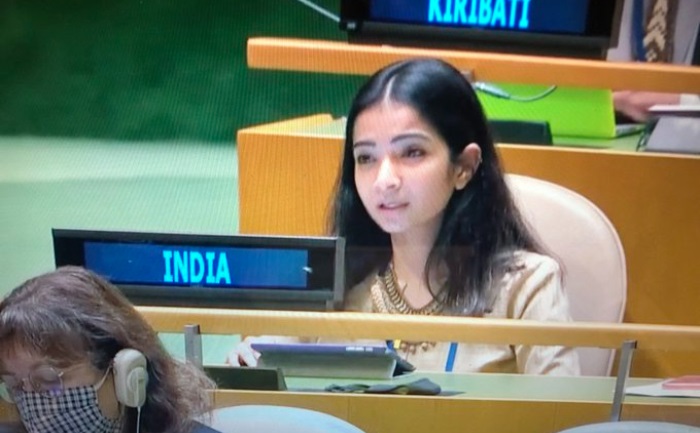 Indian Secretary Sneha Dubeys strong response to Pakistan has left netizens impressed. Pakistan PM Imran Khan's virtually addressed the summit. He raised the Kashmir issue while criticising the Indian Government. Reacting to Imran Khan's statement Sneha gave a fiery response and soon trended on NO.1 in India.
In a strong-worded response to Pakistan Prime Minister, Dubey said "Regrettably, this isn't the first time leader of Pakistan has misused platforms provided by the UN to propagate false and malicious propaganda against my country and seeking in vain to divert world's attention from the sad state of his country where terrorists enjoy free pass."
She further added, "This is a country that has been globally recognised as openly supporting, training, financing and arming terrorists as a matter of state policy. Entire UTs of Jammu and Kashmir and Ladakh were, are and will always be integral and inalienable parts of India. This includes areas that are under illegal occupation of Pakistan. We call upon Pakistan to immediately vacate all areas under its illegal occupation."
Twitter rejoiced and gave Sneha a big round of applause on social media.
Check out their reactions here:
Immediately vacate occupied Kashmir. 🔥

Loud & Clear. 💪🏻💪🏻💪🏻#SnehaDubey take a bow 🙇🏻‍♂️ ❤️❤️ pic.twitter.com/6pYbw2Ikkc

— Paise Wala (@AmirLadka) September 25, 2021
We heard the leader of Pakistan trying to justify act of terror, such defence of terrorism is unacceptable: Sneha Dubey, First Secretary at UNGA

We are proud of you young lady, More power to you 🇮🇳🔥@MEAIndia #SnehaDubey pic.twitter.com/8rhkPAD7m6

— Omkar Dubey (@omkardubey01) September 25, 2021
" An Arsonist disguising itself as a firefighter "
– Sneha Dubey.👏👌🔥

what a suitable and concrete reply. 👏👏👏👏

#UNGA76 #SnehaDubeypic.twitter.com/ApRhSBuCAh

— 🔱 (@S1Rajput2) September 25, 2021
#India's first secretary #SnehaDubey responds to #Pakistan's PM #ImranKhan's remarks on #Kashmir at the #UnitedNations General Assembly.👏👏 pic.twitter.com/AqRqELSRxC

— Naayla Dania (@NaaylaD) September 25, 2021
What a powerful presentation and fierce rebuttal of Pakistan 😇.
Go girl go #SnehaDubey #UNGA
Proud of the youngsters of the country, #BharatMata is in safe hands now. ❤️🙏 pic.twitter.com/YM84sc0YhV

— Sintu Tiwari🇮🇳 💯🚩% FB (@Tiwari_Sintu999) September 25, 2021
#SnehaDubey tears apart Imran Khan in the UN assembly. What an insult for Pakistan at global forum! 🔥

Take a bow lady 👏 pic.twitter.com/AtDZKmCzXB

— Thala Dhoni CSK💛 (@M0002004) September 25, 2021
#PMImranKhanAtUNGA – The response & stand taken by India cannot be clearer… #SnehaDubey – Well done 🙏 https://t.co/alEtaHRgsH

— Sanjeet (@ItsSanKum) September 25, 2021
Also Read: Highlights From PM Narendra Modi's Speech From United Nations General Assembly