Mumbai: Forest officer Manish Mahale runs over biker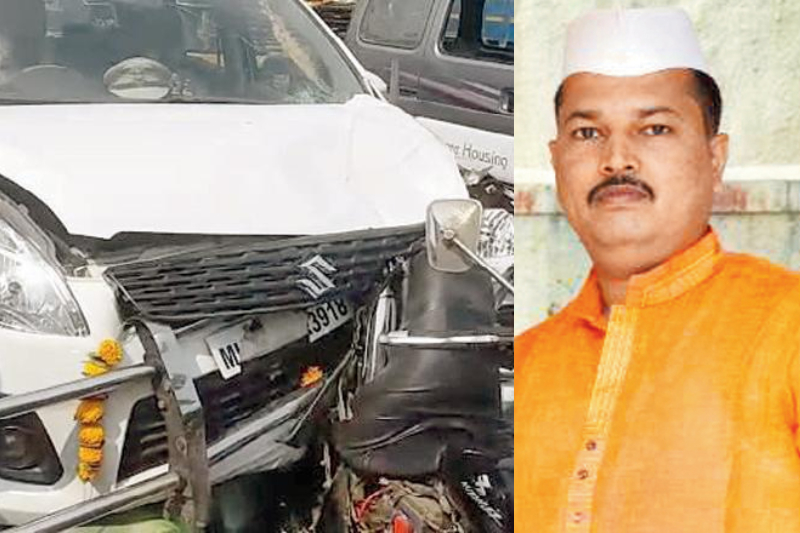 A speeding car ran over a chief printer of a Gujarati daily, Ibrahim Karajgi on the Mumbai-Ahmedabad highway on Friday. He was on his way back home on the bike when a speeding car of Forest officer hit him — leaving him dead.
According to the police, the driver of the car was a forest department official, instead of taking Ibrahim Karajgi to a hospital he began shouting at people who had gathered following the incident.
The deceased lived at Avenue Building in Naigaon East. The incident took place at Bafama area opposite Pappu Gaushala near his house at Naigaon East on Friday evening.
According to police sources, Karajgi was on his way back home after Friday prayers on his bike, when an Ertiga car crashed into him from the rear, and then ran him over. When Forest Officer started shouting, people caught him and thrashed him badly. Somehow, he managed to flee but left his mobile phone and car behind.
Friends and neighbours of Karajgi who were informed by locals later took him to a nearby hospital. Police said he had died on the spot. During the enquiry, it was revealed that the Ertiga car, which was seized by the police, was registered in the name of Manish Mahale. It was found that Mahale, who was driving, was a forest officer attached to the Thane division. He was in uniform.
"As the incident took place in Naigaon, which comes under Waliv police station's jurisdiction, we registered the case under relevant sections of IPC and transferred it for further investigation to them," Vaibhav Shingare from Kashimira police station told mid-day.
Asif Karajgi, 28, Karajgi's brother-in-law said, "Ibrahim was alive but Mahale, whom locals tried to talk to, began to flaunt the fact that he was an officer. He shouted at them. Locals then thrashed him. Had Mahale instead tried to help Ibrahim, he might have been alive. An ambulance was called, but it arrived 25 minutes later. A person like Mahale should get the strictest punishment."
Also read: Delhi: 8 Police Officers beaten up while trying to control Durga Puja immersion crowd