Delhi: 8 Police Officers beaten up while trying to control Durga Puja immersion crowd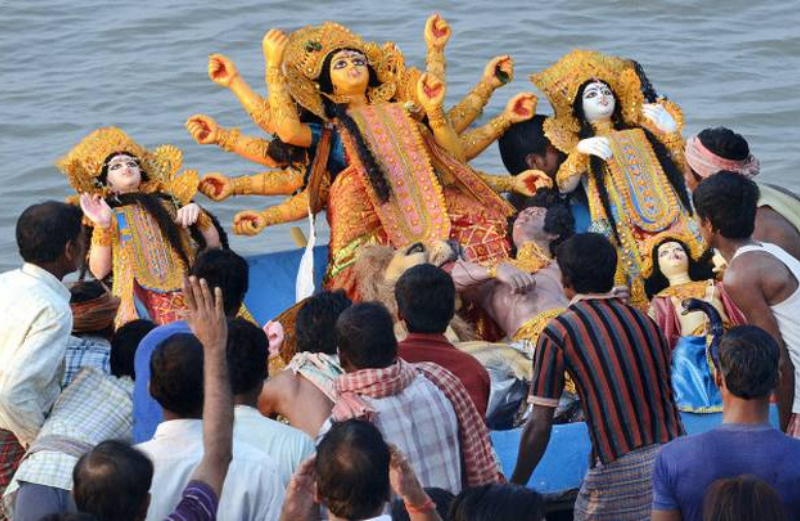 During the immersion of Durga Puja in Delhi, eight police officers including DCP (east) Pankaj Kumar Singh were beaten at the Yamuna Ghat on Friday in Mayur Vihar.
The officers had asked the crowd not to exit from the entry gate, they alleged to have been in an inebriated condition, turned violent and beat the police officers with sticks and stones.
Eleven people, including six women, were apprehended from the spot. The medical examination confirmed that they were drunk, police said.
The incident took place around 5.30 pm when DCP Singh — along with the ACP and SHO of Mayur Vihar — was stationed at Yamuna Ghat to make sure the idol immersion went off smoothly.
"Owing to past experiences of traffic congestion, separate entry and exit points were made at Yamuna Ghat this time. A group of devotees from southeast Delhi's Sriniwaspuri tried to exit from the entry gate, resulting in congestion. When staff deployed at the barricades tried to tell them to follow the correct route, they turned violent," he quoted by The Indian Express as saying.
In order to make Durga Pooja immersion peacefully, hundreds of civil defence volunteers of the Delhi government along with local police staff were deployed at the spot, under Singh's supervision.
"Around 4.45 pm, a message was flashed on the wireless set of personnel posted at the entry gate about some people trying to exit from there. They were in three mini-trucks and started abusing officers when they were stopped. Following a message, more personnel rushed to the spot and tried to reason with the group. But some of them got down from the vehicles and assaulted the officers with sticks and stones," said a senior officer.
Police said the officers were caught off guard. "Singh also reached the spot and as he was controlling the crowd, someone attacked him from behind. He was hit on the face with a stick and needed stitches. The man who hit him tried to flee, but was caught by police," an officer told The Indian Express.
Not only men but also women were also spotted throwing stones at police and tore the uniform of one of the officers.
Also read: Mumbai: Boy killed at Dadar Chowpatty over argument during Durga Puja