France beat Croatia 4-2 to win their second World Cup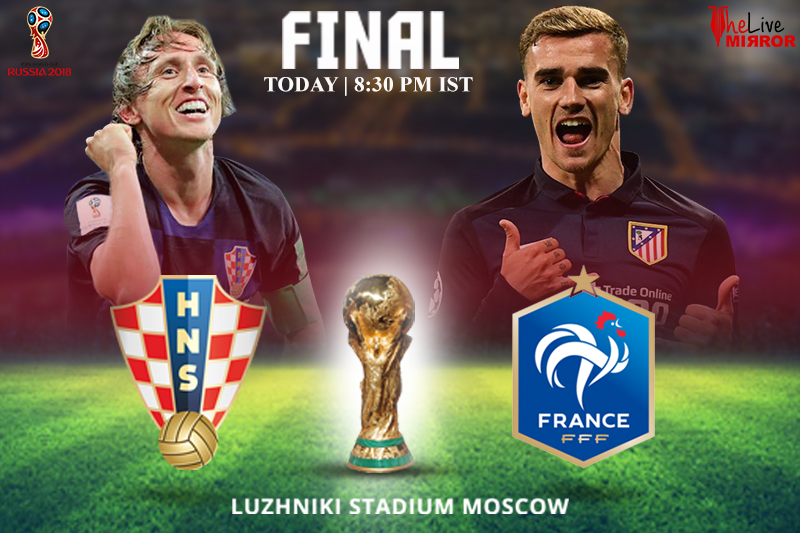 France became the first team to score four goals in a World Cup final since Brazil beat Italy 4-1 in 1970.
Olivier Giroud..France's first choice striker has won a World Cup.. without scoring a gopal.. what a story that has been
Didier Deschamps… Lifted the World Cup in 1998 as captain of the victorious French team and today he will see it being lifted… He will touch it and feel it he has become just the 3rd footballer to win the World Cup both as a player and a coach…
The final whistle has blown… France beat Croatia 4-2 to win the World Cup..
90+3: Pogba with an open chance form a Antoine Griezmann free-kick, but he fails to shotot.
Trivia: Mario Mandzukic is just the second player to score an own goal and a goal in the single game since Srnie Brandts fir Netherlands against Itlay in 1978.
5 minutes of added tume…
Croatia dominating ball possession… But nothing good id coming…
Time is running out for CROATIA...
83: Rakitic is down free-kick to Croatia.. but the Barcelona midfielder swings the ball straight into Lloris…
Strinic off for Pjaca..
81: Nabil Fekir is on for Olivier Giroud…
77: Rakitic with a shot.. that sails just wide of goal..
71: Kramaric comes on for Rebic.. Tolisso for Matuidi..
69: a blunder from Lloris and Mandzukic scores…
⚽⚽⚽⚽ goalll for Mario not Baletolli but Mandzukic…
He is the first teenager since The great Pele himself to score.. a goal in a World Cup final… Pele scored in 1970 final and here is Mbappe now with the world at his foot…
65: Lucas Hernandez dribbles his way then finds Mbappe, the teenager takes a touch then shoots and what a goal it is..
⚽⚽⚽⚽ goalll for Kylian Mbappe!!! Ohh my…
59: Griezmann finds Mabappe who runs into the box, then passes to Griezmann, he lays it to Pogba who shoots with his right… but is blocked then with his left and scroes a spectacular goal... Paul Pogba is back…
⚽⚽⚽Goallll!!! Paul Pogba.
57: Rebic with a cross straight into Lloris' hands..
54: France with their first substitution Kante is off for Steven Nzonzi
We have two intruders in the field…
51: Pogba with a clever ball to Mbappe who runs past Vida but his shot is blocked by Subasic..
50: Another corner to Croatia but France clears and the ball falls to Vrsaljko whose shot of glory is way wide..
48: Rakitic finds Rebic with a clever pass but his shot is brilliantly saved by Hugo Lloris.. the corner comes to nothing..
47: Pavard finds Giroud with a long ball and he lays it to Griezmann, whose shot is straight at Pavard..
46: Mandzukic fouls Griezmann and France have a penalty..
The second-half is about to begin..
That penalty by Griezmann was the 29th penalty this World Cup, 22 of them including this one was converted…
The only team to win a World Cup final after trailing at half-time was Uruguay against Argentina in 1930, that was the first edition of a World Cup. This isn't certainly the last but can Croatia bounce back??
The debate is on that it was a poor penalty to give.. it certainly was.. there was no unnatural movement of the hand from Perisic there..
Perisic had equalised with a screamer just six minutes before conceding a the handball..
It has been an intriguing 1st half. But Croatia has certainly looked the batter team.. and France have only scored from two gifts.. one a Mario Mandzukic own-goal.. and another a penalty after Ivan Perisic had handled the ball from a corner.. Antoine Griezmann scored from the spot..
The whistle blows, it's half-time.. France 2 Croatia 1
45+3: Modric is pulled down by Matuidi a free-kick to Croatia..
45+1: Rakitic delivers the corner.. but Vida heads it narrowly wide..
Three minutes of added time
In the meantime Umtiti is down..
43: Corner to Croatia.. and another corner.. but France have cleared… Modric sends the ball to Rakitic.. and Croatia have another corner…
40: Yellow card to Lucas Hernandez.. for a tackle on Ante Rebic..
He goes to the right.. Subasic to his left.. and it's a goal…
⚽⚽⚽⚽Goallll for Griezmann!!!
Griezamann stands over the penalty..
Penalty to France… ohh my!!! Perisic took just 6 minutes to turn from a hero to a villain..
VAR is showing… Perisic had handled the ball
33: Vida miscues a clearance and France have a corner.. it comes to nothing.. they appeal for a handball…
28: Modric takes a clever free-kick to Vrsaljko, who heads to Mandzukic, his header is brought down by Lovren and then by Vida to Perisic, who screams the ball into the net…
⚽⚽⚽⚽Goallll ohh my God… Ivan Perisic with a screamer…
27: Kante fouls Ivan Perisic and is booked.. yellow for the buzzing midfielder..
22: Once again Rebic is fouled.. this time by Benjamin Pavard.. but it comes to nothing for Croatia
That goal was this World Cup's 12th own goal.. but the first in a World Cup final..
20: Kante pushes Rebic and it is a free-kick to Croatia.. Modric delivers but Vida heads above the bar..
18: Griezmann's cross is headed into goal by Mario Mandzukic… Ohh how painful is that..
⚽⚽⚽⚽Goallll for France…
18: Brozovic fouls Antoine Griezmann and France have a free-kick just outside the Croatian box..
15: Mandjukic is fouled but Croatia are given advantage.. Perisic run across and swings a low cross into the box, but Umtiti clears..
13: Samuel Umtiti with a long ball to Olivier Virod but the ball goes out for a play
It has been an eventful 10 minutes for Croatia.. who are doing everything. Attacking, making fouls… everything. France are doing nothing..
8: Strinic slide into the French box, but Mbappe is there to clear… It goes away from a corner.. but Modric's delivery comes to nothing..
4: Vrsaljko with a cross into the box for Mario Mandzukic, but Raphael Varane clears..
Argentina may not be playing the World Cup final but still there is a tinge of Aregentine representation. Referee Nestor Pitana is Argentine..
Both the sides are unchanged and will play in a 4-2-3-1 formation..
The National Anthems are taking place..
The World Cup is brought to the stadium by former German captain and defender Philipp Lahm.. He retired with the World Cup on his hands..
France are unbeaten against Croatia at the World Cup..
France are playing their third World Cup final. They won their in their maiden appearance in 1998, but lost to Italy in 2006 after a famous Zinedine Zidane head-butt
Croatia are the 13th nation to play in a World Cup final and the 10th European country to do so. France (1998) and Spain (2010) were the last nation to play in a World Cup final for first time. They both won it.
"There is a spirit in the squad that can move mountains. They are young and they will be even stronger in two and four years' time. We have created an opportunity to become world champions but we are still not there. But we want to fulfil our destiny."
This is what France coach Didier Deschamps said at the pre-match conference…
France XI: Hugo Lloris (GK), Benjamin Pavard, Raphael Varane, Samuel Umtiti, Lucas Hernandez; Paul Pogba, N'Golo Kante; Kylian Mbappe, Antoine Griezmann, Blaise Matuidi; Olivier Giroud
Croatia XI: Danijel Subasic (GK); Sime Vrsaljko, Dejan Lovren, Domagoj Vida, Ivan Strinic; Ivan Rakitic, Marcelo Brozovic, Ante Rebic, Luka Modric, Ivan Perisic; Mario Mandzukic
The line-ups have been announced..
Hello and welcome to the live coverage of the FIFA World Cup final between France and Croatia.