France trounce Italy 3 – 1 in an International friendly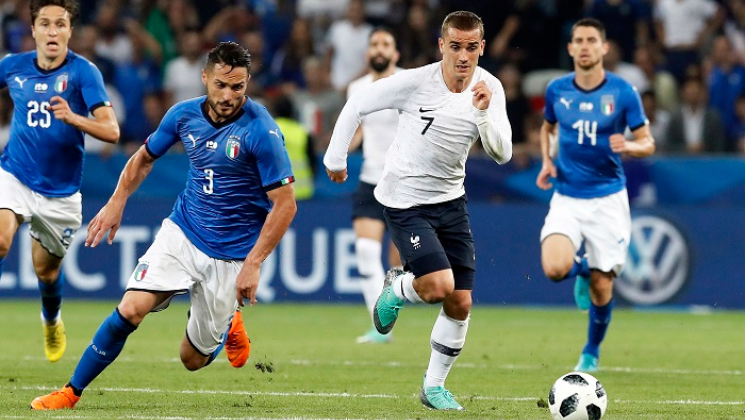 Injudicious team management and bizarre display of football at World Cup qualifiers saw Italy discarded from making it to Russia. Before 12 years the country that won the famous World Cup Final 2006 is found unsuccessful in even participating in the cup tie.
Intense disarray for fans as well as football fanatics all over the world that a high caliber side like Italy couldn't make it through. Apparently, it doesn't get any better as they fall apart against France in an International friendly. Antonie Griezman, Ousmane Dembele and Samuel Umtiti score for France in a 3-1 victory.
The recent down gradation of Italy resulted in France being favorites for this fixture. Italy started well with majority of the possession but could not stop Umtiti from drawing first blood. Italy got an equalizing chance in form of a free kick from a dangerous position. The fiasco by Mario Balotelli didn't help either. He just managed to drub it twice with the wall acting as a savior.
Leonardo Bonucci decreased the deficit after Griezman scored a penalty. But that wasn't enough as France kept dominating and got the all important goal to make it 3-1. The scoreline doesn't tell you how interesting the game was. Though it was a fitting encounter with France getting the required match practice before they head to the big stage.
Image Source – epa