Free Netflix Accounts With Username ID & Passwords (2020)
Check out the list of free Netflix accounts with Email ID and passwords.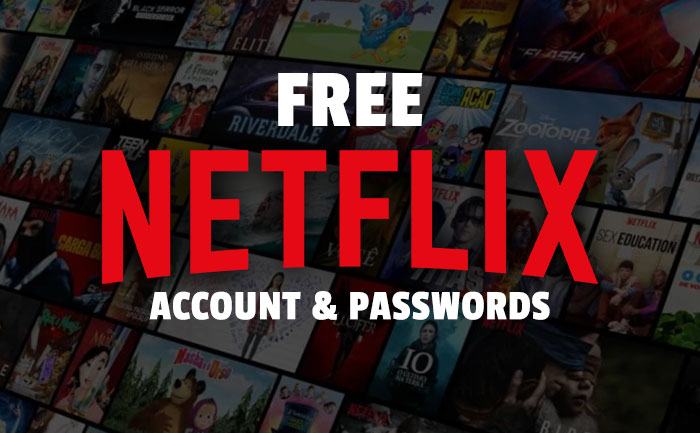 Who does not want to use Netflix for free? Looking at its exclusive contents, everyone wants to use Netflix but millions of people end up losing their wish to use it. The reason is its expensive subscription plans. If you are looking for a free Netflix account, you have come to the right place.
In this guide, we will share multiple free Netflix accounts IDs and password, which you can use as a login ID and password and enjoy Netflix for free. We do not think, there is any better platform than Netflix when it comes to watch and download Movies, TV series, web series and dramas in HD quality.
Besides providing free Netflix account IDs and password, we will explain several ways to use Netflix for free. Yes, you read that right. Without any further ado, let's take a look:
Top 5 Ways To Use Netflix For Free
1. Free 30-Days Trial
If you do not want to spend a single penny watching Netflix contents, you must opt for this option. Yes, Netflix is a streaming platform, which offers 30-days free trial to all new users. Using a Credit or Debit card detail or new email ID, you can get a free Netflix account.
You must be thinking that Netflix will automatically deduct money from your account at the end of the period. If you do not want to continue its service, Netflix gives you an option to cancel your membership before the trial period ends.
If you want to continue using Netflix's services, then you will have to pay as per the plans mentioned on their site.
2. Share Netflix Account IDs
If your friend or any family member has already purchased Netflix subscription, you can ask them to share their ID or password. Yes, if they have opted for Premium Netflix Account, Netflix allows four people to use the service simultaneously.
3. Use Netflix Cookies
When you are unable to use the above-mentioned methods, you can avail Netflix services for free by using trusted cookies from the site. What all you have to do is to add the logged in Netflix account cookies provided into your web browser. Now, you will be logged in with a premium Netflix account.
4. Use Virtual Credit-Debit Card
If you are looking for free Netflix accounts, you can get one by using virtual debit/credit card details. What you need to do is to download Netflix and TMW-Wallet mobile apps from Google Playstore. The TMW Wallet app will help you create an unlimited Virtual debit card for you. Using those virtual cards, you can register for the Netflix trial version. Yes, that's all.
5. Free Netflix Subscription for Airtel User
We have got you one more option to get free Netflix account. Airtel has recently made an announcement that all Airtel users will be able to stream contents on Netflix. If you love watching movies and TV shows on mobile and currently using Airtel sim card, this is the best option for you.
Notably, this service is currently only available to India and comes as part of both postpaid and prepaid plans.
Why You Should Use Netflix Free Premium Accounts?
There are thousands of benefits of using Netflix and the best one is you can watch not only Hindi but also English, Tamil, Telugu and movies and TV shows or other regional languages for free. Yes, no one can compete with Netflix when it comes to the collection of movies and TV shows.
Besides providing an option to stream movies, Netflix does provide an option to download contents for offline watching. The best and most important thing is Netflix is a legal platform to watch and download movies and TV series in HD quality.
Netflix Subscription Plans
| | | | |
| --- | --- | --- | --- |
| Plan | Price | Screens | Quality |
| Basic | $9 | 1 | SD |
| Standard | $13 | 2 | HD |
| Premium | $16 | 4 |  Ultra HD |
Free Netflix Premium Accounts – March 2020 – Username & Passwords
Username
Password
Subscription Plan
netflixhacker@mail.com
netflix@.com
30-Days
Heymorris123@gmail.com
morris@321
30-Days
SaudKazi321@gmail.com
Saud#211
30-Days
Jabbarjahild@hotmail.com
89736223
30-Days
remaclefamily@gmail.com
substation232
60-Days
Iyotamumbai@gmail.com
MumbaiIota
60-Days
Ankitapandeyas@gmail.com
PandayeAn
60-Days
Varun87363@gmail.com
Varun#212
90-Days
myrahultri@gmail.com
 Tripathi@334
We have brought to you a list of some of the common free Netflix accounts.
Email: orion65b@tn.com Password: 1165qwer
Email: johnny54467@tn.com Password: Deadw00d
Email: hunter_gerling@tn.com Password: Jana1998
Email: nakiamathis1981@tn.com Password: Lenearo97
Email: gabriel325152@tn.com Password: rawlovedown3250
Email: chavezreef@tn.com Password: mangoauto330
Email: kmillington60@tn.com Password: stonewall60
Email: mistyreynolds26@tn.com Password: lucycat26
Email: Brendon.Conley@tn.com Password: TricksNation
Email: petegreene615@tn.com Password: Bologna1
Email: cassidyshiflett@tn.com Password: BbCDEbF7
Email: twiligrlz3@tn.com Password: edward1901
Email: joedulin@tn.com Password: Allsop00
Email: paul.d.yu@tn.com Password: ashley02
Email: inimpson15@tn.com Password: 5ded2sof
Email: jakejustis@tn.com Password: Patstar93
Email: nicolas@tn.com Password: f00nst3r
Email: sam.solie@@tn.com Password: Willjohn827
Email: geniebrannan@tn.com Password: Brannan0208
Email: dshea03@tn.com Password: Netflix
Email: diego_gv91@tn.com Password: Dg8868109
Email: wootenaleya@tn.com Password: iwaltfc1222
Email: smiddy0331@tn.com Password: smiddy1127
Email: tailszy@tn.com Password: 3911159f
Email: clstainbrook@tn.com Password: hans0nr0x
Email: garthdavis82@tn.com Password: 1995kait
Email: johneastridge@tn.com Password: facer123
Email: bremehrs@tn.com Password: Aspenhof33
Email: pridekit@tn.com Password: w6915385
Final Words
It is possible that Free Netflix accounts that we have mentioned may no longer be working now. If you liked this post then don't forget to share this post with your friends and family maybe they want a Netflix Premium for free too.