Friends: 25 Best Episodes To Binge Watch As The Show Turned 25
The One Where We Present To You 25 Episodes To Binge-Watch.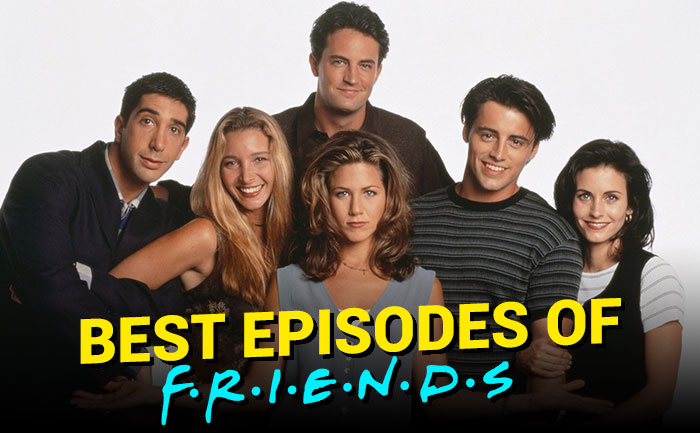 The Pop TV Show Friends recently completed 25 years since its debut — is still widely watched and loved around the world. Friends binge-watching is ironically at an all-time high. Watching Ross, Rachel, Joey, Chandler, Monica, and Phoebe living their insane New York lives is comfort television at its best.
Here is a look at some of the best 25 episodes of Friends that you can binge-watch:
1. The One With the Blackout (Season 1, Episode 7)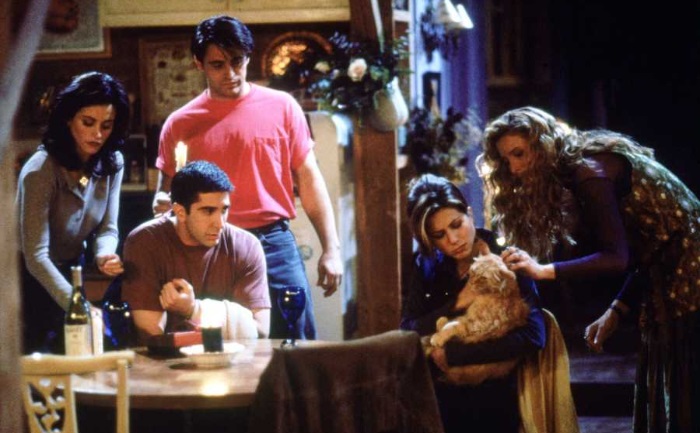 Chandler finds himself trapped in an ATM vestibule with model Jill Goodacre during a city-wide power failure. Meanwhile, Rachel meets Paolo and ends up kissing him when the candles burn out.
2. The One Where Rachel Finds Out (Season 1, Episode 25)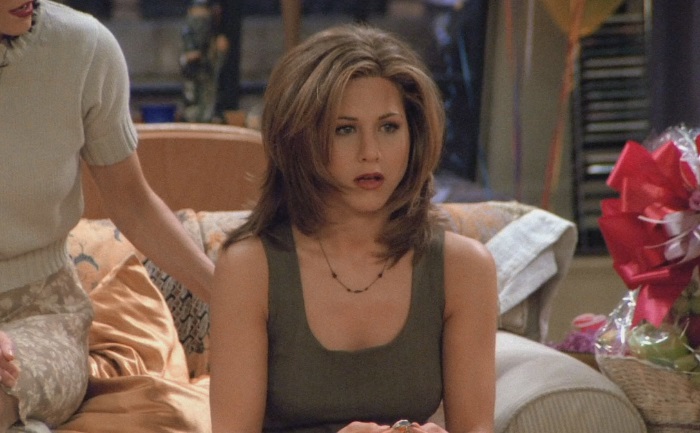 Rachel discovers Ross' feelings for her when he goes out of town on a business trip to China.
3.  The One With Five Steaks and an Eggplant (Season 2, Episode 5)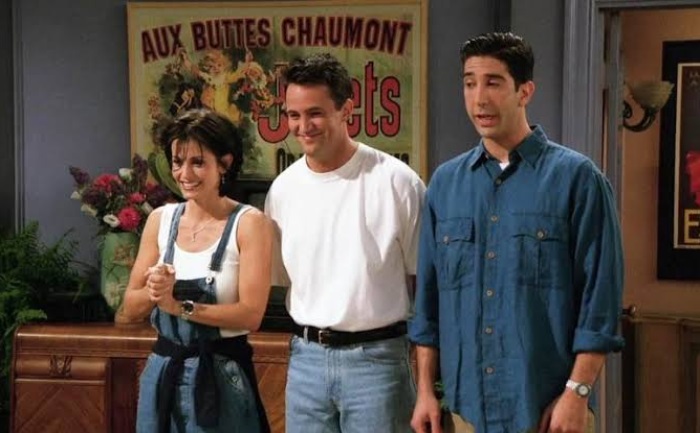 The group decides to throw a birthday party to Ross and that's when money becomes an issue; Chandler sets a woman up to get a date with her, but a case of mistaken identities means that he discovers what she really thought of him.
4. The One Where Ross Finds Out (Season 2, Episode 7)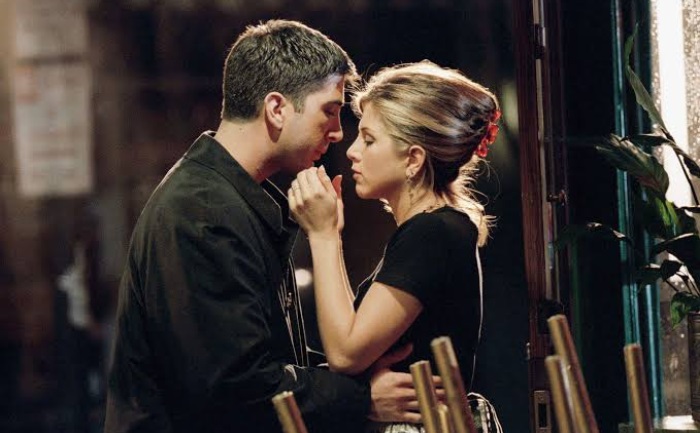 A drunken Rachel leaves a phone message for Ross saying that she's over him, which is how she got closure.; Chandler regrets asking Monica to help him lose weight.
5. The One With the Prom Video (Season 2, Episode 14)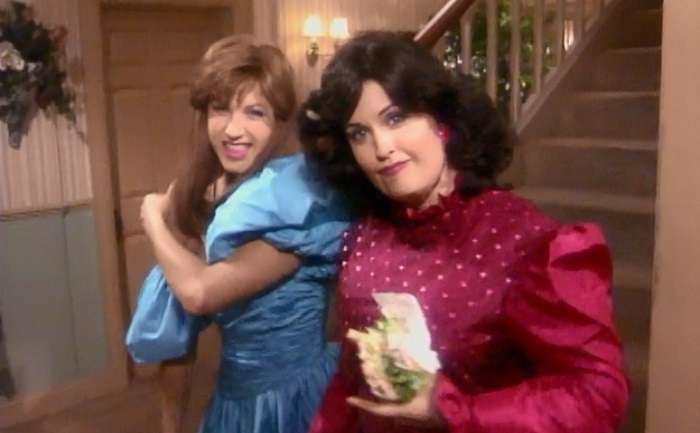 The group watches a home video from the night of Monica and Rachel's prom. Rachel gets to see what happened after she and Monica left for the prom leaving Ross heartbroken appears in prom gear, ready to take Rachel when it looked like her date wasn't going to arrive.
6. The One Where No One's Ready (Season 3, Episode 2)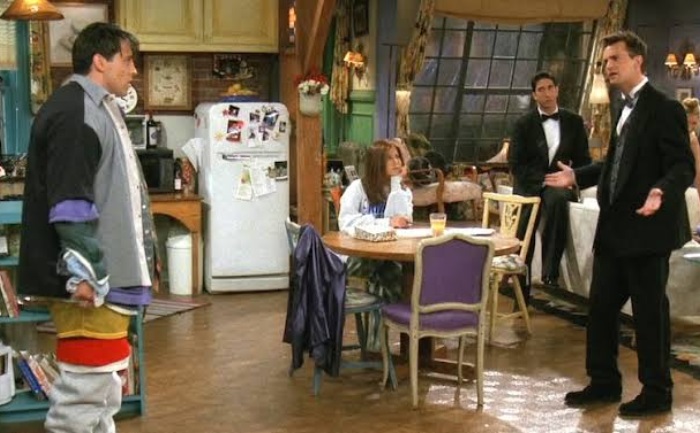 Ross arrives at Monica's apartment to discover Joey, Chandler, and Rachel are not yet dressed for a function that evening while Joey and Chandler clash over personal belongings and personal space.
7. The One With All The Jealousy (Season 3, Episode 12)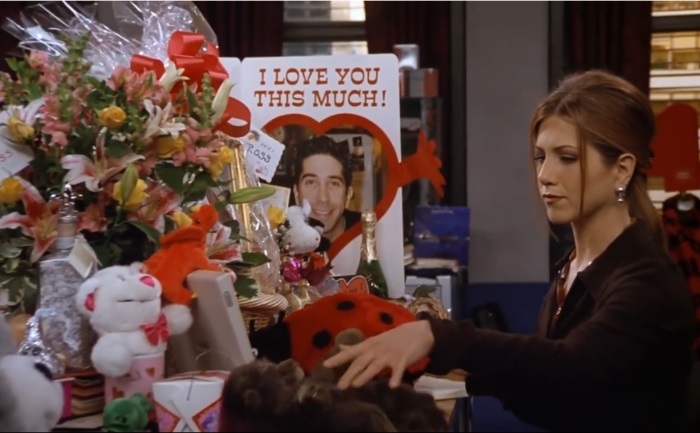 It's Rachel's first day at her new job in Bloomingdales, and Ross gets seriously jealous when he meets her handsome co-worker, Mark and in jealousy, he showers her in gifts, including a Barbershop quartet.
8. The One With the Embryos (Season 4, Episode 12)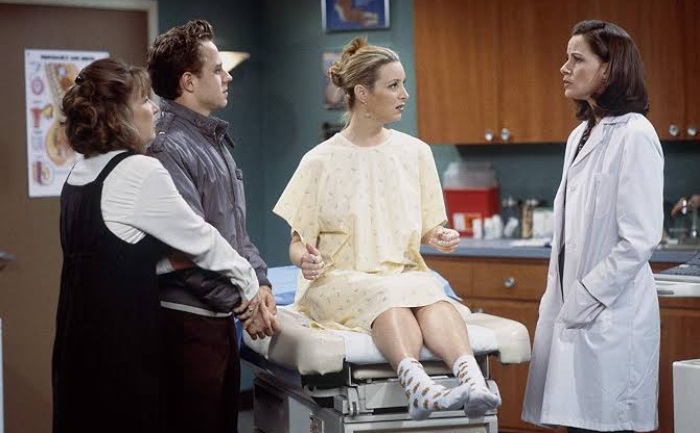 Phoebe undergoes an embryo implant procedure to become a surrogate mother for her brother Frank Jr. and his wife Alice; Monica and Rachel gamble their apartment in a game against Chandler and Joey.
9. The One With Ross' Wedding (Season 4, episodes 23 and 24)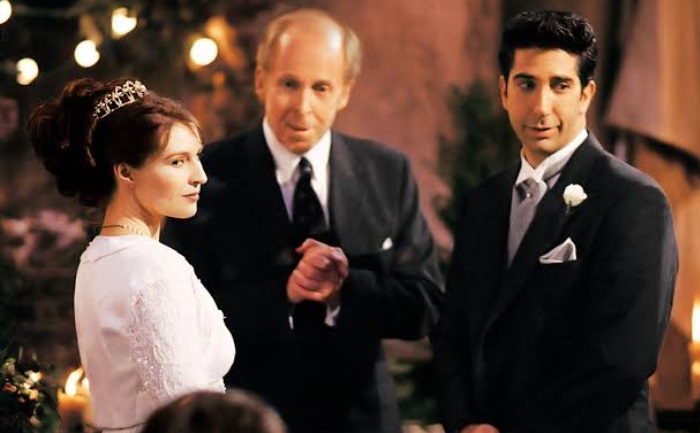 Phoebe tries to help Rachel deal with her feelings for Ross as the rest of the gang head to London for Ross and Emily's wedding, while someone else unexpectedly shows up to the wedding.
10. The One with All the Thanksgivings (Season 5, Episode 8)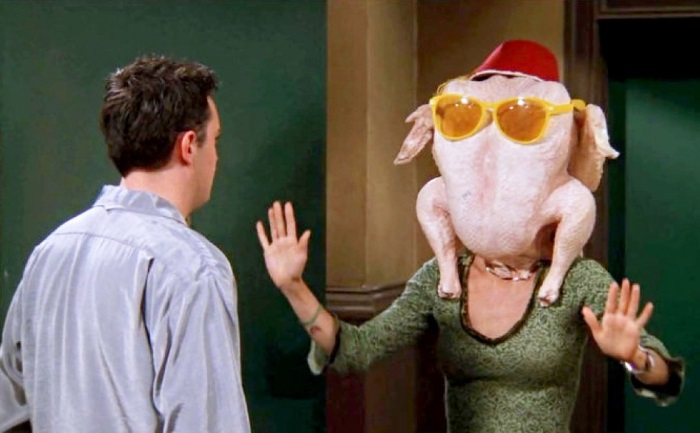 As the gang digests Monica's huge Thanksgiving meal, everyone reminisces about their worst Thanksgiving ever.
11. The One With All the Resolutions (Season 5, Episode 11)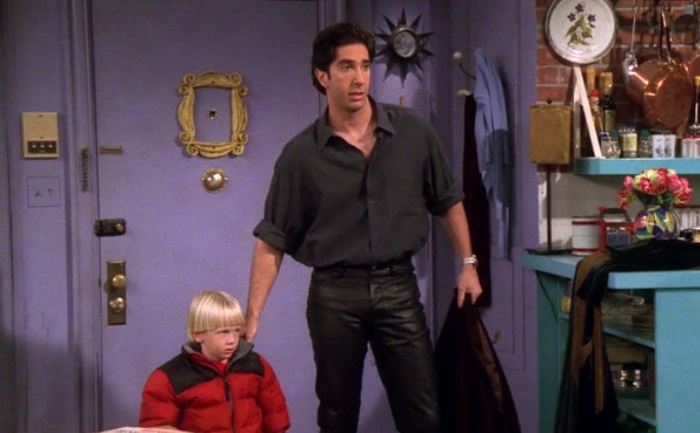 The gang makes their New Years' resolutions. Ross vows to try something new; Joey resolves to learn guitar from Phoebe; Rachel gives up gossiping.
12. The One Where Everybody Finds Out (Season 5, Episode 14)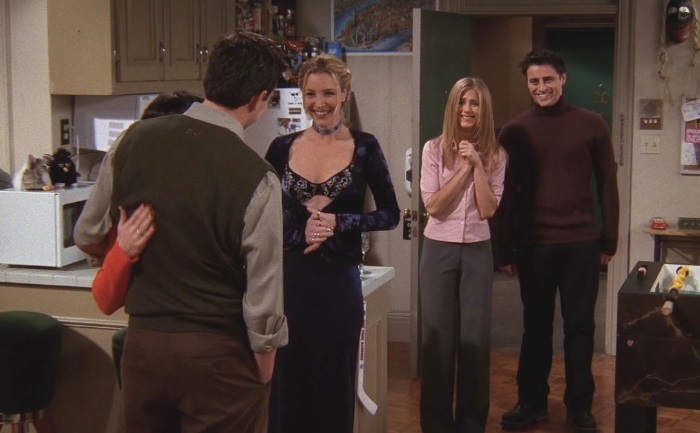 When Phoebe finds out about Monica and Chandler, she and Rachel attempt to get them to confess their relationship.
13. The One In Vegas (Season 5, episodes 23 and 24)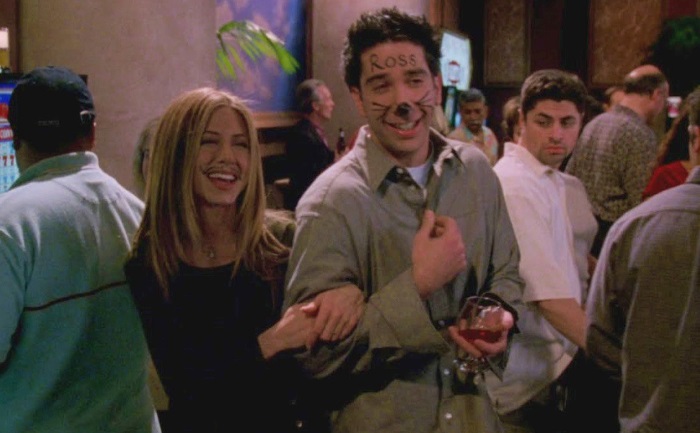 The gang goes to Las Vegas to surprise Joey. Chandler is angry when he finds out Monica had lunch with Richard. Ross and Rachel try to embarrass each other after an awkward encounter
14. The One Where Ross Got High (Season 6, Episode 9)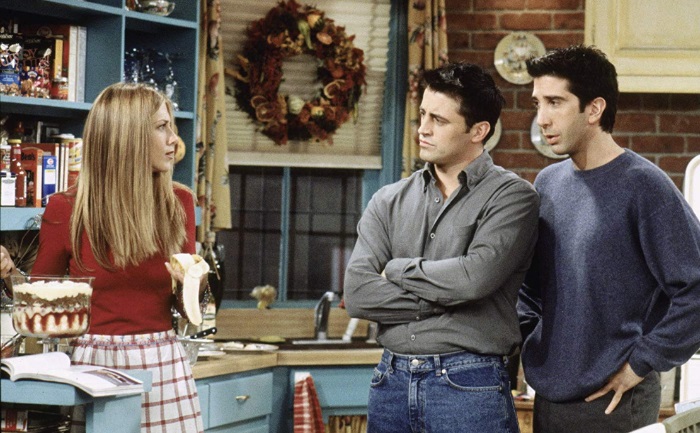 Chandler finds out Monica never told her parents he was living with her. Rachel tries to make dessert for the gang. Joey and Ross try to get out of Thanksgiving when they are invited to hang out with Janine and her dancer friends.
15. The One With Unagi (Season 6, Episode 17)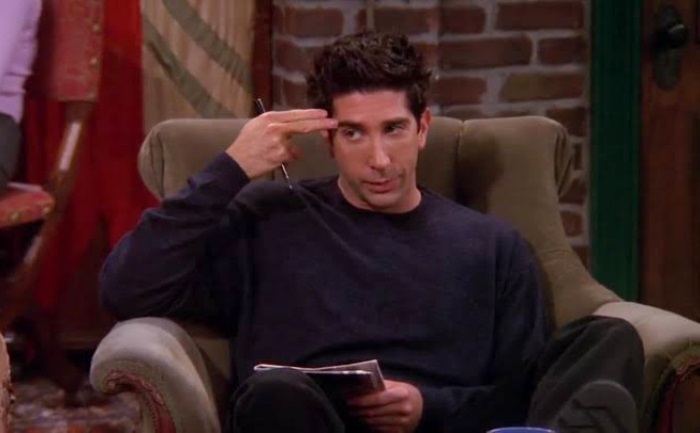 Chandler's anniversary gift to Monica is really one an ex-girlfriend gave him; Joey hires a look-alike; Rachel and Phoebe take self-defense classes
16. The One With the Routine (Season 6, Episode 10)

On the set of "Dick Clark's New Year's Rockin' Eve", Joey tries to kiss Janine at midnight and Monica and Ross restore their dance routine from high school.
17. The One with the Proposal (Season 6, Episode 24/25)

Chandler's plan to propose to Monica at dinner is interrupted by Richard.
18. The One With Monica's Thunder (Season 7, Episode 1)

The gang celebrates Monica and Chandler's engagement, however, Ross and Rachel end up kissing. Chandler worries about his performance in the bedroom.
19. The One Where They All Turn Thirty (Season 7, Episode 14)

Rachel's 30th birthday prompts the rest of the gang to reminisce about their own 30th celebrations.
20. The One with Monica and Chandler's Wedding (Season 7, Episode 23/24)
On the eve of the wedding, Ross searches for missing Chandler, who has doubts. Meanwhile, Phoebe thinks Monica is pregnant and Chandler overhears her discussing the news with Rachel.
21. The One With the Videotape (Season 8, Episode 4)
Ross and Rachel argue over how they ended up in bed together, so Ross announces he has the encounter on tape.
22. The One with the Late Thanksgiving (Season 10, Episode 8)

Monica prepares a Thanksgiving feast for the gang, where everyone shows up late.
23. The One With Rachel's Phone Number (Season 9, Episode 9)

Rachel impulsively gives her telephone number to a handsome guy she meets at a bar, but worries he will call when Ross is there.
24. The One with Phoebe's Wedding (Season 10, Episode 12)

Phoebe and Mike's wedding gets out of control; uptight Monica steps in as her friend's wedding planner then drive everyone crazy.
25. The Last One (Season 10, Episode 17/18)

The six friends prepare to say goodbye and embark on the next chapters of their lives; Phoebe races Ross to the airport in a bid to stop Rachel from leaving for Paris. Monica and chandler pack up their apartment ahead of their move to their new house, and Joey buys Chandler a new chick and duck as a leaving present.
Let us know your which is your favorite episode from Friends?
ALSO READ: FRIENDS:15 Surprising Facts About Popular TV Show That Fans Don't Know