Fuel-Tanker Explosion In Sierra Leone Claims 99 Lives
Tragic fuel tanker blast claims 99 lives in Sierra Leone, 100 rushed to hospitals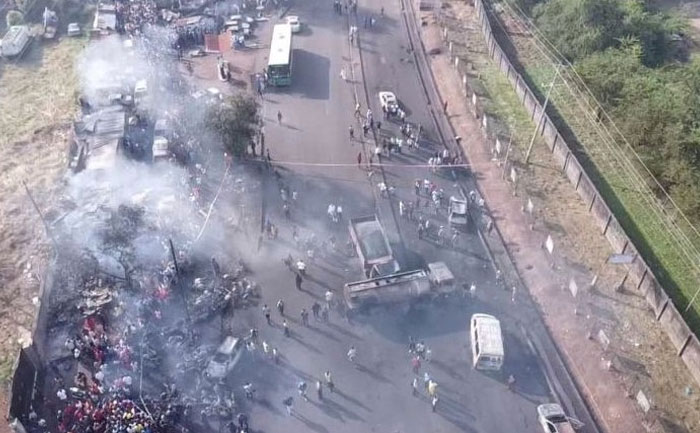 At least 99 people were killed and more than 100 injured in the capital of Sierra Leone. The shocking incident took place late on Friday when a fuel tanker exploded following a collision. The explosion took place after a bus struck the tanker in Wellington, a suburb near the capital of Freetown. Victims included people who had flocked to collect fuel leaking from the ruptured vehicle
The injured were rushed to hospitals and clinics across the capital. Videos shared online showed people running through clouds of thick smoke as large fires lit up the night sky.
Tanker explosion kills hundreds at a gas station on Friday night in Wellington a surbub in #Freetown according to Disaster Management Agency rescue efforts underway @AFP pic.twitter.com/YjDpafGGe1

— Mohamed Saidu Bah (@MohamedSaiduBah) November 6, 2021
The crash provided a major challenge for Freetown's health service already creaking from years of underfunding. The Connaught Hospital faced an influx of patients so some were moved to a military hospital and other locations too.
Swaray Lengor, a programme manager at the International Federation of Red Cross and Red Crescent Societies in a message to Reuters said, "The situation at the hospital, especially Connaught hospital … is overwhelming. Inadequate medical consumables and bed capacity. NGO partners were requested to support with equipment, medical commodities and food."
Accidents with tanker trucks in Sub-Saharan Africa have previously killed scores of people who gathered at the site to collect spilled fuel. In 2019 85 died in a tanker explosion in Tanzania. In 2018 50 were killed after an oil tanker collided with a car in the Democratic Republic of Congo.
Also Read: Lagos tanker explosion: Death toll rises to 12