Emergency declared in California as wildfires force evacuation, blackouts
declared a statewide emergency on Sunday due to the "unprecedented" high winds that significantly raise the risk of fires.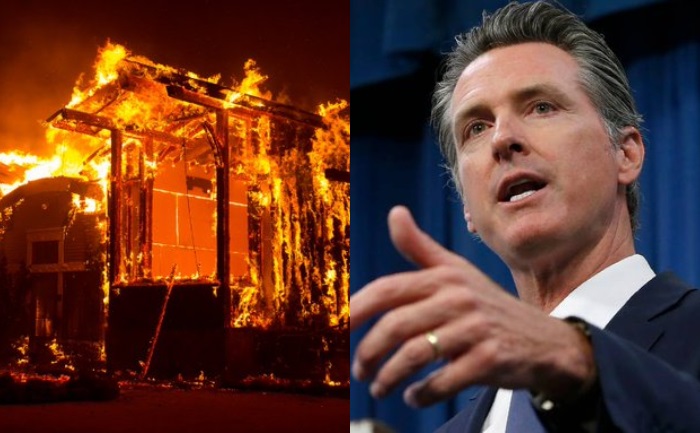 California's governor declared a state-wide emergency on Sunday as wind-fueled blaze forced evacuations and massive power blackouts in the famed Sonoma wine region. The blaze has destroyed dozens of homes and wineries including the iconic Soda Rock Winery, whose buildings included a general store and post office founded in 1869. The Kincade Fire had ignited on Wednesday and spread quickly due to the powerful wind gusts up to 90 miles per hour.
Governor Gavin Newsom said "We are deploying every resource available, and are coordinating with numerous agencies as we continue to respond to these fires. It is critical that people in evacuation zones heed the warnings from officials and first responders, and have the local and state resources they need as we fight these fires."
An estimated 180,000 people were under mandatory evacuation orders, including in parts of Santa Rosa and a large swath of Sonoma County. More than 3,000 firefighters backed by air tankers and helicopters were battling to control the blaze, which was not expected to be contained before November 7.
So scary!!!! #CaliforniaFire #KindcaidFire https://t.co/VbJV14H59f

— Peymaneh Shafi (@peymaneh123) October 28, 2019
Several other fires have erupted throughout the state, fueled by high winds, bone-dry conditions and temperatures in the 80s and 90s Fahrenheit. Fire officials said they feared that if the Kincade Fire crosses US 101, it could ignite an area that hasn't burned in 80 years.
Two grass fires had shut down a 6-mil stretch of Interstate 80, including a bridge between the cities of Crockett and Vallejo, and forced the evacuation of 200 people from California State University Maritime Academy. An ember from one fire possibly sparked the other. Smoke from another grass fire forced the closure of a stretch of Interstate 80 running through Sacramento's downtown.
We shall update you with more on this soon.
Also Read: California Fire: Millions to lose power, 50,000 more people ordered to flee