Know Future Of Rohit Sharma's Cricketing Career In 2021
Renowned sports strategist and astrologer, Hirav Shah make interesting predictions on the future of Rohit Sharma's cricketing career in 2021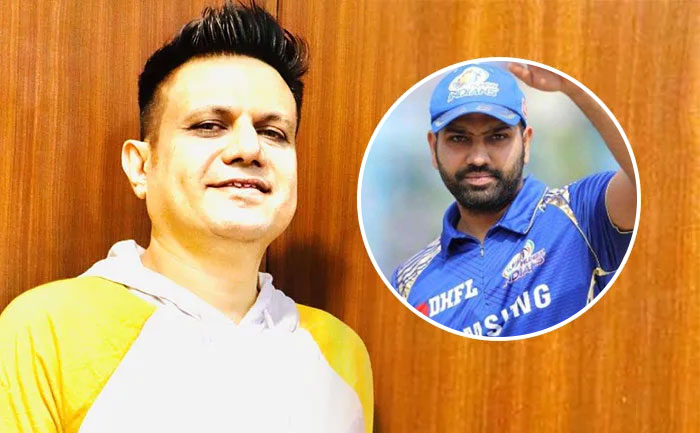 Rohit Sharma ( born 30 April 1987, currently in his 34th year ) is an Indian international cricketer who plays for Mumbai in domestic cricket and captains Mumbai Indians in the Indian Premier League as a right-handed batsman and an occasional right-arm off-break bowler. He is the vice-captain of the Indian national team in limited-overs formats. Under his captaincy, India won the Asia Cup and Nidahas Trophy in 2018. Rohit Sharma never succumbs to captaincy pressure and instead relishes the responsibility, states Hirav Shah(sports strategist and astrologer). The swashbuckling batsman has exhibited leadership qualities right from day one further says, Shah.
Past :
Sharma made his List A debut for West Zone against Central Zone in the Deodhar Trophy at Gwalior in March 2005. Batting at number eight, he scored 31 (not out) as West Zone won by 3 wickets with 24 balls remaining. Cheteshwar Pujara and Ravindra Jadeja made their debuts in the same match. It was Sharma's unbeaten innings of 142 in 123 balls against North Zone at the Maharanna Bhupal College Ground in Udaipur in the same tournament that brought him into the limelight. He visited Abu Dhabi and Australia with the India A squad and was then included among India's 30-member probables list for the upcoming ICC Champions Trophy tournament. Although he did not make it to the final squad.
Sharma made his debut for India A against New Zealand A at Darwin in July 2006. He scored 57 and 22 as India won by 3 wickets. He made his Ranji Trophy debut for Mumbai in the 2006–07 season and scored 205 off 267 balls against Gujarat. Mumbai went on to win the tournament with Sharma scoring a half-century (57) in his second innings in the final against Bengal. Sharma has spent his entire domestic first-class career in Mumbai. In December 2009, he made his highest career score of 309 (not out) in the Ranji Trophy against Gujarat. In October 2013, upon the retirement of Ajit Agarkar, he was appointed team captain ahead of the 2013–14 season.
Present :
Tests 
In November 2013, during Sachin Tendulkar's farewell series, Sharma made his Test debut at Eden Gardens in Kolkata against the West Indies and scored 177, the second-best score on debut by an Indian behind Shikhar Dhawan (187). He followed it up with 111 (not out) in the second Test at his home ground, the Wankhede Stadium in Mumbai. Lately, during the India tour of Australia in 2020 ahead of the third Test at SCG, Sharma was named as vice-captain of the test team for the first time in his career replacing Cheteshwar Pujara.
Sharma had a successful home series against England in 2021. Instrumental in his team's comeback after a defeat in the First Test at Chennai, he scored a century, one that the Guardian termed "deserves to be considered one of the greatest this century." He put on 167 runs with Ajinkya Rahane for the fourth wicket while making 161 runs in an innings that included 18 fours and two sixes. India went on the win the Test by 317 runs. He top-scored for his side in both innings of the low-scoring Third Test in Ahmedabad with scores 66 and 25 resulting in his team's win. He finished the series aggregating 345 runs, the most for India, at 58.
2015 and 2019 Cricket World Cups
In March 2015, Sharma made his first appearance in the Cricket World Cup and played in eight matches for India in the 2015 tournament in Australia. India reached the semi-final stage where they were defeated by Australia. Sharma scored 330 runs in the tournament with one century, a score of 137 in the quarter-final against Bangladesh.
On 15 April 2019, Sharma was appointed vice-captain of India's squad for the 2019 tournament in England. In the opening match against South Africa, he scored 122, including his 12,000th run in international cricket. In the match against Sri Lanka, he became the first batsman to score five centuries in the same World Cup tournament and equalled Tendulkar's record for the most centuries in all World Cup matches. Sharma totaled 648 runs in the tournament to finish as the leading run-scorer and win the ICC's Golden Bat award, the third Indian player to do so.
Other one-day international matches
Rohit Sharma made his full international debut in a one-day match against Ireland in Belfast on 23 June 2007. This was part of the 2007 Future Cup competition which also involved South Africa. He was number seven in the batting order but did not bat as India won the game by 9 wickets.
Sharma scored his maiden ODI half-century (52) against Pakistan at Jaipur on 18 November 2007 and was selected for the Indian squad going to the 2007–08 Commonwealth Bank Series in Australia. In that series, he scored 235 runs at an average of 33.57 with 2 fifties, including 66 in the first final at Sydney when he partnered Sachin Tendulkar for most of India's successful run chase.
Lately, in 2019, he scored the most runs in ODIs by any batsman, with 1490 runs. On 12 January 2019, in the opening match against Australia at the Sydney Cricket Ground, Sharma scored 133 but it was in vain as India lost by 34 runs. It was his 22nd century in one-day internationals. At Delhi on 13 March 2019, in the fifth and final match of a home series against Australia, Sharma scored 56 including his 8,000th run in one-day internationals. It was his 200th innings. After India v/s West Indies 2nd ODI at Vizag, Sharma surpassed Mahendra Singh Dhoni's record. Sharma now has 187 plus sixes in 116 innings to his name as compared to Dhoni's 186 in 208 innings at home.
Twenty 20 International Matches
Sharma was included in the Indian squad for the 2007 ICC World Twenty20 and made his mark by scoring an unbeaten 50 from 40 deliveries against hosts South Africa in the quarter-finals. This enabled India to win the match by 37 runs and they went on to defeat Pakistan in the final when Sharma scored 30 (not out) from 16 deliveries.
On 2 October 2015, during the South African tour of India, Sharma scored 106 in the first Twenty20 international at HPCA Stadium in Dharamshala. With that, he became the second Indian cricketer to have scored centuries in all three formats of international cricket. On 8 July 2018, during a series in England, Sharma became the second Indian batsman, after Virat Kohli, to score 2,000 runs in a Twenty20 international career. He was the fifth batsman worldwide to achieve the feat: the others besides Kohli were Brendon McCullum, Martin Guptill and Shoaib Malik.
In November 2019, in the opening match of the series against Bangladesh, Sharma became the most-capped cricketer for India in T20Is, playing in his 99th match. In the next match of the series, he became the first male cricketer for India to play in 100 T20Is.
In November 2020, Sharma was nominated for the ICC Men's ODI and T20I Cricketer of the Decade awards.
IPL
Rohit Sharma is currently the most successful captain in the Indian Premier League (IPL). He has led Mumbai Indians to a title win 5 times till now. No other captain has won more than three trophies in the tournament. Rohit will be opening the innings for his team in the 14th season of the cash-rich league. His form is going to be imperative for Mumbai in the season. The prolific batsman has played 200 IPL games so far in which he has accumulated 5230 runs at an average of 31.32 and strike rate of 130.62.
Let's look at 5 big records Rohit Sharma can break or create in this season of the Indian Premier League
3 – Rohit has won the IPL title as a captain of Mumbai Indians in 2019 and 2020. If Mumbai becomes IPL champions again this year, Rohit will become the first player in the league history to win three consecutive titles as a captain but astrologically it seems very difficult to achieve this time.
213 – Rohit Sharma has so far smacked 213 sixes in the tournament. He is only behind MS Dhoni (216) among Indian players in terms of sixes record. He needs to hit 4 more sixes to go past MS Dhoni, and become the top Indian player on the list.
68 – As a captain, the dashing opener has 68 wins till now, and he is only behind MS Dhoni (110) and Gautam Gambhir (68). With 4 more victories in IPL 2021, Rohit will become the second-most successful IPL captain in terms of matches won.
89 – Rohit has so far taken 89 catches as a fielder in IPL. He will have a chance to go past Kieron Pollard (90) in this list and become the most successful fielder among Mumbai players, and second in the overall list after Suresh Raina (102).
39 – Rohit Sharma has so far hit 39 half-centuries in his IPL career. If he performs well this season, he will have a chance to surpass Shikhar Dhawan (41) and Virat Kohli (39) to attain the top spot among Indian players.
Future :
Rohit Sharma is born with Sun in its sign of exaltation fire sign Aries. Exalted Sun keeps company with crafty Mercury in fire sign Aries.
In the cycle of 12 Zodiac Signs, Aries, the Ram represents the beginning. The native of Aries has the characteristics of an egocentric yet innocent newborn or a clueless yet full of bean newbie. No wonder, Aries, the Ram is activist par excellence. Most Aries natives are nearly addicted to promptness. Action and readiness for action form an integral part of their psychology. In their actions, they prefer to be swift, direct and precise. These qualities lead him to become a prolific opening batsman in the Indian cricket team.
On that note, this year, Rohit Sharma will gain position, authority, respect and status. He is all set to break many batting records. Rohit Sharma may not be able to win IPL 2021 for Mumbai Indians but Rohit Sharma will be unstoppable and invincible in 2021 for India in a very productive way, predicts Hirav Shah.
For more such updates, stay hooked on to The Live Mirror.
Also Read: IPL 2021: Virat Kohli Dedicates Half Century To Daughter, Blows Kiss To Anushka Sharma