Game of Thrones Season 8 Episode 3 Review: It Is Full Of Fire, Fights & Deaths
GoT Season 8 Episode 3 Review: Night King Manages To Enter Into Winter fell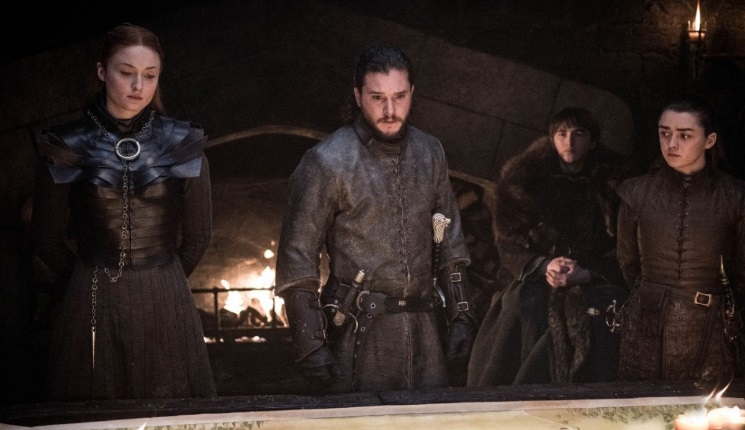 Game of Thrones season 8 episode 3 is finally aired on HBO in the US and simultaneously on Hotstar in India. The latest episode of the fantasy drama is full of fight and dragon's fire. Unlike the last two episode of season 8, it is not so slow and make you feel boring, it has destructive fight between the Night King and Winter-fell.
In the episode 3 of Season 8, Game of Throne popular actor Theon Grejoy and several others have to lose their lives while fighting for survivor. You will see, Sansa Stark along with Tyrion Lannister and dozens of people confining themselves in the cave in order to not get hurt by the deadly army of Night King.
In this episode you will see how brave Arya Stark is? See does not have fear in her eyes unlike her elder sister Sansa Stark. There is a moment come in this episode, when Danearious Targaryen and Jon Snow felt trapped between the Night King and their dragons get injured while fighting with the third Dragon, which was earlier occupied by the Night King.
The deadly and dangerous fire of Dany's dragon, which has earlier destroyed thousands of people, does not seem to affect the Night King leaving dany in shock. In this episode, Night King finally managed to destroy and enter into the Winter fell. Yes, the Night King has killed Theon Grejoy and come face to face with Bran Stark.
The moment he tries to kill Bran, his sister Arya Stark comes to save him and what she does to Night King is worth to watch this episode. We are not going to reveal any spoiler from the end.
Also Read: Game Of Thrones' Battle Of Winterfell: Everything You Need To Know About Episode 3