La Liga: Gareth Bale breaks goal drought as Real Madrid climb to fourth with 1-0 win over Huesca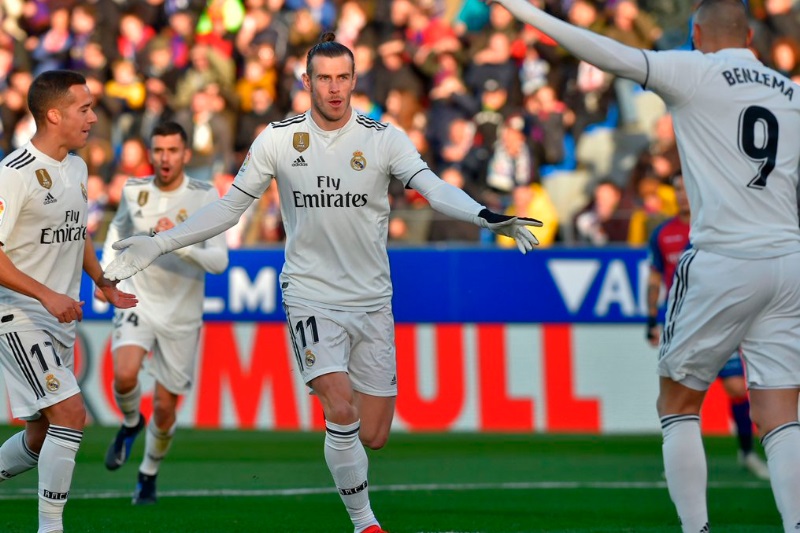 Gareth Bale ended an 802-minute wait for a league goal with a first-half strike to help Real Madrid climb to fourth following the 1-0 away victory to Huesca on Sunday.
Madrid jumped two places to remain behind Atletico Madrid on 26 points from 15 games just five behind table leaders Barcelona in the standings.
Bale, whose last La Liga goal for Real came in the 4-1 win against Leganes on September 1, volleyed home an Alvaro Odriozola cross from the right just eight minutes into the match as Real registered their fourth consecutive victory in all competitions, a sight very rarely seen in the Madrid capital this season.
The drought that lasted longer than three months was Bale's longest ever goal drought in Spain's top flight football, with the Welshman going 40 shots and 802 minutes without a goal as per a stat from Opta Jose.
This was Bale's first La Liga goal since Santiago Solari took over Real Madrid at the end of October. And the former Tottenham star could have added a second just minutes after his first goal. But his powerful strike from outside the box was parried away for a corner by Huesca goalkeeper Aleksandar Jovanovic.
Also read: Lionel Messi scores two stunners as Barcelona thrash Espanyol 4-0 in Catalan derby
But the home team refused to surrender despite falling behind to an early Real attack. And they came closest to equalising at the beginning of the second half when former Real player Gonzalo Melero found himself unmarked from a cross but failed to place his header on target.
They were almost made to pay by Lucas Vasquez whose shot was blocked inside the box before David Ferreiro tested Thibaut Courtois with a shot from the edge of Real's penalty box.
Huesca slowly grew into the game as the second half progressed and forced Madrid into conceding successive corners but their efforts failed to bring a goal and by the time Jorge Pulido volleyed over a lovely ball, the game had already moved into stoppage time. But the home side kept trying and nearly broke the away fans' heart in the final seconds but Madrid kept the lead intact with dramatic saves.
Also read: Chelsea return to winning ways with stylish 2-0 win over Manchester City