George Clooney's Beautiful Wife Amal Joins Him At 'Catch-22' Premiere – View Pics
George Clooney Jokes That Meghan Markle's Newborn Baby Is 'Stealing My Thunder' at 'Catch-22' Premiere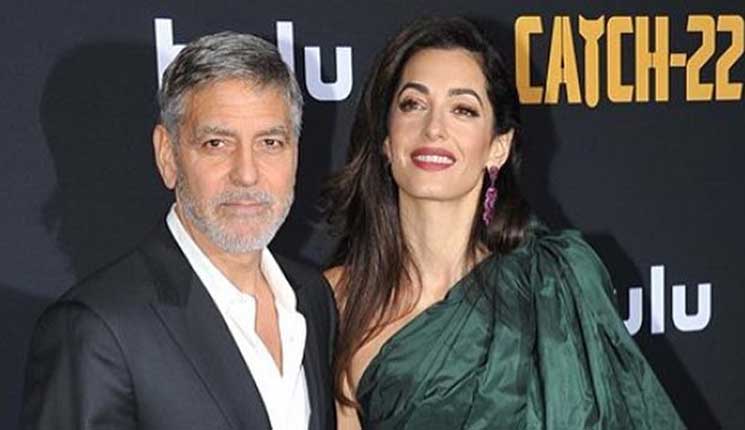 George Clooney, an American actor and businessman, who has recently celebrated his 58th birthday, was snapped at Hulu series' 'Catch 22′ premiere along with his beautiful wife and Human right lawyer, Amal Clooney. The couple looked dashing in their stylish dresses, which are currently setting hot trends for the Spring 2019 season.
George Clooney (58) and Amal (41) are one of the most powerful couples. Despite the huge age gap, they are setting relationship goals for many. George Clooney is featuring in Catch 22, which is a remake of one of the most significant novels of the 20th century. The novel was first published in 1961.
His gorgeous wife, Amal made sure to make a statement with her stunning dress. She complemented her look with a bold red lip and especially lustrous brunette waves. On the other hand, George stuck to the uniform for silver foxes in Hollywood: a classic black-and-white suit, with a few buttons undone on his white dress shirt.
George Clooney's Beautiful Wife Amal Joins Him At 'Catch-22' Premiere – See pictures
Speaking with ET's Nancy O'Dell at the premiere of Catch-22 in Hollywood on Tuesday, Clooney laughingly addressed the Meghan Markle's newborn child, and how it affected his own special day.
"It was a little irritating because that kid really is stealing my thunder!" Clooney joked. "This was my day! I was sharing it already with Orson Welles and Sigmund Freud!"
Clooney and the as-of-yet unnamed royal baby also share their birthday with several celebrities including rapper Meek Mill, Dancing With the Stars host Tom Bergeron, former U.K. Prime Minister Tony Blair, silent film star Rudolph Valentino, NBA all-star Chris Paul and singer-songwriter Bob Seger.