Chartered plane crashes in Mumbai; claims five lives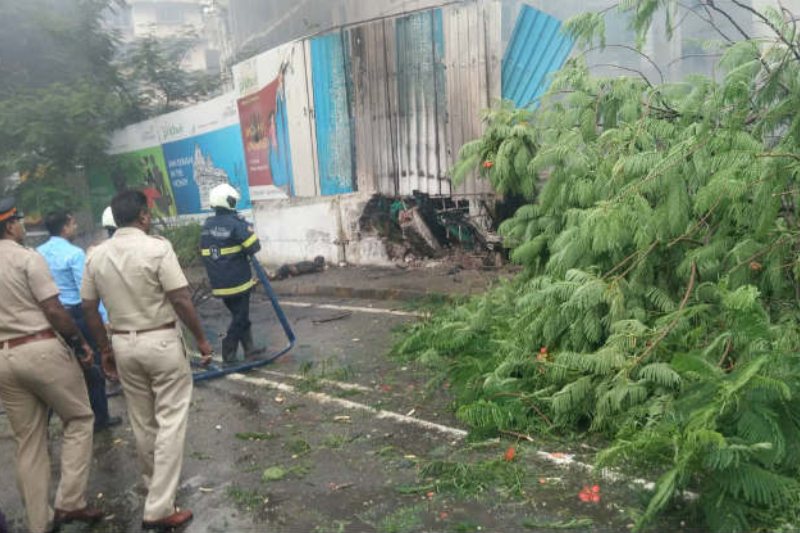 A chartered plane, VT-UPZ has reportedly crashed in the vicinity of Jagruti Nagar, Ghatkopar, Mumbai on 28 June. The chartered flight was a 12 seater flight and four who were on board as have lost their lives. Another report about a pedestrian losing his life has been confirmed.
There is now speculation on reports about there being a different route for chartered planes and and commercial planes and how the plane could have crashed into an under construction building.
The area is a residential area and attempts were being made to get the fire under control as the fire could lead to further loss of life and damage control is entirely necessary as of now.
#WATCH: A chartered plane crashes near Jagruti building in Ghatkopar where a construction work was going on. #Mumbai pic.twitter.com/ACyGYymydX

— ANI (@ANI) June 28, 2018
Rescue operations are underway as there are people trapped inside the plane and also in the vicinity of the crash. Five fire brigades have rushed to the place in an attempt to douse the fire. The chartered place has gone down in an open area where construction site workers had taken refuge.
NDRF Teams are being deployed to address the situation at the earliest.
There are unconfirmed reports of the Uttar Pradesh Government being on board as the chartered private aircraft.
The reasons are yet to be ascertained but they seem to be due to the technical failures. In the same vein the DGCA is going to conduct a preliminary probe but reports have come in that the aircraft was old but was well taken care of.
Two pilots, two Aircraft Maintenance Engineers on board & one person on ground are dead in the Mumbai chartered plane crash: Directorate General of Civil Aviation

— ANI (@ANI) June 28, 2018

Four people and a pedestrian who is unidentified as of now seem to be declared dead as the plane has crashed on the tents and a residential building. The toll has risen to 5 people being dead as of now.
BJP MLA Kirit Somaiya reportedly arrived on the spot to aid proceedings.
The Aviation Body while being questioned about the crash has stated that the 'plane took off for a test flight from Juhu..'