Ghatkopar Plane Crash: Distraught kin blames aviation company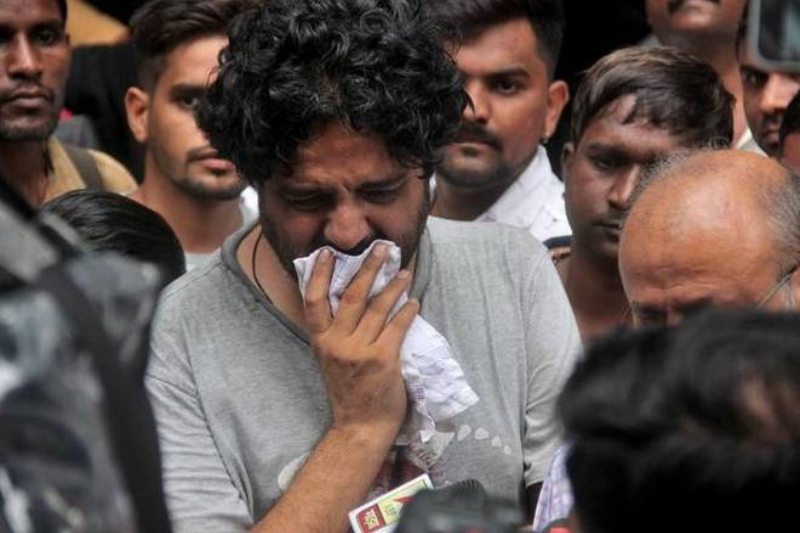 On the ill-fated day of 28 June, a Beechcraft-built King Air C90 crashed in Mumbai's Ghatkopar suburb killing five persons, several questions pertaining to the plane's safety, airworthiness and related issues cropped up here on Friday.
Distraught and devastated, the kins of the dead have more questions that might have saved their relatives' lives.
"A thorough investigation should be done to find the cause of the crash. The report shouldn't end up gathering dust 10 years later. On a personal front we are exploring legal options", said Marya's uncle Gauhar Raza, a senior scientist.
S. P. Gupta, father of maintenance engineer Surabhi Gupta, who also died in the crash, had similar questions. "On Thursday morning, she told me on the phone the aircraft she would be flying in later in the day was sick. She said it was in a bad condition," PTI quoted Gupta as saying in Sonepat.
The family of Captain Rajput too asked for a thorough probe. "It's not an individual who decides when to fly. It's always the team that makes that call. The agencies need to probe if all safety protocols that are supposed to be in place before a plane goes on test flight were followed," said Rajput's cousin T. S. Pandori.
Kathuria blamed U Y Aviation for forcing the pilots to test the aircraft ignoring weather conditions. He said about an hour after the crash, a call was made to Marya and her cell phone had rung. But the company has no clue about her mobile phone or her belongings.
"She left the house assuring me she would return rather soon as the weather conditions were clearly not right for a test flight of a small plane such as the Beechcraft King Air twin turboprop," he said. "She was sure that the permission to undertake such a flight would not be given," the statement read. "Considering Captain (Pradip) Rajput held and shared the same view with Marya, I was confident they would not fly this day. The weather conditions were just not right," he said.
Mr. Kathuria also questioned if the aircraft was fit to fly.
"We know that the aircraft was well beyond its prime. We know it was more than 20 years old. We know it had already had an accident in 2009 and that the UP government chose to sell it rather than spend on its repairs. Considering all… the family of Marya Zuberi wants answers. We want to know who exactly was at fault," he said.
Mr. Kathuria said UY Aviation, the owners of the aircraft, "seem to have completely disregarded their responsibility to check whether such a plane should go off the ground".
Pointing out that the DGCA norms do not permit test flights of small planes in the rainy weather, Mr. Kathuria asked who allowed the flight to take off in the first place.
"Did officers within the agency allow the flight, that clearly flouted its own norms? We want to know who took the call from DGCA's side," he said.
Mr. Kathuria also said that neither government agencies nor the owner of the aircraft had contacted the family members of the victims since the crash.
"So far the government structures and the companies have both failed us… The families of the victims are still to receive a word from any of these agencies," he said.
"The company is not even showing us the logbook that will have details of her belongings left behind before flying," said Kathuria. "Somebody has to be held responsible for the crash and the deaths. I will not rest till Marya gets justice," he added.
Kathuria said Marya was very clear about not flying in bad weather. Marya's father Dr. Iqbal echoed him and alleged there must have been a lot of pressure on her to fly.
In Haryana's Sonepat, the father-in-law of Surabhi Gupta also asked "why did the aviation company allow the faulty aircraft to fly?" He said the guilty must be punished after investigating the matter.
"We learnt about the incident from media reports. They didn't call or inform us," said Zuberi's uncle, Gauhar Raza, a former scientist with the Council of Scientific and Industrial Research, adding, ""A detailed, transparent inquiry must be conducted to check if any rules. The perpetrators should be taught a lesson. We are in shock. We will take legal action after giving it a thought."
Also read: Chartered plane crashes; claims five lives
The family of Govind Dubey, 37, a carpenter from Kalwa who was killed as the debris and fuel from the aircraft hit him, initially refused to claim his body. "If we take the body now, nobody will help the family later," said Vinay Chauhan, Dubey's neighbour. Dubey, who lived with his two brothers, was planning to get his wife to Mumbai from Uttar Pradesh next month. "He used to earn ₹14,000 a month. He had complained of the rush in train on Thursday morning," said Arvind, his elder brother.
Captain Pardeep Singh Rajput's, 49, family said he had spoken to his wife before the take-off. "His 18-year old son, Chand, learnt about the crash when he was checking the fight schedule on his phone," said Kulwinder Chauhan, his brother-in-law, who lives in Kandivli, who was the Ghatkopar crematorium. However, Tarvinder Singh, his brother, said they don't want to blame anyone for the accident. "The investigating agency will find out the reason. We are proud of him for saving many people," he said.
Surabhi Gupta's relatives took her body to Delhi. "Some of the staff members were present at the funeral," said Vijay Chaturvedi, uncle of technician Manish Pandey.
It is learnt that the aircraft was under maintenance for the past one-and-a-half-years. On Thursday, it was to have its first test flight upon completion of maintenance task. Following this, it had to apply before DGCA for grant of Certificate of Airworthiness/Airworthiness Review Certificate.